As you know, a menu template is a list of the dishes that can be ordered from food and drink business establishments or served during an event. It is extremely helpful to have an accurate menu to help customers know what they can order from a restaurant, cafe, bistro, etc.
But more than just that, a menu is also a marketing tool that can help entice potential customers to choose your establishment to dine at. This is also true for a catering company; a menu will help the potential clients know if you offer the dishes they prefer to have on their event. Thus, it is important to have a complete, accurate, and creative catering menu to help attract old and new clients.
Catering Menu Templates and Examples
As a catering company, it is important that you have a clear menu that presents all the cuisines and dishes that you offer. Aside from providing a clear overview of what you offer, it is also a good promotional tool that will help advertise the catering services that you provide. If you are in the hunt for the perfect catering menu template, you can download this one. This template features a simple layout with creative designs and illustrations that will emphasize the contents that you need to include.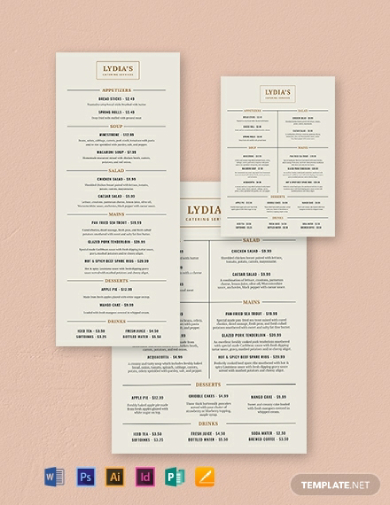 Ensuring that you have a menu that provides a clear list of your dishes and other services you provide should be a priority when you start making your marketing and sales plan. Aside from the dishes and services, a brief description or information about the services you provide, payment style and/or method, and so on should also be provided in the menu.To help you get a good head start, you can download this editable catering menu template. This template already has a clear layout and unique design elements that you can use, but you can still edit this to suit your preference.
Although some restaurants don't offer catering services, others do. In fact, others provide external catering services to clients. You can totally offer this service if you have a restaurant; this can provide additional income to you. But it is important to remember that you should create a menu separate from your current restaurant menu. You should create a menu that is specifically tailored for the dishes and serving sizes you can provide when catering an event. Since the serving sizes will be different than the usual, you should also provide an accurate price for packages and/or every dish.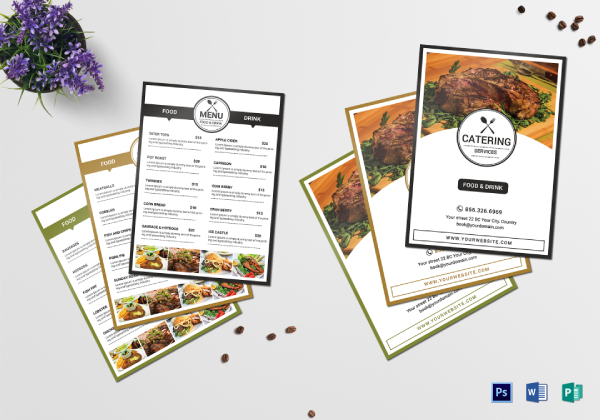 Do you want to entice potential clients to hire for their catering needs? Not only will you showcase an overview of all the dishes that you offer in your menu, but you can also excite them when the images of the dishes you can serve for their events. Use this catering services menu template to incorporate your own business details and images. With the help of its high-quality designs, original artworks and illustration, and clear layout, you are sure to encourage potential clients to hire you. Download this template; you can edit this in MS Word and Publisher, and Adobe Photoshop.
Make people's mouths water with the help of your menu. Let them know that you are an outstanding catering company with the help of high-quality images of the food that you serve along with a complete list of the cuisines and dishes that you can offer if hired as the caterer for an event. Like a price menu, you should also include the corresponding price for the special packages or price per serving of the dishes that you offer. Should you need a little help, you can download this food catering service menu template from this article.
Every food menu should have the price for each dish to help customers decide which dishes to offer. This rule still applies to businesses that only offer catering services. There should be a clear list of the dishes and price for each dish on the menu so that clients can easily curate a menu for their event that is still within their budget. This also improves customer experience, which is advantageous for you. You can easily see in this menu example that the types of dishes have been separated, then the dishes under each type along with the price for different serving sizes are listed; this makes it easier for the customer to understand the contents of the menu.
7. Southern BBQ and Soul Food Catering Menu
While some people prefer to have a formal dinner for certain events, others prefer to have a barbecue party for their events. If you are a catering company specializing in this field, your barbecue menu should be extensive. You should be able to provide for various barbecue preferences of your clients. It is also important to note that people prefer to pair barbecue with other dishes; thus, it is advantageous if you include other types of dishes in your menu like side dishes, salads, desserts, and so on. You can use this example as your guide to producing the same creative and high-quality menu for your own business.