As you patiently waited for your order to be served, you might have noticed a menu samples sitting on your table. The mouthwatering display of food and beverage items are tempting enough to entice you to order a few add-ons just to satisfy your cravings. It's a clever advertising strategy that enables restaurants and other businesses to upsell their items in an attempt to make a more profitable sale. These triangular table displays that feature an establishment's product and service offers are known as a table tent menu. This type of menu can help you promote certain items from your list of offers along with discounts that customers can avail themselves of for a limited time.
2. Sandwich- Sub Table Tent Menu Template
The unmistakable aroma of freshly baked pastries is enough to make you drool. This alone can lure in customers to your store and force them to look around for some tasty treats to take with them. While it's easy to push a sale by showcasing your goods in an eye-catching display, there are other ways to sell your flour-based food to customers without the item being physically present for people to see.
Some retailers even put their bakery menu in a table tent as a means of static advertising. You can place the menu on top of a dining table, counter, desk, or any other horizontal surface that's within a customer's view. By doing so, perhaps you can persuade a few customers to order a cup of hot coffee to match their bag of muffins.
Cafés are known for their small spaces and relaxing ambiance where family and friends gather to drink, eat, and chill as a bonding activity and a pastime. People who go to a café to study or hang out with their companions usually stay at the establishment for a couple of hours within the day before they decide to leave. This makes it difficult for the business to accommodate more customers at a time and generate the desired revenue to cover the necessary expenses.
This is one of the reasons why cafés often put a menu on their tables for customers to view. A café menu not only encourages people to order more than a regular-sized drink, but it also urges them to order a couple more add-ons as they prolong their stay. This is a great way to make customers feel as if their comfort and welfare are taken care of without forcing them to order every single item on the menu just to grant them some extra hours at the establishment.
How many times have you felt compelled to order something at a restaurant all because it was only offered for a limited period? This marketing strategy has prompted some customers to order more than what they intended to make the most out of what's available. This is often achieved by putting a food menu on the table to appeal to hungry diners who are waiting for their orders to arrive.
Your table tent menu can resemble your average restaurant menu, or you can design it differently to promote seasonal offers and special packages. It's important to design a menu that's worthy of one's attention to make sure your message is received the way you want it to.
Pizza parlors are still one of the most popular food chains in the market. Although we're free to argue about where the best pizza in the region is, we can all agree on one thing: choosing what to order isn't the easiest decision to make. With a wide selection of pizza plates to choose from, customers are likely to settle for their usual orders to spare themselves from the dilemma.
While this isn't exactly a bad thing, keep in mind that some customers are bound to grow tired at some point. This is one of the reasons why table tent menus are made for a better dining experience. Instead of spending a few minutes on your pizza menu, customers can simply refer to the table tent menu to find something interesting. This will hasten the ordering process and help the business generate higher sales.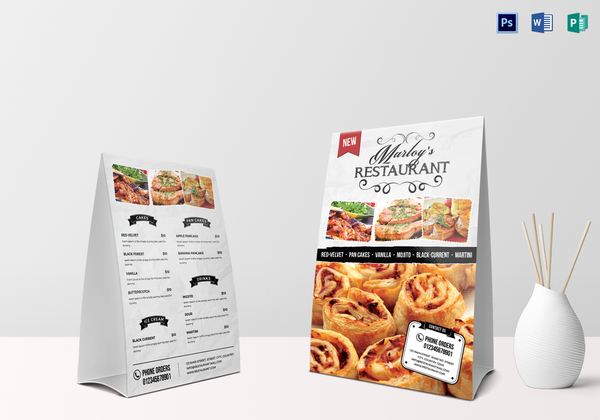 Staring at a menu card can be frustrating when you don't even know what you're searching for. The pressure becomes even more intense when you see a waiter standing beside you to take your order. This causes some diners to make an impulsive decision of ordering the first thing they see on the menu.
Thus, it's a good idea to create a separate menu that's shorter than the one displayed above the counter. This type of restaurant menu will be convenient for customers who are in a hurry but still want to order something appetizing from your list of offers. The secret is to design something that can easily grab a person's attention and leave a lasting impression that they'll remember even after leaving the establishment. Make sure to keep your layout as simple as possible to make the content of the menu easy to read from an expected distance.
A table tent menu can be used by businesses in any type of industry. Whether you manage a salon, restaurant, spa, or catering business, you can use the menu to present your product and service offers to curious clients. Shown above is an example of a menu that you can insert in a placeholder to produce a table tent menu.
Doing so will allow you to use the same holder multiple times for different menu types. The visual aspect of the menu may appear simple, but it's perfect for businesses that want to showcase their offers in a clear yet creative fashion.