Did you know that sandwich was named after the profligate gambler and rake Lord John Montagu, 4th Earl of Sandwich? He is said to have not enough time to eat during a gamble, so he would ask his attendants to bring him slices of meat in between slices of bread. Up to this day, sandwiches are widely consumed by people in different variations, such as bacon sandwich, beef sandwich, cheese sandwich, grilled cheese sandwich, chicken sandwich, egg sandwich, ham sandwich, pork sandwich, tuna sandwich, turkey sandwich, and even vegetable sandwich. You may also see some our menu designs.
1. Printable Sandwich- Sub Menu Template
2. Modern Sandwich- Sub Menu Template
3. Blank Sandwich-Sub Menu Template
4. Editable Sandwich Sub Menu Template
Offer a variety of sandwiches to your customers and prospects with the use of these effective sandwich menu templates and examples and increase people's awareness regarding your brand to make your name famous in the market and on top of the competition.
5. Simple Sandwich- Sub Menu Template
6. Sandwich/Sub Poster Menu Template
7. Submarine Sandwich- Sub Menu Template
8. Sandwich/Sub Flyer Menu Template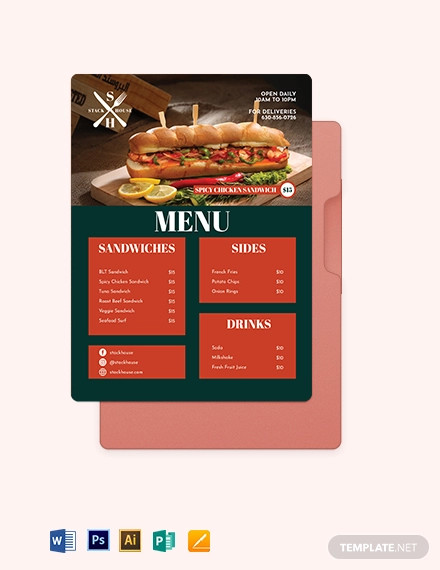 9. French Sandwich Sub Menu Template
10. Classy/Classic Sandwich/ Sub Menu Template
11. Sandwich Sub Table Tent Menu Template
Sandwich Menu Examples and Templates
12. Sandwich Shop Menu
Having trouble regarding your sales? Review your marketing strategies and design an effective menu that would entice customers to try your offers. In this sandwich shop take-out menu, apart from the different types of sandwiches that they are offering, other food included in the list are salads, soups, wraps, side dishes, and dessert.
In listing the food that are available for purchase, you must be specific with your description in order for the customers to easily identify or at least have some great imagination regarding your food. The font type and color would also matter in enhancing the readability of your menu. So, do not miss these small details.
13. Chalkboard Sandwich Menu
Chalkboard-designed fonts and graphics have become a trend nowadays as these create an attractive presentation to the eyes of the readers. Many people find chalkboard fonts and illustrations aesthetic and appealing. Knowing this fact, you must not miss this opportunity to design your own sandwich menu with chalkboard graphics and clip arts in order to obtain the greatest impact from your customers.
Do not forget to include the basic elements in a menu such as your company logo, high-quality photos of your food, inviting food descriptions, contact details, and your company operating hours.
14. Classic Sandwich Menu
In this classic sandwich menu, sandwiches are categorized into three general categories: sub sandwiches, club sandwiches, and special sandwiches. Under sub sandwiches are as follows: ham and Swiss, chicken and cheese, BBQ and cheese, etc.
Included in club sandwiches are the following: ham and egg, grilled beef, grilled pork, etc. Lastly, included in special sandwiches are chicken teriyaki, vegetarian, extra cheese, ham delight, among others. You need to be organized like this in your menu so that it would be easy for your customers to choose from the available options and compare one variant from the others.
15. Organic Sandwich Menu
What is better than having a healthy, fresh, local, and organic ingredients in your sandwich? Draw customers' attention toward this great deal by creating a menu, such as the example presented above, highlighting the healthy ingredients that you are using for your sandwich.
Vegetarians and health-conscious people would surely get allured by this interesting food that you are offering. In your menu design, you can use different shades and hues of green, signifying organic and fresh content of your food. Remember to include a brief description for your sandwiches, and do not forget to use words that are effective for your marketing, such as fresh, organic, new, local, green, and many others.
16. Sandwich Bar Menu
In this example, contained in the list are different types of sandwiches, hot sandwiches, full breakfast, salad boxes, hot snacks, jacket potatoes, and drinks. Note that excellent photos would really create an impact on the aesthetics of your menu as this would entice people and trigger their curiosity toward trying your sandwich.
However, you must also note that when you incorporate photos, make sure that the actual presentation is similar to those in the photos to prevent people from being disappointed with your food.
17. Cold Sandwich Menu
How are cold sandwiches different from hot sandwiches? When you say cold sandwich, this would simply mean those sandwiches that are made up of bread, toasted if desired, and on which butter or any spread can be readily spread.
Meanwhile, hot sandwiches are those that contain hot fillings, which are usually meat, fish, vegetable, or other hot items. So when you are offering any of these types of sandwich, include them in your menu and do not forget to state whether it is a cold or hot sandwich, such as the example of a cold sandwich menu presented above.
18. Seafood Sandwich Menu
For pescatarian and seafood lovers, this seafood sandwich menu would surely grab their attention. Similarly, when you are offering the same kind of sandwich, make sure to label your menu with seafood sandwich not only to warn those people who are allergic to seafood but also to allure those who want to eat seafood.
Finally, wrap up your menu design with photos, graphics, and illustrations that are high quality and are not pixelated as this would create an impression to your customers and would mean that you are putting extra effort in your advertising and marketing collaterals.