Who does not love food, right? And because of that, there are a lot of businesses that serve food of all kinds. They also give out food voucher which is helpful in both for their business purposes as well as their customers' personal purposes.
Printable Food Voucher
Lunch Food Voucher
Dinner Food Voucher Example
Food Stamp Voucher Template
If you own a business that specializes in food, you can make use of food vouchers in order to promote your business more. You can create your own food voucher since they are pretty easy to make. In this article, we have provided fifteen examples of food vouchers that you can readily use for your business.
Food Book Voucher Template
Catering Food Voucher
Hospital Food Voucher
Grocery Food Voucher
School Food Voucher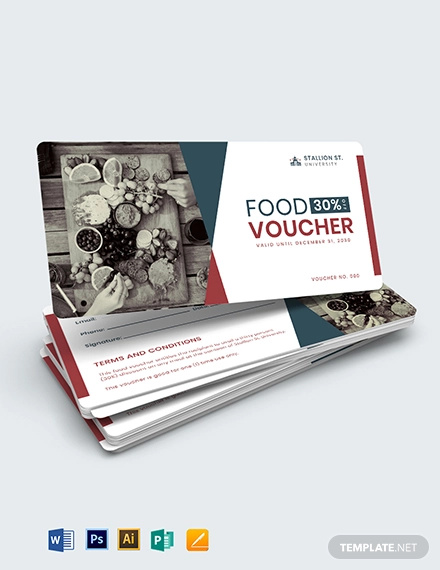 These templates come in PSD and AI formats that you can conveniently purchase and edit. These templates can also save you time and costs if you do not have much budget for creating your own design for a food voucher. But if you want to create your own, we have provided some tips and tactics that you can use while creating your own food vouchers.
Complimentary Meal Food Voucher Template
Meal Voucher Template
Meal Dinner Voucher
Drink Food Voucher Example
Pizza Voucher Template
Pizza Coupon Template
Pizza Shop Voucher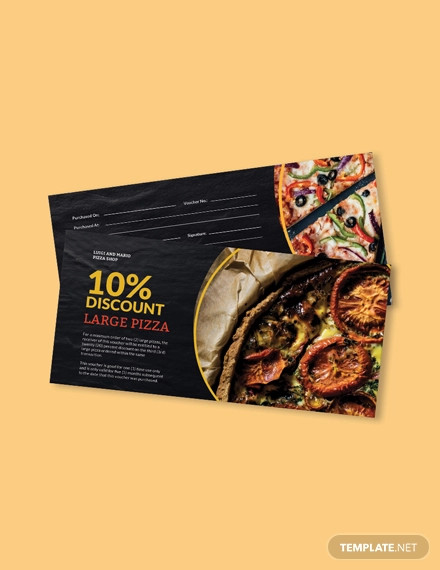 Lunch Discount Voucher Template
Fast Food Voucher Example
Thai Food Restaurant Voucher Example
Multi-Purpose Restaurant Voucher Example
Fast Food Gift Voucher Example
Restaurant Food Gift Voucher Example
Food and Pizza Gift Voucher Example
Food Gift Voucher Example
Purpose of Food Vouchers
Vouchers are actually one of the best marketing strategies and most of the businesses in line with food are making use of this. Here are some of the important purposes of food vouchers.
1. Food Vouchers Help in Improving the Sales of a Particular Food Product
There are some food products that are not salable maybe because of a lot of factors and reasons. How can you make these products sell? One effective way is through food vouchers. You could include it in your food vouchers that you are offering a discount on those products that are not that saleable. This will entice customers into buying these food products since they will be attracted to the discount.
There are also some food products that are best-sellers and you would want to sell roe of it. You can also do so with the use of food vouchers. You could offer some promotions on your food vouchers where you would indicate how much discount or how much customers can save if they use the food voucher. You may also see Receipt Vouchers.
2. Food Voucher Keeps Your Current Customers and Increases its Number
Discounts on vouchers are one of the factors that make your current customers come back to buy your products and this is also one of the factors that keep customers interested in your business. Once you have offered a great deal to your customers, they will keep updated with your shop to see if there are more promotions on vouchers that will be offered. Customers would come flocking to your shop when you would be offering vouchers. Who does not love discounted food, right? As a result, they would eventually become your loyal customers. You may also see Gift Coupons.
3. Food Vouchers are a Catalyst for Increased Customer Satisfaction
Customer satisfaction is every food business' goal. Customers always love discounts and what you offer in your vouchers are discounted products. This will lead to satisfaction and do you know what customer satisfaction would lead to? Customer loyalty. Customer loyalty is one of the hardest goals that can be achieved. But with the help of food vouchers, you will be able to achieve customer satisfaction a little easier and it will eventually become customer loyalty.
Food Voucher Tactics
Want to create an extra impact on your food voucher? Here are some tactics you can make use of:
1. Create Urgency on Your Food Voucher
You can create a sense of urgency on your food voucher by adding deadlines. The deadlines here means that you have a certain time wherein the validity of your food voucher is indicated on your voucher. Deadlines such as flash sales and limits of the voucher itself.
2. Personalize and Individualize Food Vouchers
While this can be a difficult thing to do, it is actually one of the most effective ways to entice your customers so that they buy your products. In order to do this, you have to deliver the right food voucher to the right customer at a very precise moment. Add personalized figures on your food voucher. You can even just add your customer's name and it will create a big difference in the eyes of your customers.
3. Focus on the Distribution of Your Food Vouchers
Even if your voucher has a clever copy, if it is not distributed far and wide, it is still of no value because your vouchers are created for people to know about you and not just because you just want something to design.  There are so many ways you can advertise your promotions. You can make use of the social media where you will be announcing that you are having promotions that people can only avail of the use of your food vouchers. Simple ways of distribution should not be taken for granted because this is actually a great way you can market your products.
Sample Food Gift Voucher Example
Food Gift Voucher Example
Burger Discount Voucher Example
Sushi Food Gift Voucher Example
Fish and Seafood Voucher Example
Pizza Gift Voucher Example

Fresh Food Voucher Example
Ice Cream Voucher Example
Tips for Designing Your Food Vouchers
Here are some tips you might need for when you will be designing your food voucher:
1. Always Use the Logo of Your Business or Shop
If you want to create a brand association with your customers, never fail to always include the logo of your business or shop. Make sure that once your customer will see your logo on your food voucher from afar, they will already be able to recognize what shop it belongs to.
2. Create an Effective Promotional Message
Having an effective promotional message on your food voucher is an effective way in order to make your food voucher equally effective as well. Make sure you highlight it because it can be advantageous on your part. It can definitely attract people and we all know that attracting people to buy your products is the end goal of every existing voucher. An example of an effective promotional message is: Buy 1 Get 1 free or Get 50 % off.
3. Make Sure You Use Attractive Visuals on Your Food Voucher
Images can create a big difference in your food voucher. Make sure you use the right images and the right color of your text because these contribute a great factor to the effectivity of your food voucher. Do not underestimate the power of visuals on your food voucher. The visuals are the first thing you customers see from your food voucher before they will be able to read the text of your food voucher. You can just use simple graphics because if you will complicate things, you will also make it complicated for your customers and prospective customers. Make sure you would also use bright and primary colors because these are more attractive to the eyes. Also, ensure that you have used the colors that your company logo has.
4. Always Use Simple and Clear Language
Aside from the design, you should also make sure that you have an excellent command of the language. But keep in mind that simplicity does not mean plain. It means direct and that you have to create a copy that can really attract a lot of people. You can create a copy that is witty enough for people to get attracted and hooked with.
Food voucher is an effective way to promote your products. Have you now decided to use food vouchers to promote your products?