Birthdays are important milestones in a person's life that should be celebrated. It is a once in a lifetime event and regardless of the current status and situation a person is currently in, his/her birthday is celebrated with his/her closest family and friends. You may also see food menu designs & examples.
Pretty Birthday Menu Template Example
Editable Birthday Menu Example Template
Blank Birthday Menu Template Example
Modern Birthday Menu Template Example
Downloadable Birthday Menu Example Template
Pink Birthday Menu Template Example
Party Birthday Menu Example Template
Besides, celebrating a birthday does not demand extravagant parties and an all-out gathering, what's most important is reflecting on journey he/she has successfully thrived and pushed through despite difficult circumstances.
Celebrating your birthday is one thing, throwing a birthday party to celebrate a family member's or a friend's birthday is another thing. There can be a huge pressure on your part of throwing a birthday party that everyone won't forget. It's important to keep the celebrator as happy as he/she deserves to be on his/her natal day and at the same time keeping everyone in attendance satisfied with everything during the party. You may also like sumptuous seafood menu examples.
Birthday Dinner Menu Example Template
To help you with your birthday party needs, this guide will give useful tips and tricks to make sure you throw the best birthday party for your loved one or even for yourself.
Birthday Menu Example Template
?
Simple Birthday Menu Example Template
Special Birthday Menu Template Example
Basketball Birthday Menu Template Example
Example of Blue Birthday Menu Template
Healthy Birthday Menu Example Template
Disney Birthday Menu Example Template
White Birthday Menu Example Template
Toddler Birthday Menu Template Example
Birthday Invitation with Menu Example

Glitters and Flowers Birthday Menu Example
All Time Favorite Birthday Party Foods
In order to get the title of being the best birthday thrower ever, you have to make sure everyone gets to enjoy all the food that you decide to serve. You have to consider all the possible preferences of your invited guests or just go with what's commonly liked by everyone. Here are some of the all time favorite birthday party foods you can serve during a birthday party:
1. Mini Hotdogs
Nothing is more convenient than cooking hotdogs and to add to that convenience, it is also one of the all-time favorite party food for people of all ages. These mini hotdogs can be served in a bun or may even stacked up in barbecue stick, whatever floats your boat. Don't forget the the usual sauces though and this will be major hit in your birthday party. You may also see dinner menu samples.
2. Potato Wedges
IF you want to try another recipe using potatoes aside from fries, you can also try cooking up some classic potato wedges. Not only is this recipe cheap, it is also very easy to cook. You only need come grated cheese and some fresh herbs as toppings and you are ready to go! It will only take you a couple of minutes before the party to cook this classic dish that will surely be devoured by your guest in no time. You may also like barbecue menu examples.
3. Sausage Rolls
Sausage rolls are just one one of those foods that when you start eating, you can't get enough of. It can be made in the comforts of your own kitchen and not only that, the ingredients are also pretty cheap so you can make quite a few without spending too much. This will surely be a hit for your guests, be it a kid's or adult's birthday party.
4. Pizza Pops
Who can say no to pizza? But most especially, you can say no to bite size eat all you can pizza? The pizza pops will for sure one of the center of attention during your party. With the availability of puff pastry in your nearest grocery store, you can make this easily in your own home. You can also make quite a few number of these bad boys with as many variety of flavors that you would like. Talk about convenience and creativity! You may also check out cafe menu designs.
First Birthday Party Menu Example
50's Retro Diner Birthday Menu Example
5. Toasted Ravioli
Ravioli is for sure on of everyone's favorite dishes. It can be quite a time consuming dish to make but it is for sure worth it. Everyone loves a well-seasoned stuffing and well-cooked ravioli. Although a toasted version is not that common, trying out something new can only go nowhere but becoming everyone's favorite. And besides, whats' better that snacking on a toasted version of everyone's favorite, right? You may also see examples of lunch menu designs.
6. Cheesy Bread Sticks
Everyone loves bread; everyone loves cheese, put it all together and you got the perfect and all-time favorite cheese bread sticks. This is the perfect appetizer for your birthday party that everyone across all ages can enjoy. A quick warning though; you may not want to share these delicious bread sticks with anyone.
7. Buffalo Chicken Wings
These deep fried and spicy coated wings masterpiece is a delicious addition to your birthday party menu. Not only is it delicious, it is also fairly easy to cook. You "wing-loving" guests will really appreciate this dish because it is a mixture of delicious flavors infused into the chicken wing. Prepare lots of table napkin though because you guests will for sure lick the bone dry out of this yummy dish. You may also check out salad menu samples.
8. Spring Rolls
These delicious crunchy entree is a famous dish commonly served in Asian cuisines. However, this dish is not only loved by Asians, people of all races love a delicious spring roll. You can also make this on your own because this is quite easy to make. Just make the most appropriate, delicious sauce and your guests will surely much on these the moment you serve them. You might be interested in wedding menu examples.
9. Guacamole Dip
This Mexican snack made of avocado, lemon juice and chili is everyone's favorite. This is very easy to make but is a party favorite. The dip also has a spicy tang and not only that, it also includes diced tomato and coriander to give it a little extra punch. With some store-bought chips, you can serve this dish and watch everyone devour this in minutes.
10. Burger Sliders
If you don't have the enough energy or ingredients to go all out with a hamburger, you can go for the easier version which are the burger sliders. These bite size goodness is an all-time favorite during parties. These sandwiches or little hamburgers are not only easy to make, they are also cost effective since you know everyone can finish one serving in one go. Talk about convenience and cost effectiveness, no wonder they are an all-time favorite. You may also see chinese food menu designs & examples.
You can go crazy with your dessert option. You can go for a chocolate fountain with a various food such as marshmallow, strawberries or any fruit as the perfect pair. There are alot of options out there that you can choose from. If you want to stay simple and not stress about dessert anymore, a birthday cake will do just fine.
Farm Theme Birthday Menu Example
How to Plan a Birthday Party
When you are tasked to plan a birthday party, it can get quiet stressful and you end up forgetting some of the little details. No need to worry though, this guide is here to help you with your birthday party planning needs. Listed below are some helpful tips in planning a birthday party:
1. Theme
It is quite practical to begin your party planning with setting a theme, that way you can organize other aspects of the celebration in relation with the theme. And if you think only a kid's party can have theme, you are quite mistaken; adult parties can also go with a theme and see all the guests dress the best version of the theme.
You have to remember that when you set up a theme, it should reflect the celebrator's interests. You can have fun planning this together from the invitations. decorations and down to the party activities.
2. Guest List and Invitations
The guest list of the birthday party should consist of the celebrator's closest friends and family. Inviting people that you know and not familiar with and to the celebrator is tacky. Coordinate with the celebrator as he/she can directly tell you who she wants to invite and if she wants a big party or not. If you are planning the birthday party of your toddler child or sibling, you can easily approach their teacher. You may also see takeaway menu designs and examples.
Attractive invitations can be easily made since there are hundreds of available template online that can match your theme. There are also quite a few number of selections available in store. Aside from the obvious information like the time, date and directions, you can also include special details like "bring a swimsuit" or "parents should accompany children," if necessary.
60th Birthday Menu Example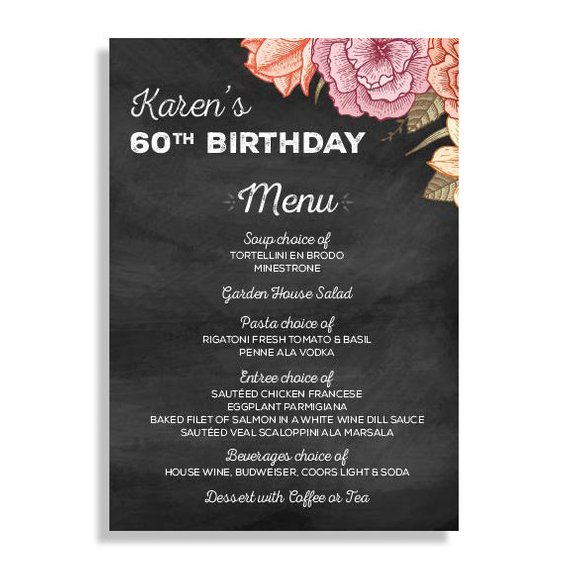 Sunflower Birthday Menu Example
3. Venue
If you feel like you home is not a suitable venue for the celebration you have planned, there are countless venues that comes with advantages like free parking, no corkage fees and generally a cheap rental. For a small fee, you can rent a space in your local community's park for a kid's party or book an roller skating rink for a fun adult's party. You may also see examples of menu design.
4. Decorations
Atmosphere and ambiance is everything. Your decorations must be in relation to the theme you have already set, of course. You can DIY some decorations for a low price or you can find other cheap alternatives in craft store or any party supply stores. Not only will this make the place Instagram worthy, it can also make the guests actually feel and see the theme in actuality. You may also like coffee menu examples.
5. Entertainment
Depending on the age of the celebrator and the guests, outside entertainment could be a big hit. However, you also have to consider your budget since these entertainers can charge quite a high fee. You can also just ask friends or family to put on a costume and do some easy party tricks. For adult parties, you can just do some party games like beer pong, charades and other party games. You may also check out examples of modern menu designs.
6. Food
There is quite a variety of party food you can serve during birthday party. Some examples of the all-time favorite party foods have been given above. Make sure the birthday celebrator approves of your choices though to avoid questions once the party begins. Also make sure that you give age appropriate refreshments during the party to avoid accidents and trouble.
White and Gold Birthday Menu Example
Black and Gold Birthday Menu Example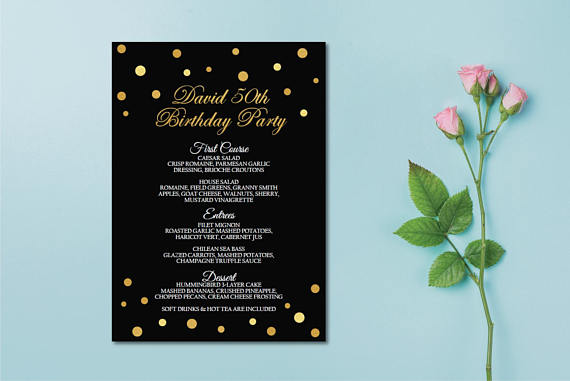 In the end, we hope this guide was a big help with your birthday party needs.