A marketing work plan gives you a comprehensive outline of tasks that are needed so as to accomplish your goal successfully. The plan breaks down the process into steps that are actionable based on a specific timeline.  Using a marketing work plan has many benefits other than just basic scheduling. You can use the plan for basically all your marketing strategy aspects like identifying the target audience, goal setting and planning, and tracking resources among other things.
With a comprehensive marketing work plan, it becomes a lot easier for you to track goals and even progress across marketing initiatives. Below are 8+ marketing work plan examples & templates to get you to a start. Also, you may want to look at these marketing action plan examples.
Marketing Work Plan Examples & Templates
1. Work Plan Template Example
2. Marketing Work Plan Template
3. Example of Blank Work Plan Template
4. HR Work Plan Template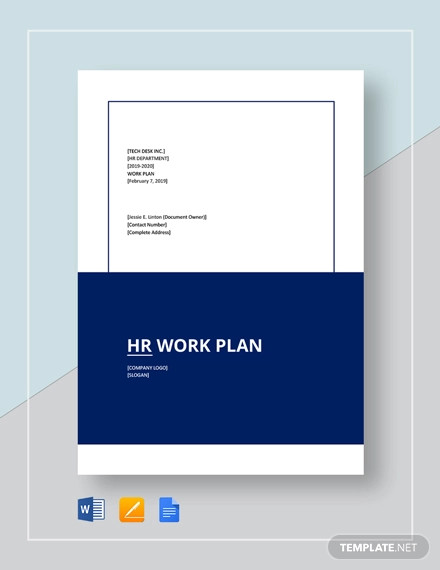 5. Construction Work Plan Template
6. Compliance Work Plan Template
7. Sales Work Plan Template
8. Consultant Work Plan Template Example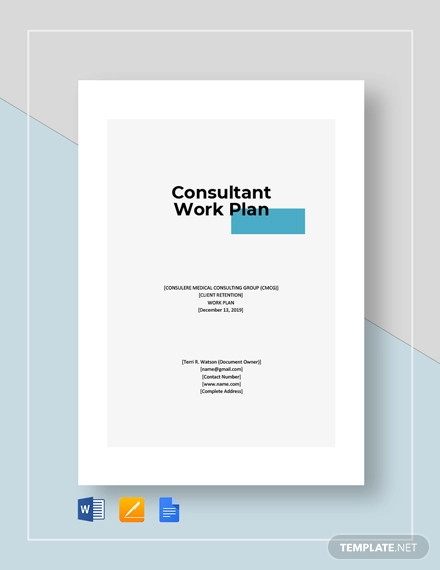 9. Work Plan Example Format Template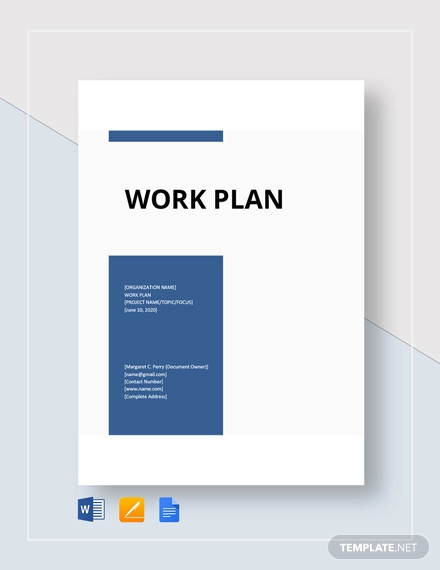 10. Strategic Marketing Work Plan
With this strategic marketing work plan template, you get a monthly schedule complete with extra apace that helps highlight important tasks, events, and deadlines. It includes another section for planning to the upcoming month and notes. Thanks to the format of this template, it's easy to view weekly tasks at a glance.
The template, which can be downloaded instantly from the internet, is customizable and easily editable. It lets you change the template as you want to fit your particular organization. It makes your work fast because it already captures all the important elements of a work plan, and also ensures you end up with professional-looking documents. Download it today!
11. Group Report Marketing Work Plan
Use this detailed marketing work plan to do annual planning to guide your promotional activities. The template features a snapshot of one month. You can clearly define your goals on the template, and also list information on marketing effectiveness. The template features different sections for social media, email, press release, online marketing, and advertising among other things.
Once you have downloaded the template, customize the available fields accordingly so that they fit your business. Download the template today!
12. Institutional Marketing Work Plan
You can use this institutional marketing work plan template to reach goals in your marketing plan. It has a section where you write the goals and even the steps of actions to be taken to attain it. The template has a section where you can record potential challenges, necessary resources, and final results. An example of the final result of action items could something like successful completion.
This template simplifies the process of creating your own marketing plan since it includes a structure and format that you can work with. Just remove or add fields as you see fit and plug in your information and you are good to go. Take a look at these marketing action plan examples and templates.
13. Economic Development Marketing Work Plan
Marketing is a vital component of your organization, and this economic development marketing work plan template makes your planning very easy. This template lets you have a clear outline of the action steps that you need to take, and has goals to enable you to stay focused towards realizing your target. A marketing work plan ensures that you will not miss important steps or skip a certain element.
14. International Marketing Plan Workbook
This international marketing plan workbook is an important place to start if you want to create a professional-looking plan. The template gives you an overview complete with important dates as well as the weekly schedule of marketing activities. It provides more detailed information, for instance about the various promotional activities that you want to include. There is even a space for future planning and brainstorming. Manage your marketing campaign and have a more consistent and effective strategy using this template.
15. Direct Marketing Work Plan
With this direct marketing work plan template, you can create a detailed plan that everyone refers to and knows what the daily practices and the ultimate goals are. The plan helps you to focus your resources and also ensure that everybody works towards one common goal as opposed to doing things on their own. Ensuring that everyone is on the same page will help in streamlining your business practices. The results will be that it operates more efficiently. Also, it means that you won't lose focus even when people come in or leave your organization.
16. Marketing and Public Relations Work Plan
With this marketing and PR work plan, you can create a detailed marketing work plan that contains strategies for where and how to focus your energies. It allows your organization to be proactive and calm even when unexpected things happen. With the plan in place, you can determine the steps to take and keep the company on track. The end result is that you will spend much less time worrying over how to react to new situations and focus your energy and time on how to attain your goals. The template is easily customizable and can be edited without requiring a special program.
17. Annual Marketing Work Plan
Use this annual marketing work plan to create a framework that ensures you have measurable goals. With a marketing work plan, it essentially means that you have a framework for measuring your progress. Just take what you have achieved by a given milestone and see if it measures up to what you had originally laid out in the plan. Also, this provides you with a chance to reevaluate and even refine your plan or part of it. Through finding time to assess your marketing strategies, and laying out a healthy plan, you will be setting up your organization for success. This template is easy to use and is fully customizable and editable. Download it today!
18. Healthcare Marketing Plans That Work
Do want a business that's healthy and flourishing? Then you must have a well-thought-out marketing work plan. With a solid plan in place, you ensure clarity of your business practices, which further allows you to better define your goals for the year and marketing strategy.
This template is easy to edit, is fully customizable and can be downloaded instantly. It makes your work a lot easier when creating a marketing work plan. Download it today!