In the business industry, employees are termed as the asset of the company. Perhaps, that is true. They provide great help in maintaining the credibility of the company through products and services. But, employers must strive to look for new hires whenever an employee decides to resign and leave the job. However, it's not enough to look for new employees alone. This is where a training program becomes an essential method in employee development. Remember, various activities are involved in helping in improving knowledge and skills. Create a training plan by outlining the schedules is an absolute necessity. Check out sample training schedules below for your reference. 
16+ Training Schedule Examples
1. Training Schedule Template
2. Work Training Schedule Template
3. Monthly Training Schedule Template
4. Employee Training Schedule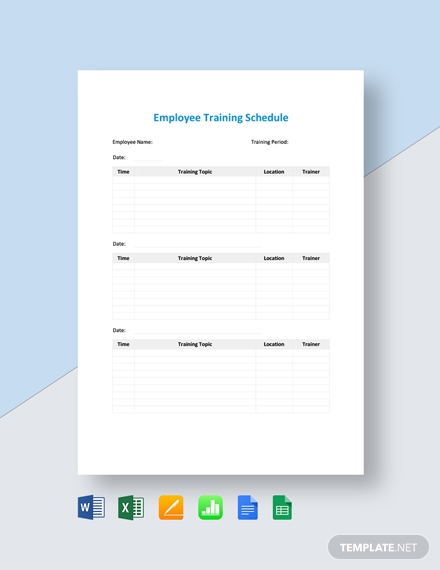 5. Training Program Schedule Template
6. Restaurant Employee Training Schedule
7. Hourly Training Schedule Template
8. Free Safety Training Schedule
9. 10K Run Training Schedule
10. Introductory Training Schedule
11. Training Schedule for Beginners
12. Concur Travel & Entertainment Training Schedule
13. Walking Training Schedules
14. Training Schedule & Course Information
15. Training Schedule for New Employees
16. Simple Training Schedule
17. Business Training Schedule
What Is a Training Schedule?
A training schedule is an essential document that is for various purposes. It can be beneficial for bodybuilding, gym, marathon, and work-related activities because it contains the list of tasks along with its time duration. It is a suitable material to make sure that users finish the activities on time.
Growing Number of Exit Interviews
According to a report published by SHRM.org, there were over 40% exit interviews in 2017 with over various reasons why. Sometimes, it is about the pressure at work and other personal matters. With this analysis growing through the years, employee replacement is substantial. Alongside it must be the development program that should be established. With this, employees will have the right process in improving their knowledge and skills.
How To Make a Training Schedule
A training timetable is a substantial material that should be clear, organized, and useful. It should contain different elements, such as the training action plan and training dates, to ensure that users are responsible for finishing various programs. To help you through, we arranged useful tips when creating a training schedule. Read on. 
1. Define the Needs and Goals 
Begin making your training program schedule by defining what your company needs. Do you need a new operations manager? How many positions are open for new employees? Since training programs have various purposes, you have to be clear about what you require. You can come up with SMART goals to make sure that you stick with your action. Without considering this step, the activities you'll plot may not be beneficial for the new staff. 
2. Outlining the Task Priorities
After you gather information about the requirement, you can already start outlining the activities. The employee training plan should begin with the basics, such as introduction, job overview, and demo. Then the more hands-on activities must follow, including physical and mental tasks. All in all, make sure that you prioritize the easier process before you jump to the actual job. With this, you can assess whether or not an employee can finally move forward. 
3. Include the Time Duration 
A schedule planner is not complete without the time frame all along. Since there are only five working days weekly, you have to plot the time accurately. Make sure to include intervals for breaks, such as lunch. Since you don't spend 24-hours in the workplace every day, you have to weigh in how much each activity should take. Making this will help you understand your time limitation for every training tasks you do. 
4. Implementation
Lastly, present your work action plan to an authorized person. This has to be given to the management to ensure safety and effectiveness. Either you test it out for the first batch of new trainees or do the changes right away. Make sure it is useful and worth the time of everyone involved. 
FAQs
Is it essential to schedule your day?
For some, scheduling their daily activities have helped them organize their lives. Although it is not mandatory to have a personal development plan, it pays to try and consider it.
What are the types of schedules?
The five types of the schedule include stream, wave, modified wave, double booking, and open booking schedule.
How do you define a schedule management plan?
A schedule management plan is a procedure that is substantial in policy and documentation policies. It follows planning and managing useful for a particular schedule.
Indeed, scheduling your activities is substantial to ensure that you are on track at the right time. So, whether you come up with a fitness schedule or work training schedule, you have to accurately plot your time table to avoid lapses and delays. Follow the steps above and make a schedule that fits well with your training plans.