As many entrepreneurs would claim that the employees is the asset of a business, it is inevitable to see them come and go. For most organizations, recruitment is a serious matter. This is how a company measures their success towards the future. In a fulfillment of a productive and high-ranking performance, it is best when the new employees are skilled and well-trained. Because of this, a training plan must push through no matter what. Therefore, you will need a training schedule to make sure that all the plans will go accordingly. With this, you can start by exploring the sample training schedules below for your reference. 
27+ Training Schedule Examples
1. Training Schedule Template
2. Work Training Schedule Template
3. Monthly Training Schedule Template
4. Employee Training Schedule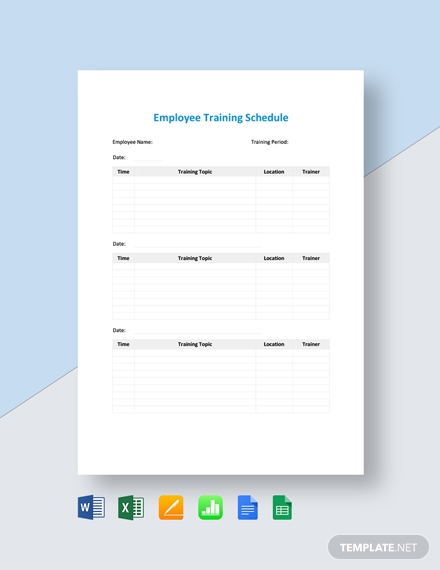 5. Training Program Schedule Template
6. Restaurant Employee Training Schedule
7. Hourly Training Schedule Template
8. Free Safety Training Schedule
9. Free Work Training Schedule
10. Free Monthly Training Schedule
11. Training Schedule Gantt Chart Template
12. Weekly Training Schedule Template
13. Workout Training Schedule Template
14. Strength Training Workout Schedule Template
15. Fitness Training Workout Schedule Template
16. Weekly Weight Training Workout Schedule Template
17. Training and Development Schedule template
18. Volunteer Training Schedule
19. Schedule for Technical Training
20. Training Session Schedule Example
21. Blank Training Schedule
22. Training Course Schedule Sample
23. Schedule for Training Process
24. Employee Training Schedule Example
25. Schedule for Safety Training
26. Computer Training Schedule Sample
27. Orientation Training Schedule
28. Schedule for Army Training
What Is a Training Schedule?
A training schedule is a material that includes the different activities involved in a training program or process. Usually, a training schedule lists the various training sessions and events, including the time allocated for each session and the course's facilitator or training conductor. It is used for multiple needs, such as swimming, bodybuilding, or new staff training. 
Importance of Employee Training 
Training is always part of every employee's development. Even when you are hired in an instant, that doesn't always mean you surpass the company's expectations. All new staff must undergo training programs that will help in developing skills. According to the analysis report published by the Managementhelp.org, the benefits of employee training includes enhancing employee motivation, job satisfaction, and efficiency at work. Because of this, your company will expand and develop a higher-ranking performance. 
How To Write a Training Schedule
Since you are now aware of the importance of a training schedule for your business or personal appointments, writing now requires paying attention to details. You have to make sure that all your plans will finish on time. Therefore, you need to finish it and use it for your needs. To do so, you can follow the list of steps below. 
1. Define SMART Goals and Objectives
When preparing your training timetable, you need to start by highlighting your objective. These will become the focus of the whole training program, and the basis of your desired learning outcomes. Go through your purpose and define it. Is it for a seminar schedule? Is there an upcoming basketball tournament? You have to weigh in so that you will understand the SMART goals that you should establish for your team. With this, you'll stay focus and on track. 
2. Make a List of the Sessions or Activities 
Now, begin by organizing the list of activities involved. A training program is typically divided into different training sessions. For gym beginners, you can start the workout schedule with a warm-up exercise. Then, follow it with the basic teaching of workout activities. Make sure to fill out the 30-day workout plan. With this, you will ensure that your clients will maintain their progress and accomplish their goals. 
3. Carefully Allocate the Time for Each Session 
Next, set a time schedule to keep you on track. You have to divide the time equally for each session. This includes time allocation for breaks, such as lunch breaks. Then, set the training dates according to the availability of trainers and instructors. Will the gym open on weekends? Even the shortest period affects solely to your training plans. Therefore, you have to keep an eye on the time intervals and possible absences. 
4. Go over Your Schedule a Few Times
Lastly, you have to get rid of possible errors. Review and recheck your document. It is essential to update it regularly to make sure everything will work accordingly. If problems occur, redo it right away. 
FAQs
How do you define a scheduled time
Scheduled time is a planned time. It is an organization of a fixed schedule for activities and events.
A schedule is making the time. It outlines the activities at a specific time, whereas a time table is a particular arrangement of time for events.
How do you define a weekly schedule?
A weekly schedule is planned activities for the week. It serves as a material to keep track of your progress weekly.
Training is a process that a company should never overlook. Whether for business or personal use, training must be complete and useful. With this, you can follow the steps above. Create your training schedule and see where it will bring you. To make sure that your business plans will go accordingly, keep a document that you can rely on. Therefore, set training dates for your employee to consider in developing their skills.