Getting a clear message across can be quite difficult without the right promotional tool in hand. While there are many marketing materials to choose from, brochures are known to be one of the most cost-effective options there is.
A good brochure design allows you to promote your business, event, or campaign through an informative and creative content. It's a versatile medium that's sure to generate a positive response from prospects with the help of the right guidelines and design techniques.
Key Elements of a Brochure
Listed below are the major elements that every brochure must have:
1. Eye-Catching Headlines: A good headline should focus on what the company can offer to a potential client or customer. It's important to write a headline that's worth the attention, like something that people can benefit from, as opposed to a business logo and a company tagline which fails to tackle the problems a prospect might have.
2. Points of Differences: Your competitors all have something to offer, so what makes your company any different? You need to give a client a reason to choose you over the others. It can be a personal branding statement that the public will recognize you for, or a simple challenge that won't be easy to resist. It's best to decide on something that's snappy, clear, and distinct to your business.
3. Basic Information: Once you have captured a person's attention, you'll want to feed their curiosity with an informative content. This should discuss the benefits, pricing, and availability of your product or service for prospects to gain a deeper insight of what's in store for them. This should be made clear without the use of industry-specific terms that only a few people would understand.
4. Testimonials: Using testimonials from satisfied customers and well-known personalities is one way to establish credibility. This will support your claims for people to see how committed you are to providing quality products and services to the public. Adding a few articles and pictures will also be helpful.
5. Call to Action: Now for the most important part of the marketing campaign, you'll need to encourage prospects to pick up the phone, visit a website, or fill out a form. Apart from a persuasive text, you can also offer a money back guarantee, a free trial period, or an extra discount voucher for customers who avail of your product or service before a specified date.
10+ Brochure Templates
Free Construction Brochure Template
Template Details
Available File Formats
&nbsp
&nbsp
&nbsp
&nbsp
&nbsp
&nbsp
Size: 8.5×11 inches + Bleed
Annual Report Bi-Fold Brochure Template
Template Details
Available File Formats
&nbsp
&nbsp
&nbsp
&nbsp
&nbsp
&nbsp
Size: US (8.5×11), A3 (11×17) inches + Bleed
Multipurpose Portfolio Brochure Template
Fashion Trend Brochure Template
Beauty Parlor A3 Bifold Brochure
Template Details
Available File Formats
&nbsp
&nbsp
&nbsp
&nbsp
&nbsp
Size: (US) 8.5×11 inches
Commercial Real Estate Brochure
Template Details
Available File Formats
&nbsp
&nbsp
&nbsp
&nbsp
&nbsp
&nbsp
Size: (US) 8.5×11 inches
Education A3 Tri-Fold Brochure
Template Details
Available File Formats
&nbsp
&nbsp
&nbsp
&nbsp
&nbsp
&nbsp
Size: (A3) 16.54×11.69 inches
Fast Food Brochure Template
Template Details
Available File Formats
&nbsp
&nbsp
&nbsp
&nbsp
&nbsp
&nbsp
Size: (US) 8.5×11 inches
Food Truck Brochure
Template Details
Available File Formats
&nbsp
&nbsp
&nbsp
&nbsp
&nbsp
&nbsp
Size: (US) 8.5×11 inches
Japan Travel Brochure
Template Details
Available File Formats
&nbsp
&nbsp
&nbsp
&nbsp
&nbsp
Size: (US) 8.5×11 inches
Real Estate Agency Brochure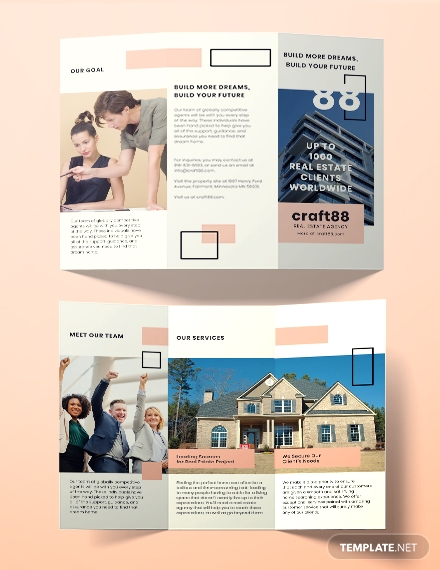 Template Details
Available File Formats
&nbsp
&nbsp
&nbsp
&nbsp
&nbsp
&nbsp
Size: (US) 8.5×11 inches
10+ Brochure Examples
YMCA Brochure
Accenture Digital Assistant Brochure
Griffith University Brochure
Harvard Summer Program Brochure
Petabis Organics Brochure
Red Cross Mission Brochure
Salvation Army Charity Brochure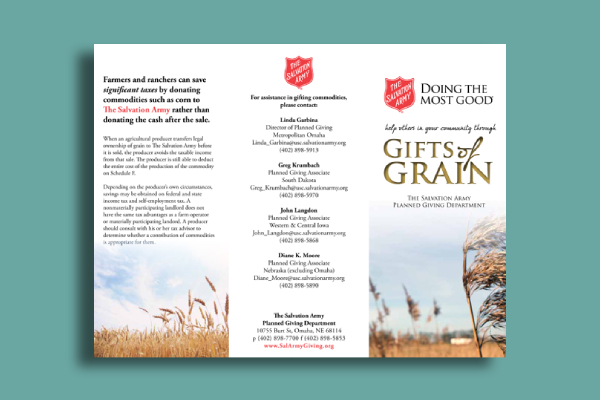 UC Berkeley Brochure
UNICEF Brochure
WWF High Conservation Value Forests Brochure
How to Create a Brochure
Unlike advertising flyers and event posters, a brochure gives you the chance to say more about your business. It has enough space to tell your story in a more detailed and coherent manner. And the best part is, they're pretty easy to make. Follow the steps below and you should be on your way.
1. Gather ideas: To draw attention with your brochure, you're going to need some content. In addition to your logo design, you need a few images of your products or services as well as a short copy about your business. Get inspired by brochure designs created by your leading competitors to find out what's ideal for your target market.
2. Choose a format: This usually depends on the amount of information you wish to communicate through the brochure. A tri-fold brochure has three panels that allows you to feature detailed information about your business. This is a common choice for restaurant menus as it can fit texts and images perfectly on its layout. You can try taking a piece of paper, folding it into different formats, and jotting down your draft to visualize the best option for your brochure.
3. Select a template: You can find many professionally designed templates that specially cater your every purpose. Ready-made templates are developed to meet industry and pre-printing requirements for an efficient production process. Don't worry about the template not meeting your exact preference, as you could always customize its content to satisfy your needs.
4. Lay out your content: Once you have your template, you can begin filling it with your business information, photos, and graphics. Organize these elements on your layout and experiment with various styles and techniques to see what works best for your purpose.
5. Finalize your brochure: When you're happy with how your brochure looks, you can then move forward to the printing process. Choose a paper stock that suits the style of your brochure as well as the budget set for it. Say for instance, for a menu brochure, you might want to choose a card stock and a glossy finish to keep the material sturdy and vibrant.
Useful Tips for Designing the Perfect Brochure
Now that we've covered the basics of crafting a brochure, let's find out how you can enhance the layout and look of your brochure with the help of the following tactics:
Know your customers: Get to know your target audience. You can conduct a few surveys to find out what you can incorporate into your design that will interest them. Their responses can help you map out the best form of content based on what they need and what you have to offer.
Go straight to the point: Cut to the chase. You're making a brochure, not a book. There's no point in writing all your achievements and successes as a business. When people open your brochure, they'll want to know what you can offer them that no other company can. Focus on your main point and convey your message in a way that is easy to grasp. You may also see service brochure examples.
Add appropriate images: A brochure without pictures is nothing more than a boring page from your tenth-grade history book. You need something intriguing enough to attract attention. It's best to use relevant and appropriate photos that people can associate with your main point. This can be from your own professional gallery or from high-quality stock images purchased online.
Be strategic with white space: This refers to the empty spaces between your text and graphic elements which direct the eyes toward where you want them to go. White space also keeps your layout clean and organized to help enhance readability. You may also see photography brochure examples.
Proofread your copy: Remember to review your content for any spelling or grammar errors committed. Not only will this affect the message being delivered, but it could also shape one's perception toward your business. Make sure to apply the necessary changes before submitting the brochure for printing.
Types of Brochures
Knowing the different kinds of brochures and when to deploy them can make a huge difference in your campaign. Whether it's to sell a product or service or to promote a brand, choosing the right advertising brochure is a crucial decision to make. So, let's take a closer look at the following brochure types:
Leave-Behinds: As the name implies, this is literally the kind of advertising material you leave behind after meeting a potential client or customer. This usually follows a brief discussion regarding the benefits and pricing of your product or service. Not only does it mirror your sales pitch, but it also gives your prospects something to remember you for long after your encounter.
Respond to Inquiries: Perhaps you have caught a customer's attention through a billboard ad or a social media campaign. Since the hardest part has already passed, you'll be happy to know that you have a qualified buyer at your doorstep. This is your chance to pull all the strings by packing your brochure with facts that are enough to convince them to close the deal.
Handouts: This might seem a little old-fashioned, but it's definitely a great way to stay connected with prospects. Getting a complete stranger to take your company brochure isn't exactly the easiest thing in the world, but with good charisma and a clever tactic, gaining their attention will be a walk in the park. A personal interaction allows you to answer questions, make a pitch, and persuade clients to do business with you.
Point-of-Sale: This is the kind of brochures you're most likely to encounter when you enter a trade show, convention, or store. It is positioned at a noticeable location to draw attention and to make a person want to pick it up. Though it might not tell clients everything they need to know, it's still a good conversation starter that may potentially lead to a sale.
Direct Mail: You won't always have the opportunity to get acquainted with every single customer. Cold prospects, as they are called, are the hardest to reach. Sending them a brochure with a direct mail pack is usually a good option. However, it does require a lot of convincing to turn cold prospects into qualified buyers, and then actual customers.
Sales Support Tool: This is the type of brochure that works hand in hand with your sales pitch. They are designed as a selling aid to help guide you through your conversation with a prospect without being overly complex or extremely vague. As you explain what's written on the brochure, potential buyers can scan through the brochure and raise any questions that come to mind. You may also see workshop brochure examples.
Brochure FAQs
What is a brochure used for?
Brochures are a cost-effective marketing tool to use, considering how they are simple to produce and easy to distribute. They allow you to introduce new products or services, relay core ideas, explain existing offers, build awareness for a campaign, and so much more. You can even include a few inserts between panels such as business cards, discount coupons, and small flyers. It's the perfect medium to help you establish your business in a competitive market.
What paper should I use for brochures?
In terms of paper weight, you can choose between two options: paper stock and card stock. Paper stock is lightweight and inexpensive to produce, so you can easily hand them out personally to passersby. Card stock, on the other hand, is thicker and more durable in quality. And because they're less likely to develop crease lines, you can mail them out to prospects without an envelope. As for the paper finish of your brochure, you need to decide between a glossy and matte finish.
What is the difference between pamphlets and brochures?
Looking at it from different angles, there isn't a significant difference between the two. Pamphlets are known to be unbound booklets due to the way they are structured. But for the most part, pamphlets are used to relay information about a single topic. What makes a brochure different from a pamphlet is the way it is printed and folded. This is often used for marketing and sales purposes. Simply put, the difference between pamphlets and brochures would depend on the end use of the medium.