During your younger years, your teacher used to ask the entire class what each of them wanted to be when they're older. While others aspired to be specialized doctors and engineers in their respective fields, some people saw themselves writing pages after pages of words for the rest of their lives. You may also see company email signature examples.
Some writers are hired to write content for catalogs and websites, and some turn out to be best-selling authors like J.K. Rowling and Stephen King. Unfortunately, most writers have a better chance of writing articles and product descriptions for their corporate employers than becoming The New York Times' best seller.
But content writing is not as dull as you might think it is. Some of the most successful content writers are even living just as comfortably as a software engineer or a screenplay writer.
However, like in any other industry, the only way to prosper as a content writer is to make a positive impression among clients and hiring managers. Apart from an impressive portfolio, establishing your identity as a content writer through your emails can play a significant part in your endeavors. This can be achieved with the help of a good email signature.
Professional Content Writer Email Signature Example
Technical writer Email Signature Template
What Is a Content Writer?
Content marketing is a growing field that many companies have learned to invest on. Along with that growth comes a long list of opportunities for entrepreneurial-minded writers who have the ability to construct targeted and interesting content for their desired audience.
While some would think that a content writer's job would be to sit at the porch of their vacation house by the beach with their laptop and cup of coffee nearby, it's actually not as glamorous as it may seem.
Writing is not an easy job, and it's certainly not for everyone. A 500-word essay that many students complain about can easily be completed within an hour. But unlike a student essay, content writing isn't exactly opinionated. Instead, it should be well-written, researched, and creatively conceived for it to be of value to its intended audience. You may also like corporate email signature examples.
So, how can one jump start their career as a content writer?
People who want to be a part of the field are generally given two options: to write for a content writing service or to write for a freelance job board.
Content writing services are companies that build business relationships with other companies that need content. They do so by providing writers who can create that content for them. Freelance job boards, on the other hand, are sites that enable writers to create personal profiles to build their online presence and vie for job opportunities that are posted directly by potential clients. You may also check out business email signature examples.
If you are someone without much experience in the world of content writing, allow yourself to explore what content writing services have to offer in terms of professional growth and development, as freelance job boards are best suited for writers with many years of professional experience. You might be interested in how to create your email signature.
Standard Content Writer Email Signature Example
5 Essential Skills to Become a Good Content Writer
Although some of the most successful writers have the privilege to work freely and flexibly at the comfort of their own homes, the vast majority of writers have a hard time making a living out of what they do. This is because they lack the skills needed to succeed, and fail to recognize the importance of going out of their own comfort zones to write valuable content. Regardless of how talented you are, possessing excellent writing skills is simply not enough.
So if you want to be a prosperous content writer, take note of the following points:
1. Master a writing style.
We're all aware that each form of formal writing has its own style. Journalists deliver news in brief, informational paragraphs with the meat of the story right at the very top. Blogging is more personable and friendlier in nature due to its opinionated content. Ad copies are kept short and persuasive. White papers are more comprehensive because of how they describe a problem and provide a solution.
Simply put, each and every category of writing is different from the other. If you want to excel in what you do, choose a writing style that you want to master in first.
2. Choose your subjects wisely.
Understanding the art of content writing is extremely important. You see, writers don't pick random subjects to discuss with their audience, rather, they select topics that they know readers are curious about.
For instance, you're asked to write an article for a business column. Your target audience is composed of fresh and aspiring entrepreneurs who hope to make a name for themselves in the industry. With that in mind, you need to gather information on possible topics and keywords that your audience is most likely to search for. You may also see sales email signature designs & examples.
Going through articles published by your competition can also provide a good amount of insight on the latest trends.
Once you have collected all the data you need, you should then focus on creating clickable titles that are compelling enough to grab a reader's attention.
3. Be original.
Writing original content may seem like a ridiculous idea, considering the tens of thousands of people writing about the same topics. But as crazy as it sounds, it is possible to write something far more fascinating than that of another author. You may also like professional email signature examples.
Every talented writer has a unique a voice that they could use to their advantage. The key is to bring a different perspective to an overworked subject by looking through subtopics and supporting information that only a few writers seem to tackle. You may also check out wedding planner email signature examples.
Rather than supplying your audience with heaps of obvious information, be original and tell them something that they don't already know. Not only can this spare you from publishing plagiarized content, but it can also turn your work into something different from the ordinary. You might be interested in music email signature designs & examples.
4. Familiar with SEO, HTML, CSS, and WordPress.
It doesn't matter if you nearly failed your computer class in seventh grade. Fortunately, with content writing, you only need to know the basics. Most companies use WordPress as a platform for writers to create content for their websites. But since WordPress themes consist of varying levels of automatic functions, the only way that you could personalize how your text appears on the webpage is to manipulate the code found in the Text/HTML tab.
As for the actual content of your articles and posts, having updated SEO knowledge is also vital. As a writer, you need to keep up with the latest search engine algorithms to generate website traffic. These keywords will help you identify the top searches that you can optimize on. You may also see how to create and send formal email messages.
High-quality content is another factor that is always in demand. The ability to compose in-depth content from a unique perspective is sure to appeal to audiences of any kind.
5. Be a social media specialist.
A lot of successful writers use social media to connect with their desired audiences. Say for example, writers from the popular Internet media company BuzzFeed don't just construct entertaining articles for their readers, but they also make an effort to connect with readers and followers through various social media networks. The secret is to be active, public, and friendly with your target audience for them to recommend your content to others. You may also like simple email signature examples.
Senior Content Writer Email Signature
Useful Tips for Writing Web Content
Imagine visiting a website that carries good product and service offerings. Browsing through the site is made easy thanks to its user-friendly features and impressive navigation system. But your enthusiasm is cut short by the sloppily written product descriptions found in every information box. To make things worse, the descriptions fail to provide a sufficient amount of information about the items being sold. You may also see human resource email signature designs & examples.
Will this change your perception about the website and the company as a whole?
To avoid cases like this, here's what you need to know about content writing:
1. Keyword stuffing is never a good idea.
Now that we've established the relevance of keywords in SEO marketing, it's time that we recognize the importance of applying such correctly. Keywords can make your content valuable, readable, and search-friendly, but cramming one too many keywords in one post can do the exact opposite to your website. You may also like informative writing examples.
If anything, a page stuffed with keywords is considered untrustworthy to both Google and human readers. Search engines are a lot smarter than you think. If your page is deemed to be of low quality, then your domain is sure to work its way down the results list over time. You may also check out formal writing examples.
2. Hyperlinking is key.
Since most writers take inspiration for their own works from other authors, referencing another website's content is a common approach. This is done through hyperlinking each reference made back to that site. It's good Internet etiquette to do so, even if you're worried about sending your Web traffic to a competing site. You can also choose the "open link in another window" option provided by WordPress if you're concerned about retaining your traffic. You might be interested in narrative writing examples.
3. Emotional impact should be a priority.
Notice how news about animals saving humans tend to go viral more quickly than a report about a new smartphone with AR features? That's because the emotional impact brought by the former plays a huge role in content marketing. You may also see notice writing with examples.
There are a lot of factors that go into the creation of a viral content. While promotion, timing, brand identity, and plain luck can make a difference, there's nothing like creating Web content that can evoke an emotional response in readers.
4. A compelling introduction matters.
Good intros are hard to make. Ask any writer, and they'd give the same response. It can feel unnatural and rather abrupt to skip right to the point without any prior buildup. At the same time, you don't to prolong the discussion with a lengthy narrative because by then, your readers will be long gone. You may also like summary writing examples.
From the very beginning of your article, you need to give readers a reason to care. They need to know whether you can help them with their problem, and this can be depicted from the first sentence of your post.
5. Paint a picture.
The foremost challenge that comes with content writing is allowing your audience to understand a message without the use of pictures and other visual representations. Instead, as a writer, one of the best ways to capture your reader's attention is through the use of simple imagery. You may also check out what is writing used for?
Paint a picture. Illustrate your point in such a way that enables others to visualize themselves in a situation used as an example. This can help build a deeper connection between you and your audience. There's no harm in adding a little creative fiction to your content as long as it remains relevant to your main point. You might be interested in script writing examples.
6. If you aren't sure, look it up.
Content writing is a continuous learning experience for writers as well. Considering how topics are chosen according to the needs of a targeted audience, it's likely you'll end up writing about subjects you aren't quite familiar with. When this happens, it's best to conduct your own research regarding every major aspect of the topic. The proper use of words and application of grammar should also be reviewed and edited when necessary. You may also see abstract writing examples.
Professional Email Signature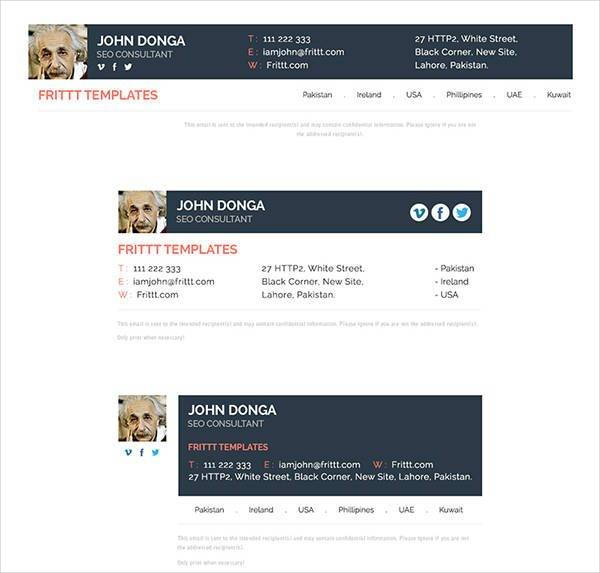 Why Do You Need an Email Signature?
Many content writers work as freelancers, taking in random jobs from different employers who seek for their services. Outsourcing is a common practice that many companies use to get writers from different parts of the globe to write content for their websites. You may also see teacher email signature examples.
Employers typically contact prospective employees via professional email to gain a quick and documented response. So as someone hoping to build a career in content writing, you need to establish a professional and credible online identity for clients to trust. This is why many experts recommend adding a personal email signature containing important information that clients would want to know about.
One of the advantages of using an email signature is that it shows how serious you are about what you do. This serves as a digital business card that can help you build legitimacy and professionalism through personal branding. It also shows creativity and consistency for prospects to take note of.
Although content writing may seem a bit difficult at first, it's a gradual process of learning which you can slowly polish with the help of constant practice. With the right skill set, you'll soon succeed in the field and find that you do have the best job in the world!