It is undeniable that mailing has evolved through time. From the mails sent through post offices and delivered on foot to our households, mails these days (also called electronic mail or email) are faster and more effective. Writing is made easy as characters and word count is unlimited and you can even include attachments like images, documents, and any other large files.
Because sending an email is very important especially in corporate businesses as well as for personal transactions, it is almost a must for every individual to have an identity over email. How can this be possible? The answer is the use of email signatures.
Email Signature Example
Formal Email Signature
Creative Agency Email Signature
SEO Email Signature
Resort Email Signature Template
Spa Email Signature
Email signatures serve as your personal brand and provides a quick detail about yourself. It helps you or your company be known to the public. It is much more than just having something to be placed at the end of your message; it is for personal branding and for easy communication with customers and other prospective clients. So what is really an email signature and what specific roles would it play to you personally and to the company you are working for?
Email Signature Examples
Here are some email signature examples you can use for your own business or for other corporate purposes.
300 Email Signatures Example
39 Email Signatures Example
What is an Email Signature?
An email signature is a structured text that can be found at the end of your email. This contains very brief details about you or your company, including but not limited to your full name, designation, and company name. Most people add an email signature at the end of emails mainly for branding purposes. There are a lot more reasons behind the addition of email signature. You may also see corporate email signatures.
However, your email signature should not be overstuffed with details in which it becomes overblown with useless and unnecessary details. Be careful and include only those details which are vital for you, your company and your clients. You may also see personal email signatures.
Importance of Email Signatures
If something is placed within an email (a word or a phrase) that is used repetitively, then it must be something important. Just like email signatures that are placed at the end of your message and are used over and over again, they have a necessary role to play not just for a single transaction but for multiple dealings with company personnel as well as external clients. Here are the reasons why email signatures are important. You may also see condolence email examples.
1. Marketing Tool
There are several marketing tools used in business: banners, flyer examples, newspapers, magazines, and vouchers, among others. The main purpose of this marketing tool is mainly to disseminate information regarding the company or its products and services.
In the case of email signatures, they serve as a banner placed at the end the email which does not only help the recipient obtain contact information of the email sender but also help the sender gain a positive and ethically responsible reputation.
2. Social Networking Tool
Several email signatures designs contain the sender's social media accounts or even blog URLs to promote their site through social media. As you can see, social networking platforms such as Facebook, Instagram, and Twitter gain millions of users on a daily basis so promoting through these platforms is very easy and effective. People nowadays spend a lot of time browsing the internet so more or less they can stumble upon a company's email signature through social media.
3. Easy Contact
Your email signature should contain full contact details so your recipient can easily contact you for further transactions. Remember that your transaction for a client does not only end with the email; it goes beyond that with the possibility of the client becoming loyal to your company in the new future. Having loyal customers will thus increase your credibility as they become stepping stones for future costumers to place their trust in your company. You may also see reminder emails.
4. Openness to Communicate
Make sure that you cater to your recipient consistently and that the contact detail you provide in the email signature is active. This way, you are making yourself open for people to communicate with you and that you are willing to cater to their needs. We all know that answering emails every day is tiresome especially when they are added on top of emails regarding company reports and other business transactions.
Clear your mind first before dealing with customers as you might end up saying the wrong words. Sending an email containing inappropriate content will immediately cause costumers shift their allegiances to another company. Take good care of your customers for they are the fuel of your company and they will help your company prosper and stay profitable. You may also see invitation emails.
5. Professionalism
There is a greater sense of professionalism when you send an email having a signature than those without. It is similar as placing a stamp or seal that validates a document. Because of this, your email will become more legitimate and credible, and you will gain the trust of the email recipient. In the business world, gaining trust is necessary to achieve loyal customers, not just those who will buy and never come back after one transaction.
Trust is something you need for clients to unceasingly patronize your products, in which they can also assist you in future referrals and recommendations. Trust can easily result in a vast network of customers for your company. You see what a simple email signature could do? You may also like simple email signature examples.
6. It Represents Your Company
When you are creating your own email signature, take note that you are also representing the entire company or organization you are working for. Thus, you have to be very careful in incorporating company details as well writing content in your emails. You have to be very mindful of the content you write as well as the messages you send out to your clients and other stakeholders. Even when you are in the verge of getting angry, you just have to calm down and settle things a kind and polite manner.
Always bear in mind that it is not just you who will be affected with your actions but the company as well. A carefully thought and designed email signature is one of the things you need to note so that you can maintain your company's prestige and status.
7. Show Your Position in the Company
This is not just for personal bragging. Incorporating your position in the company will inform your customers and email recipients the role you play in the company and give them an idea on how you will be able to resolve their concerns or inquiries. For example, if you are a finance officer, people would expect that you are in charge of the finances and you are also responsible for financial statements and reports. It is also expected that you will be transparent in your financial reports especially if you are working for the government.
Another example is that you are a sales officer and the email recipient would expect you to cater to all queries, orders and concerns related to sales. Your position will also inform the customers what to expect from you and what can they get from you based on your position in the company. They will also become aware of your boundaries with regards to duties and also the scope of your responsibility.
8. Branding
An email signature is vital to your branding because it reflects who you are either as a professional or a regular individual. The presentation of your email signature does not only show your persona but also shows the representation of your job. Also, it is another way to get the attention of the email recipient, not just on the content itself but the overall presentation.
Having an email signature also indicates that you are willing to do business with your email recipients and you look forward for future transactions with them. You may also see dos and don'ts of email signatures.
Email Footer Template
Modern Email Signature Example
Example of Email Signature Template with HTML
Responsive Email Signature Example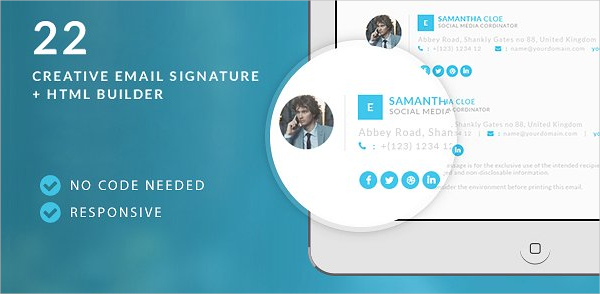 Example of Email Signature Templates (10 Designs)
What Consists of Email Signatures?
Every email signature is unique and has a distinct design from one another. There are no two email signatures that are very much alike. However, there is a format for a well-structured email signature. The content of a good email signature is as follows:
1. Ideal Number of Text Lines
The ideal number of text lines in an email signature is said to be three to four. Below that number could mean a lack of information while more than that will result in an overstuffed layout. But this is not without subject to exemption, of course. If there are more crucial information that should be placed (i.e. lengthy company name, contact details), you may add additional lines to the email signature.
2. Email Address
Should you include a personal email address? You might right away say "Yes, why not?" Well, think again. If you will include your own email address, it is like repeating your email address twice in one single email. Omit your personal email address and use that space instead for any other important information needed to be included in your email signature.
3. Other Perks
This is a trick that you might want to consider when sending out emails. Using your mobile phones when sending emails prompts phrases such as "sent from mobile" or "sent from my iPhone" to appear. You may ask what these phrases do to your email signature? Research has discovered that individuals tend to be more forgiving to grammatical as well as typographical errors if emails are sent from a mobile phone compared to emails sent from a desktop computer or laptop. In this way, they will not expect more from your email and they will have a high tolerance to mistakes while reading it.
4. Basic Information
Your name. The first line of an email signature is usually the name of the person using the email address.
Your company. You must include the name of your company, the brand that you represent, and your position within that company (i.e. job title) You can also add your company logo in the email signature.
Contact detail. Your contact detail is one of the things that you must not forget for this is an avenue for further communications with the customer or client. It is also a way of letting your clients and prospective clients know that you are open to queries, suggestions, and feedbacks. Don't forget to include your phone number, company phone number and company address.
Additionally, adding a web URL is important so customers can just browse through your website for additional concerns or queries. Adding a web URL also acts as an online advertisement because people can learn more about your company and the product and services you are offering. Optional contact details will include social media account information like Facebook, Twitter, or personal blog/website links.
Simple Clean and Contemporary Personal Email Signature Example
Example of Email Signature Templates (16 Designs)
Example of Email Signature Bundle (15 Designs)
E-Signature Design Example
Christmas Email Signature PSD Example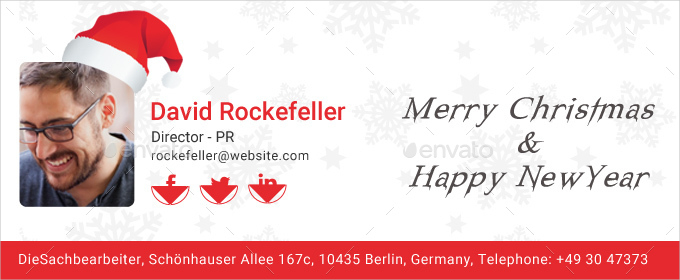 E-Mail Responsive Signature Example
Professional Email Signature Example
Hoop – E-Signature Example
Simple Email Signature Example
Company and Personal Email Signature Example
PSD Email Signature Example
Email Signature with HTML Example
10 Email Signature Bundle Example
Fully Editable Email Signature Example
Customizable Email Signature Example
Elegant Email Signature Example
Black Email Signature Example
Creative E-Signature Example
20 Email Signature Bundle Example
Example of 12 Email Signatures, HTML Included
Pros and Cons of Having Images in Email Signature
Would you believe that you can include images in your email signature? This is actually a common practice done by companies who want to attract customers through visual representations and designs. The said images can be a clip art, prototype, or a logo of your company. However, images cannot enhance your email signature all the time. Below are the some and cons of including images in your email signature.
The Pros
It contributes to brand recognition. When you add a picture or image in your email signature, you are advertising your business. It helps the email recipient remember your company through the image that you included. For example, when you see a logo of Nike in the email signature, it is more probable that people will remember the logo more than they remember the brand itself.
It builds intimacy. When you include images in your email signature, it builds more intimacy and a sense of personal touch for the email recipient. It is more intimate because people get the feeling that someone is responding to them and they are not talking to a robot or a machine in an auto-reply conversation. It helps the email recipient feel that the conversation is real since there is a real person behind a desktop or laptop answering to queries or concerns.
It is aesthetic. Images can also serve as a decoration to your email as a whole. Emails with photos are innately attractive and are more visually appealing than the usual plain text. Individuals will become bored when they read long lines of text particularly when they have finished interacting with you and you still have a bulk of messages you want to send to them. Thus, images can help getting their attention and making them remember your name and your company.
It sells. As previously mentioned, a well-organized email signature can convert regular passerby to customers which will result in customer satisfaction and customer loyalty, thus aiding you in creating a vast network of customers and clients. The effect of having a lot of satisfied customers is to gain more sales which ultimately results to quality branding not just for you as an individual but for the company you are working for.
The Cons
It may look like a long tail of the copied text. This will happen when you send more than one email to a particular recipient. Your emails will just look like a pile copied text or a email that is being sent multiple times.
It may slow down your phone or laptop. If your image file is too large, it may take a long time for the recipient to receive the image which causes hassle on their end.
Some email services do not support emails. Not all types of computers, operating systems or applications support the use of images in emails. Some people would prefer not to download images directly as some images may be a source of spam or virus. To prevent this from happening, some applications are designed to reject images directly making them appear as a broken image or a blank box which is not visually pleasing at all.
Hence, it is up to you whether to add images to your email signature or not. Your recipient may have diverse opinions, too. Many people will become distracted by the looks of your signature if an image is included but others will say it is more professional and credible. It is just up to the perspective of a certain person on whether or not an image is good for your email signature.
Deciding whether to include images or not rests on your decision. Weigh the possibilities of customers who want images in your emails and customers who don't want any images at all. Eventually, do what you think is best for your email signature as well as for the company you are representing.
Wrap Up
Most individuals and companies doing simple business through the internet need to have an email signature for various reasons. Email signatures serve as a good promotional or media marketing tool as well as a social networking tool. It also provides a means for easy communication between company personnel and external clients, and brings out a high level of professionalism resulting in an increase of quality branding for your company. A well designed email signature will go a long way in giving your company financial success as well as long-term sustainability.