Memorial Day is one of the federal holidays in the United States of America observed on the last Monday of May when people would give tribute to the people who sacrificed their lives while serving in the U.S. military. Memorial Day is also a holiday when various organizations, both profit and nonprofit, would hold events such as cemetery or memorial visitation, family gatherings, parades, business' sales promotions, and many more to celebrate this holiday. Do not put your efforts for Memorial Day to waste by making sure that you have tapped social media as one of your marketing tools.
With the use of social media, you will have a wider audience reach. In this article, we have provided you with Memorial Day social media examples and templates that you can readily use.
1. Memorial Day Facebook Event Cover
A Facebook cover photo may seem like an ordinary strip of an image that you can see on a Facebook page, but do you know that this seemingly ordinary image strip can actually help you in driving more people to come to your event? Yes, it can! Try customizing this Memorial Day Facebook event cover template and see for yourself the wonders of what a Facebook cover can bring.
2. Memorial Day Facebook Post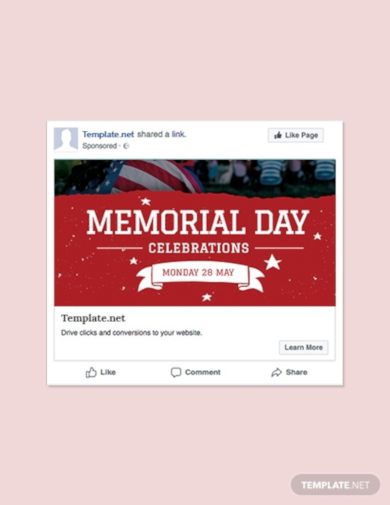 Of all the possible social media platforms that you should invest in, the only social media platform that you should never miss out on using is Facebook. A lot of people are already on Facebook and as a business owner or an event organizer, you should take advantage of this fact and advertise your business promotions or events with the use of this Memorial Day Facebook post template.
3. Memorial Day Instagram Post
If you only have a limited number of details regarding the events and promotions for Memorial Day, you may just make use of this compact Memorial Day Instagram post template and give yourself a favor by avoiding all the unnecessary stress and hassle that you may experience in the attempt of making a lengthy Facebook post. Plus, if you have higher Instagram follower count compared to your other social media platforms' follower count, you can save so much more with the use of this template we have prepared for you to download.
4. Memorial Day LinkedIn Post
LinkedIn may be the social media for professional individuals, but you can surely post blog posts that are related to Memorial Day. And if this is your first attempt in having such kind of post, you may make use of this Memorial Day LinkedIn post template. We guarantee you its convenience since this already contains a layout with visual and written elements that you can either use as is or modify to further suit your business and personal preferences.
5. Memorial Day Pinterest Pin
With the use of this Memorial Day Pinterest pin template, you will not only be able to make people aware of your events but you can also inspire them in more ways than one considering the fact that people log on to Pinterest in order to gain inspiration and ideas in whatever aspects of their lives. If you are already proficient at using Adobe Photoshop, then you are at an advantage because this template can be readily used and customized using the said editing software application.
6. Memorial Day Tumblr Banner
For your target users in the Tumblr community, make sure you get this Memorial Day Tumblr banner template! With the use of this template, you can easily incorporate all the necessary details that you will need to supply to keep your target audience informed. What makes this template even better is that this template had been designed by creative professionals with your best interests in mind.
7. Memorial Day Tumblr Post
What's the use of a Memorial Day Tumblr banner if you are not going to have a Memorial Day Tumblr post? With a Tumblr post related to said holiday, you will be able to enhance your digital marketing efforts and gain a wider reach within the Tumblr community. We have also provided you with a Memorial Day Tumblr post template that you can conveniently modify using Adobe Photoshop if ever you still have the need to personalize its existing layout.
Have you always wanted to advertise on Twitter but you still feel overwhelmed by its 280-character limit? Don't be, especially now that we have provided you with this Memorial Day Twitter post template that you can readily use for your own business and even personal use! Through this template, you will no longer need to bother with the 280-character limit because you can just make use of this template to contain all of the details that you need to supply for everyone's knowledge.
9. Memorial Day YouTube Video Thumbnail
Planning to create a YouTube video for Memorial Day? We highly recommend you to use this Memorial Day YouTube video thumbnail template. This template contains high-quality images, graphics, royalty-free fonts, and suggestive written content that, when combined all together, results into a kind of template that will surely have an impressive impact on the target viewers in the YouTube community.
Call people to action with this use of this Memorial Day Twitter header cover template! This template may look simple at first glance, but this is more effective than you think most especially that it contains all the possible visual and text elements that you would usually look for in a Twitter header. Plus, you don't have to worry if you are not yet adept at using various editing software applications because you can just edit this using Adobe Photoshop.
11. Memorial Day Instagram Post Example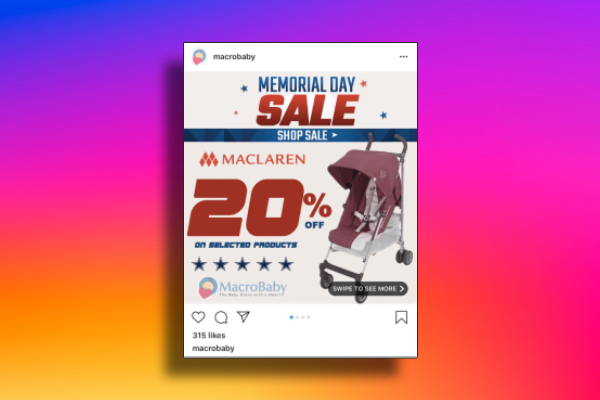 While some businesses would close on the holidays to celebrate it, some business owners would stay and operate so they can take advantage of the possible influx of holiday shoppers. So if you own a business and that you would like to run a sale promotion, here is a Memorial Day Instagram post example that you can use as a guide or as your source of inspiration if ever you are planning to create an Instagram post as part of your marketing efforts.