When planning an event for personal celebrations or professional gathering, you need to make sure that your event stands out. You need to be able to set your event apart from the others or maybe just aim to make your event more unique and special in your own way. One way of making sure your event stays as unique as possible is giving your guests unique and gorgeous invitations, meal, or program tickets.
Event Ticket Template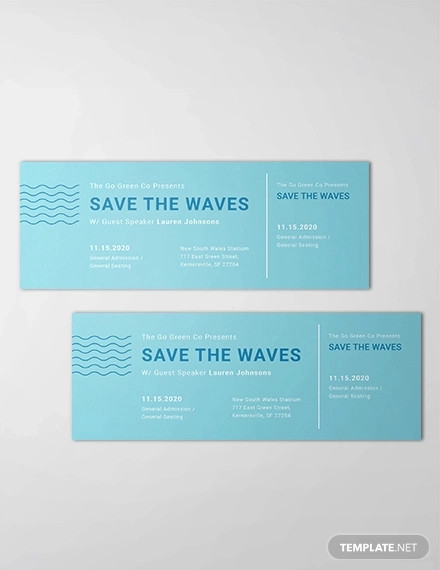 Office Event Ticket Template
Anniversary Event Ticket Template
Bowling Event Ticket Template
In order for your guests to arrive and leave in awe, you have to be able to find a way to set your event apart from other similar events. You have to think of an uncommon theme and find an effective way and team to perfectly execute it. Or if you want to pursue a theme that has been commonly used for event, you have to be able to pull off tricks to make your event more unique and stand out from the events it can be compared to.
Diamond Jubilee Event Ticket Template
Music Event Ticket Template
Ladies Night Event Ticket Template
Golf Event Ticket Template
Music Theme Event Ticket Template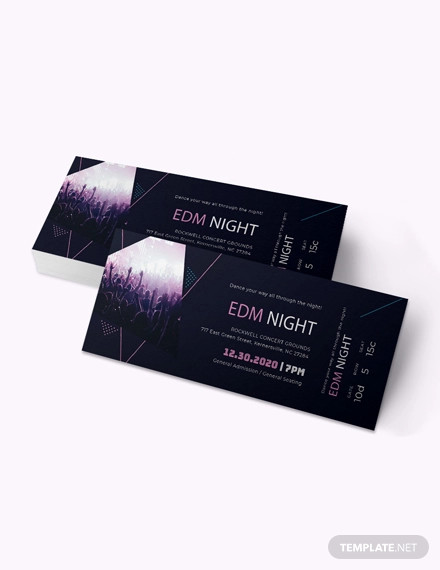 Fest Event Ticket Template
Photorealistic Event Ticket Template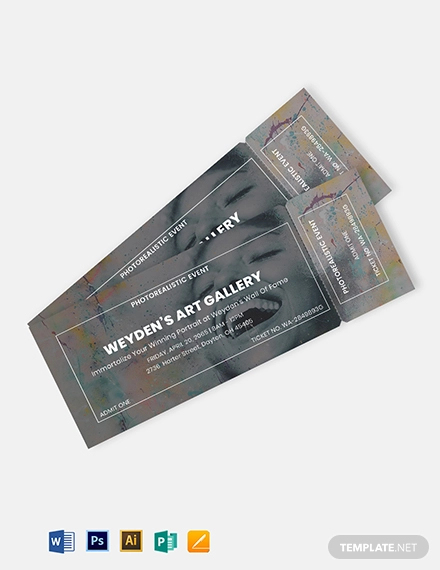 Bingo Event Ticket Template
Gaming Event Ticket Template
Music Concert Event Ticket Template
Sporting Event Ticket
Unique Event Concepts You Should Definitely Try
In order for you to have a unique and extraordinary event, you have to be able to come up with a concept that has not been heavily played out, or you can improve a common concept and make it into something new. The concept of your event will determine almost all the other factors surrounding the event; therefore, you have to decide on it months before your said event. With that said, here are some unique event concepts you should definitely consider for your events:
1. Silent Events
This event concept has been first used in music festivals and have been called silent discos. Silent events are based on that, and as the name implies, there is no sound coming or can be heard from this event. Each attendee is given a wireless headphone where they can directly hear the set list the DJ is playing. Silent outside of music festivals have also become popular nowadays.
Silent conferences follow this concept, the only difference is that the attendees can choose topics they can listen to instead of listening to a live speaker; somewhat like listening to an audio book. This will allow the attendees to focus on listening to their desired topic without hearing excessive noise from outside.
2. Speed Networking
If you heard about speed dating, then speed networking is easy for you to understand. Similar to speed dating where a person gets to know one person for a short amount of time then proceeds to another, speed networking follows the same concept for meeting new viable business partners and customers.
With the short amount of time given to each participant, about a minute to shake hands, exchange business cards, and add each other on LinkedIn. Most of the time, speed networking is just a small part of a bigger event, it is somewhat used as an icebreaker where participants can get to know each other.
3. Lunch Clubbing
This concept was based on the famous movie in 1999 starring Brad Pitt titled the Fight Club. The movie has bare-knuckle brawls on a secret locations that white-collar workers would often go to. Similar to that, although minus the fistfights, lunch clubbing is a concept where members meet at an agreed location for lunch, dancing, or networking. Since the event occurs at lunchtime, it usually lasts for about an hour and caters toward a local demographic. This will allow the people to effectively spend their lunch break rather than having an uneventful lunch break in the office pantry.
Auction Event Ticket Example
Disco Pop Event Ticket Example
Snapchat Birthday Event Ticket Example
4. Unconference
Someone once said, "You could use many adjectives to describe Silicon Valley; I don't think 'normal' is one of them." Silicon Valley is where tech people have gathered to give the people technological advancement that they see today. With that said, unconference is a also an event concept that took off a few years ago in Silicon Valley.
The main idea behind this concept is that knowledge lies in the audience and not in an assigned speaker. The audience gets to decide what they want to discuss and listen to by listing topics on a chalkboard. The topics are then arranged in their scheduled time slots and are discussed in small groups with a facilitator. Thus, the event is somewhat like a conference with open discussions rather than a conventional event with a designated speaker. The audience gets to decide how the event goes rather than following a pre-planned schedule.
5. Light-Speed Presentations
In business, if you want to make a deal or get that job, you have to be able to clearly deliver your purpose or goal or your qualifications within 20 seconds or less; this is called a pitch. Just like a pitch, light-speed presentations allow participants to present themselves in a span of 20 seconds. This concept was developed by a Japanese organization called Pecha-Kucha. The participants or speakers are given the opportunity to pitch their brand to an audience.
In this concept, each presenter is only permitted a slideshow up to 20 images and has 20 seconds to speak for each image before the slide automatically moves onto the next picture. The presenter is only given a total of five minutes to introduce and somewhat sell his/her brand to the audience. However, the short duration for each presentation allows quite a few number of presenters to say their piece in a single event. This teaches the presenters to clearly and directly go down to what is important which will greatly improve their lecturing skills.
6. Secrecy Events
As the name suggests, these events are kept under wraps for those who are not invited to attend. This is one of the reasons why there is massive talk and countless conspiracy theories regarding the Illuminati because if there is ever a gathering, it is kept exclusive and a secret. But for your event you can tone down the secrecy by deliberately keeping some information about the event from your attendees.
For example, if you want to release a new product, you can remove the name or description of the product until the time for the unveiling arrives. Not allowing your guests to know some details but your event will have them busy talking and speculating what is about to happen especially on social media. This will surely make your event trend, this is basically a great marketing strategy that will help boost your company's/product's popularity.
Retro Event Party Ticket Event Example
Colorful Music Event Ticket Example
Carnival Birthday Event Ticket Stub Example
Funky Event Ticket Example
Rounded Corner Event Ticket Example
Fundraising Luncheon Event Ticket Example
Creative Ways to Make Event More Memorable
Aside form making your event unique from all the other similar events, you also have to find meaningful and creative ways to help make your event more memorable. You have to be able to get a reaction from your guests to ensure they have loved your event and that they found it memorable; you to appeal to the senses of your guests. With that said, here are some creative ways you can follow to make your events more memorable:
1. Scents
You have to be able to effectively use scent to your advantage in this situation. Just like how you instantly remember your home with the smell of certain food, you should be able to let your attendees reminisce back to your event even after it has occurred. You can greatly improve the overall feeling and vibe of your event by incorporating smells that relate to your event or guests. To make it even better, you can send your guests some sensory reminders of your event when it comes to a close.
2. Colors
In the same way how scents can lead people to remember certain things from the past, colors can guide them on how they see it. By setting a color mood for your event, you are also making your event easier to remember. Through colors you can make an event feel energetic and exciting, or soothing and relaxing.
If you want the colors of your event to be on trend, you should definitely keep up with the season's featured Pantone palette since they are the global authority on color. You can then incorporate color trends onto your event. Colors can help your guests associate your event from the things they see that share a similar color scheme, that way you will definitely leave a mark.
3. Flavors
Aside from the talks and discussion for conferences, but most especially during food-related events, your attendees will expect their taste buds to be delighted during your event. You can incorporate recent catering trends to surprise your guests with new flavor, or go with the conventional tastes but the upgraded version.
Make your attendees crave for the tastes that you serve during your event to help them refresh their memories with how it was when they were on the event. You can also go for new trends such as having interactive food-making session during your event where your guests can somehow make their own meal or have someone instruct them how to do it. The most important thing to consider on this aspect is the diet your attendees have; make sure your accommodate their needs.
4. Interactivity
As mentioned, you can incorporate interactive elements into your food and beverage presentation so that you can hit all the senses of your attendees. Interacting with them on a personal level will guarantee that they remember how accommodating and attentive your whole event was to their different needs.
Aside from food and beverage presentation, you can also opt to have face-to-face discussions or even simple interactions with your guests to allow them to clearly understand the whole purpose of the event or even just for interaction's sake. Your guests will surely remember how it was fun doing actual things rather than just having a one-way discussion.
Vintage Event Ticket Example
Prom Event Ticket Example
Mother's Day Banquet Event Ticket Example
Sport Tournament Event Ticket Example
Italian Dinner Event Ticket Example
Metal Band Event Ticket Example
Tips in Making the Perfect Event Ticket
If your event will use the tickets as a way to enter the event, you have to be able to provide relevant information about your event. Here are some of the essential tips in making the perfect event ticket:
Give the information your attendees need.

Event venue address
How to get there
Venue map
Day by day program
Contact information

Offer sponsors something they can't refuse.

Negotiate better deals with the event sponsors.
Make them realize how beneficial it can be including their name on your ticket.
Tell them participants will appreciate the convenience.

Put the final touches.

Make sure your design is consistent all throughout.
Add your brand on the event ticket.
Try printing a sample first.
Proofread and edit before printing the final version.
Takeaways
Unique and creative events have become so popular nowadays. Gone are the days where events were just poorly executed. In today's society that is just not the standard anymore. People, especially brands, put their best to have unique, well-talked-about, and fun events that will help them market their brand. Even events that are mainly for discussions like conferences, seminars, etc. have been using unique and creative ways to make it more interactive and fun for the attendees.
With that in mind, planning for an event needs a lot of time, effort, money, and patience. If you want to have an event that your attendees will remember, you have to set yourself apart from the others who have done something similar. Think of better concepts, research for the new trends, incorporate new things and aspects, consider what your attendees may like, be open-minded, and so on, that way you can make sure that your event will stand out. We hope you were able to take inspiration from what has been discussed in this article.