Music events are, subjectively speaking, one of the best things ever. Hundreds, even thousands, of people gathered in a big space under the whole open sky, singing along to real quality music. That is an experience that every human ear must try at least once. You may also see event ticket examples.
Music events are considered a community affair. They are often celebrated with a specific theme in mind. One music event can center on a variety of musical genres, while others can focus on nationality, or even, perhaps women's music. These events also host other attractions such as different unique food stalls, merchandise, performance art, and other social and cultural activities. You may also like invitation ticket examples.
These occasions are often organized for charitable causes, with the money earned going to those in need. But there are also other music events that are set up to create awareness and gather support regarding social or political issues. (You're enjoying music while being an active participant of society? Does it get better than that?) You may also check out music logo design examples.
Of course, there are also music events arranged for educational purposes and are organized annually in many local communities. These (either regional or national) music events are for the benefit of amateur musicians of all ages and grades of achievement. For one day, they are given the chance to own the stage and perform their music. You might be interested in music business card examples.
Music Event Ticket Template
Music Theme Event Ticket Template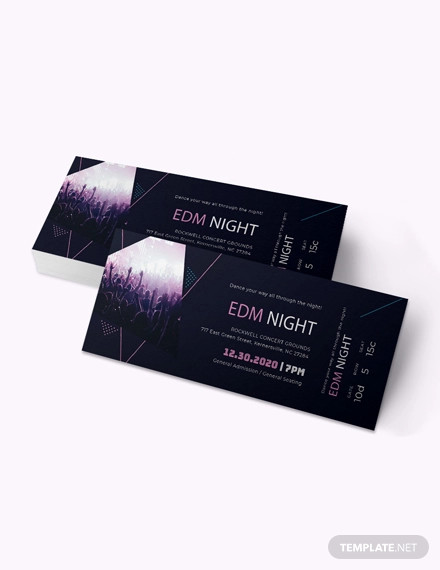 Music Concert Event Ticket Template
Music Concert Event Ticket Template
Music Concert Ticket Template
Concert Event Ticket Template
Free Music Ticket Template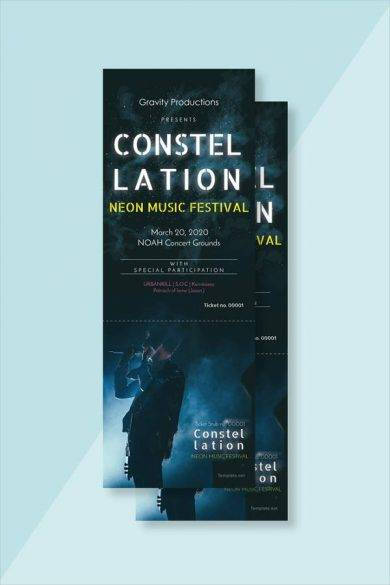 Music Event Planning
Everyone can organize their own local music event. You don't need to be a professional event organizer, nor do you need famous singers, like Cher or Britney Spears, to play for your audience. Anyone who has a love for music, a knack for organizing, and a dedication to bring the community together through this festival can do a good job at it. Also, following the steps below will help too.You may also see concert flyer examples.
1. Put in the work.
Passion and vision won't give you a venue or performers for your event. It also doesn't always come with the ability and skill to help you do whatever it takes to finish all of your tasks. Running an event needs a lot of preparation. You need to put many hours into it. You might be interested in business coupon examples.
A minimum of two months is necessary to put together an event like this. During that time, you will have to apply for the permits and licenses you will need, such as a temporary liquor license. The bigger your event and the more expected attendees you have, the longer it will take for your permits to be approved. You may also see examples of musical greeting card designs.
However, if you take marketing and advertising into the equation, you will probably need at least three or four months to successfully and sufficiently get the word out about your event. This can give you enough time to promote your event properly. The more you publicize the show, the more chances you'll have of having a large turnout on the actual day. You may also like music flyer examples.
2. Assemble a team.
Even if the event is only for two hundred people, all the preparation you will have to do will make you feel as if you're preparing for the whole world. Point is, even if you can do it alone, the burden will be too heavy on you. So ask for help. You can create teams who can focus on a specific aspect of the event planning. Below are five core teams who can help you organize your event. You may also check out concert poster designs and examples.
Modern Music Night Event Ticket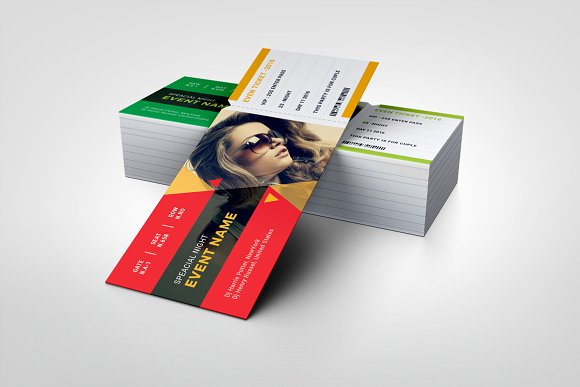 Music Concert Admission Ticket
Chic Music Event Ticket Example
3. Work on the layout and the stage.
Every music event is unique. Each one has a different theme, each one is going for a vibe distinct from others. Which means that you can't exactly browse through music events and copy their style. You need to create one especially for your event. You may also see gift coupon samples.
You should consider your stage side in proportion to your expected number of people. The flow of movement of your guests must also be considered. Of course, we want people to be able to move freely in your venue. Entrance points and exits are also a critical detail. People should have the ability to go into and out of the venue quickly and smoothly. You may also like marketing coupon examples.
4. Food and drinks.
Although you don't have to do the actual cooking, it's still a part of your job as the organizer to make sure that the guests in your event will have food and awesome drinks to choose from. (Singing and dancing along with performers can make anyone hungry, you know.) You can prepare in-house catering options, or lease spaces to food truck vendors. Sourcing other companies for this function is an option as long as you oversee to it.
5. Booking acts.
Your audience won't attend the event to see the venue and eat the tasty food. They'll want some music, and it is your job to make sure that they get it. Start thinking about which acts you want to perform in your event depending on the theme you have chosen. Once you've picked the entertainment, you can work on contacting them. This isn't very difficult since most of their information can be found online.
Jazz Concert Music Event Ticket Template
Rock Music Event Ticket Design Example
Designing Your Own Music Event Tickets
Assuming that your event is some form of fundraising event, naturally, you will sell event tickets as a way of gathering funds. Ticket design and production is also an important part of the planning process, which means that you need to put effort and thought into it as well. Here are a few tips you can follow in creating your music event tickets:
1. Make sure that your ticket will hold all of the information that your audience will care to know about, such as the date, time, and location of the event.
2. But make sure that your ticket will not look like a portfolio because of the many details you've incorporated into it. Be brief and concise about it. Just put in the details that your audience will need to get to the event. The rest of the info can be communicated through attractive flyers or your social media platforms.
3. Include an eye-catching title. Simply stating, "Hi! Music Event coming up," is off-putting in the least. Make your title mirror the experience you have prepared for your audience to experience. Make it as captivating and as memorable as music itself. You may also see payment voucher designs and examples.
4. Choose a design style that can give your ticket an interesting look. Don't go for the ubiquitous rectangle. Why not make a ticket shaped like a guitar? Or a figure singing? Get wild with your ideas (the way your audience will during your event). You may also like free voucher designs and examples.
5. Include a modern logo. Visual design is a staple in every designing tips list. You can never go wrong with at least one graphic element in your ticket. Even musical tones carelessly strewn all over the surface of your ticket, or even a gigantic G-clef in the background can take your ticket design up a notch.
6. Add in some vibrant colors to emphasize your ticket's overall look. But be careful to avoid making it look like a rainbow puked all over it. Choose two or three complimenting colors to enhance your ticket's appearance.
Corporate Jazz Music Event Invitation
Music Event Ticket Template
Seven Largest Music Events around the Globe
Music events aren't organized for the purpose of attracting millions of people. That's not what the celebration is all about. But it is definitely undeniable that the more people singing along to the same music and dancing to the same beat, the better the event is. So below, we've listed the ten biggest, most crowded music events in history. You may also see business voucher examples.
1. SZIGET
Sziget is a massive island festival in Budapest. Today, it's one of Europe's biggest and best music festivals.
It lasts for a whole week during the summer, and usually attracts a huge Hungarian crowd as well as a numerous people from Western Europe and all over the world. It happens annually in August, and, in 2016, an estimated 496,000 people attended the event. Famous musicians like Rihanna, Muse, Sigur Ros, and Sia have already performed in the event. You may also like blank voucher designs and examples.
2. Coachella
Coachella is a common household name in music events. This is perhaps the most famous festival in the world, and also one of the most profitable. In 2016, it earned a total of $94.2 million and a total number of 594,000 participants. It centers on alternative and indie music, and have seen headliners like Radiohead, Lady Gaga, and Kendrick Lamar perform. It happens every April in Indio, California. You may also check out gift voucher designs & examples.
3. Rock in Rio
South America wouldn't miss out on the whole music scene. In fact, Rock in Rio is considered as one of the shiniest music event, boasting of star-studded lineup every year. Katie Perry, Rihanna, Queen, Metallica, Rod Stewart, and Elton John have already performed in their stage in 2015. In 2017, Lady Gaga, Justin Timberlake, Alicia Keys, Bon Jovi, and Guns n' Roses charmed every heart in Brazil. You might be interested in shopping voucher designs & examples.
The music event happens every second year in Rio de Janiero, Brazil. But Madrid and Lisbon also serve as the venue in years when Brazil decides to take a break. After all, that's a massive crowd (a total of 700,000 in 2015) they are catering to.
4. Woodstock (Poland)
This music event is named after the famous 1969 festival in New York. Polish Woodstock is a gigantic tribute to rock, pop, metal, and folk music. It boasts of a history of huge crowds and a unique vibe that music lovers can only experience in their event. You may also see voucher designs and examples.
The event is free and open to everyone, with the motto "Love, Friendship and Music." In happens annually in August in Kostrzyn nad Odra, Poland. In 2014, it has 750,000 people in attendance.
Music Concert Ticket
5. Summerfest
The Summerfest, being the biggest musical event in the United States, is, unsurprisingly, considered as the people's party. It is also one of the cheapest since it only asks for a $20 entrance ticket for a full-day access.
It lasts for as long as 11 days, with 800 different performers filling the event with outstanding performances. It has featured Paul McCartney, Red Hot Chili Peppers, Pink, and Bob Dylan. It occurs every late June and early July in Milwaukee, Wisconsin, USA. In 2016, it has a total number of 804,000 guests and participants. You may also see summer voucher examples.
6. Mawazine
Mawazine is an undeniable testament to the fact that Africans are eloquent in the language of partying. It boasts of an annual attendance of at least 2.65 million people, an audience which Christina Aguilera, Justin Timberlake, Rod Stewart, as well as many African luminaries such as Amadou & Mariam, and Tinariwen have serenaded. You may also like travel voucher examples.
The event was pioneered by King Mohammad IV's secretary. It is annually celebrated as a celebration of Moroccan culture and arts, and as a living tribute to African music. The music event is held in Rabat, Morocco, in May.
7. Donauinselfest
Vienna, Austria, has always been known as the home of many music geniuses. Mozart, Schubert, Schoenberg, and Strauss are just a few of its proud residents, so it doesn't really come as a surprise that it is now the center of the world's biggest music festival. You may also check out thank-you voucher designs and examples.
Donauinselfest is held in an island in the middle of the Danube River. In 2016, it has attracted a mind-blowing 3.1 million people. It's held in open air, it's free, and it happens annually at the start of every summer.
Music, people, culture? It's not a bad way of spending the sunny season, if you think about it. It has a total number of 11 stages and 200 different performances. There is a huge variety of music, which means that you can surely find at least one that will suit your eccentric taste. You might be interested in printable voucher examples.
Attending a music event is great, but organizing your own, especially for a good cause, is even better. Make use of the steps and tips we've discussed earlier to make your music event successful.