For those of you who would like to hold an event, then you should all know that it's important to come up with the invitations for them. While one can always take a look at the many different Examples of Invitation Designs, it's best to create your own personalized invitations that match the event you're throwing.
For example, let's say that you plan on having a vintage-themed celebration for you and your family. This means you can decide to go with the Rustic Invitation style or anything similar. This article is going to focus on how you will go about in creating vintage invitations for whatever you wish to celebrate.
Vintage String Lights Tree Rustic Wedding Invitation
Classic Vintage Invitation
What Information Should be in Your Vintage Invitations
For those of you who would like to hold parties that have a classic touch to them, but not to the point where everything feels antique, then you should definitely consider making vintage Creative Invitations to match. But you should also know that even these invitations will require information in order to tell your invitees all that they need to know regarding the event that you plan on throwing.
So here are a list of things that your vintage invitations should have:
The Type of Event
If you were to invite people to an event, then these people would want to know just what kind of event they're being invited to. You'll need to make sure that you're clearly able to point that out so that your invitees will know what kind of activities that will take place, what food they should expect to be served, what attire will be considered as appropriate if they attend and much more.You may also see party invitations.
So let's say that you plan on throwing an old fashioned wedding. By sending your invitees vintage Elegant Wedding Invitatons, then they should have an idea as to what activities and food will be served at this kind of wedding. If you're going to point out the type of event into the invitation, then all you have to do is make sure that it's straight to the point. You don't want to make it into a sentence, but rather a brief description as to what the event is. For example, if you were going to hold a wedding ceremony then just put in "Wedding Ceremony" on the description. This way, there will be no room for confusion and you won't have to worry about your invitees not knowing what they're being invited to.
Rustic Mason Jar String Lights Wedding Invitation
Modern Vintage Party Invitation
Vintage Hand Lettering Invitation
The Names of the Celebrants
Let's say that you were to receive an Open House invitations to an open house party. While you are interested in attending, you don't see any name as to who's holding the party or who the party is dedicated to. Something like that would make you want to hesitate as to whether you should go right? Well, that's the exact same feeling that people will get if your vintage invitations don't contain the name or names of the host or celebrant of the event they're being invited to.
To prevent this problem from happening, the only thing that you have to do is write down the complete name of the person that's holding the event or who it's being celebrated for. Also, you want to make sure that the name or names stand our from the rest of the information. The best way for you to do that is if you make the font size for the name slightly larger than everything else. Just remember that you only want to make it a bit larger to emphasize its importance, while at the same time ensuring that it doesn't take up too much space in the invitation. You may also see business invitations.
The Location in Which the Event Will Take Place
Even vintage RSVP Invitations are going to need the location as to where the event is going to be held. If people don't even know where the event is going to take place, then what will make you so sure that they're going to even want to attend? So what do you have to do? Well, the only thing that you're going to do is to put in the complete details regarding the event venue into the invitation.
But before you do that, you need to think about the best place to hold the event first. So think clearly as to what the them is going to be as well as what activities will take place, what food should be served, how many people will be invited and so on. This will help you know what place will suit your even best. Once you've decided, you may then proceed to write down the address details into the invitation, but be sure you include everything from the name of the establishment and the street address; this is just to ensure that the people you've invited won't have any problems finding the venue.
Vintage Chalkboard Surprise Birthday Party
Simple Vintage Invitation
Printable Vintage Invitation
Vintage Birthday Invitation
Vintage Black & White Floral Wedding Invitation
Multiuse Vintage Invitation
Vintage Rustic Hand Lettering Invitation
Floral Vintage Invitation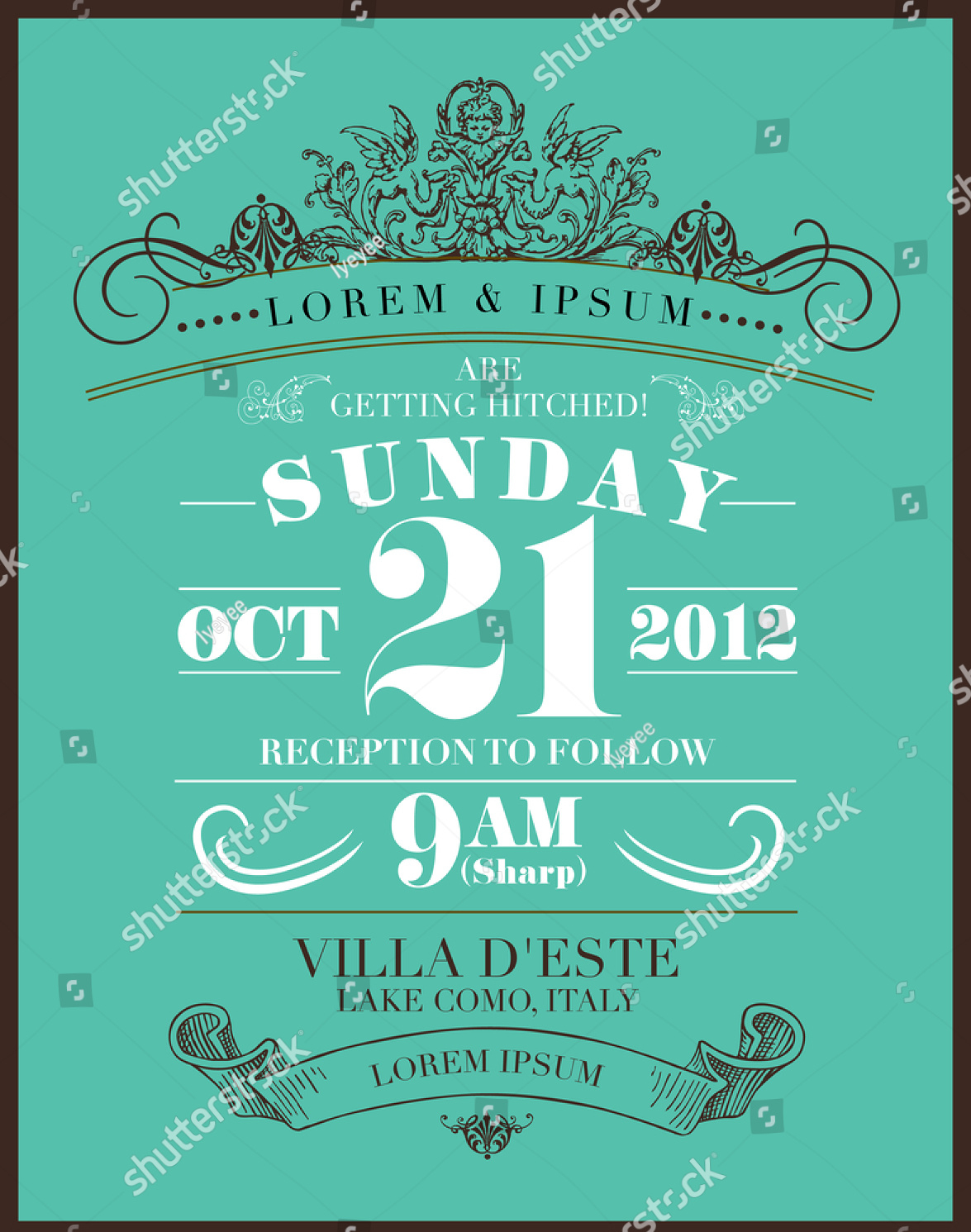 Vintage Wedding Invitation with Mandala
The Time and Date of the Event
Before you even think about sending out your invitations, you'll need to put in the time and date as to when the event is going to start. It's your responsibility to ensure that all of the people you've invited have the information they need to know when the event is going to be. If you don't, then you shouldn't expect anyone to come over to take part in the whatever it is you've already had planned.You may also see birthday invitations.
So the first thing you'll need to do is think about the best time as to when the event will take place. So let's say that you send out BBQ Invitations for that big barbecue blowout you plan on having. Naturally, your invitees will expect the event to happen early in the afternoon and on a weekend as that's usually the perfect time to throw this particular type of party. If you've already set the perfect date, then next is to put it in the invitation. Put in the month, day, and year so that your invitees will know when they have to be at the venue and then place the exact hour and minutes so that they'll know when the whole thing will start.
Tips on How to Improve Your Vintage Invitations
While you already managed to learn about what a vintage invitation will need in order to convey to your invitees about the details of your event, you'll still need to improve on certain other aspects. The first major thing you should focus on is its design. The better the design, then the more appealing it will look to the eyes of the people who receive your vintage invitations. While you can always look up Invitation Cards Designs to help you out, remember that it's better to have your own to give it that personal touch.
So when thinking about the design, you need to come up with the images and backgrounds that will match the event you're holding. Since it's vintage, you want to go with something classic or somewhat old, but at the same time it has to be relevant to the event.You may also see bridal shower invitations.
And lastly, you'll want to proofread your invitations before you send them out. You'll need to go through them at least twice to ensure that there won't be any mistakes pertaining to grammar, spelling, and even information about the party. Do this so that you'll be able to find and fix any errors immediately. Once you're done with that,you may the proceed to create the necessary copies and send them over to the people you want to invite.You may also see lunch invitations.
In the event that you would like to learn about how you will go about in creating other types of invitations, then all you have to do is go through our site, find the articles that have the information you need, and utilize what you're able to find to help you out.You may also see holiday invitations.