Got a bun in the oven? Then congratulations! Starting a family is a massive step for any couple. Entering a new chapter of your lives together with a bundle of joy on the way can be an emotional experience. But as with every significant moment that comes your way, sharing the news to your closest friends and family members is a huge deal to conquer, which is why making your baby announcement extra special should be next in your simple agenda.
Hooray! Baby Announcement Design Example
Personalized Baby Announcement Design Example
Simple Birth Announcement Card Design Example
Cute Baby Announcement Card Example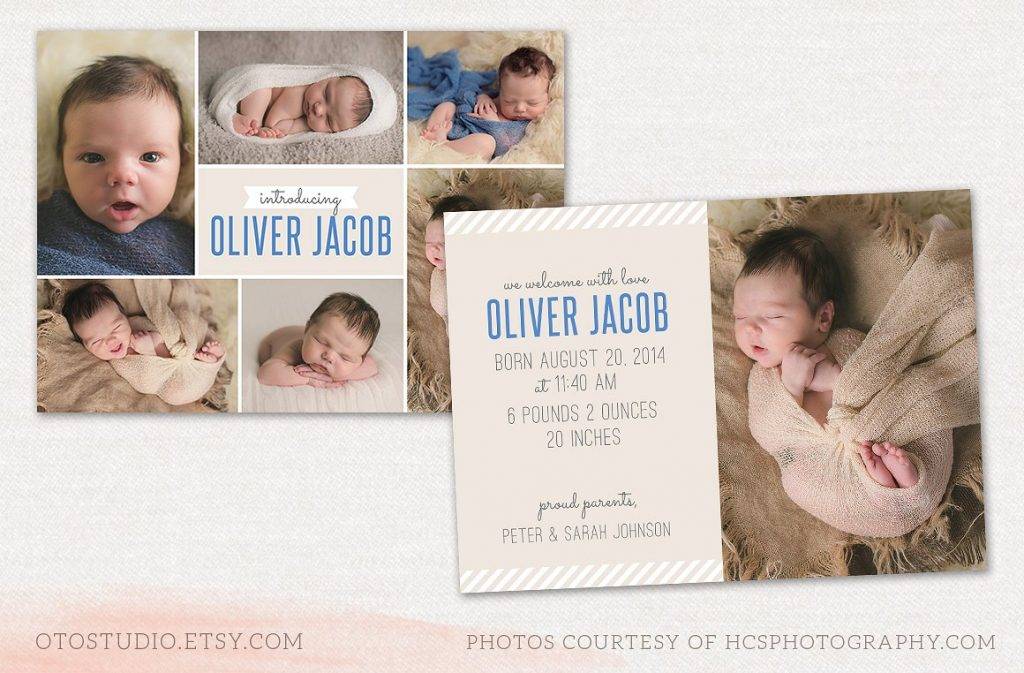 Baby Announcement 101: When Is the Right Time to Let People Know?
Learning you're pregnant is almost like winning the lottery — minus the materialistic vibes associated with money.
Some people wait months, even years, just to get pregnant, which is why pregnancy is a blessing that expecting parents should be grateful for. While this is something you're itching to tell the whole world about, you need to be careful about how and who you share it with. You may also see party invitation examples.
First things first, when is it the right time to make an announcement?
Though many women use pregnancy tests to see whether or not they're expecting, it's still advisable to schedule an appointment with your doctor (an OB-GYN, to be exact). Most women also wait until they've reached the 14-week mark or even the 4th or 5th month before they make an announcement, just to stay on the safe side. You may also like event invitation examples.
There are pros and cons of early announceents, so let's look into each scenario in detail to weigh down our options accordingly.
1. First Trimester Home-Stretchers
Due to the high risk of miscarriages during the first trimester, many experts suggest that a woman should wait until it's all in the clear. Though this is nearly impossible for most expecting parents, it's still advisable to keep your circle relatively small. If you're comfortable with telling a person about the news even if things take a turn for the worst, then you can go ahead and talk to them about it. After all, keeping the pregnancy under wraps is unrealistic for most people. You may also check out business invitation designs & examples.
On a positive note, early telling would mean more time to celebrate. This would give everyone enough time to prepare for the big arrival, and perhaps put an end to those nosy colleagues and neighbors that keep pointing out your weight gain and weird appetite.
2. Mid-Runners
Some expectant mothers opt to wait until the beginning of their second trimester to make the baby announcement. Most women who have experienced previous losses or at risk for complications are likely to reveal their pregnancy during this period. Unfortunately, there are also women who might consider a termination due to various genetic defects that could affect the child or the mother, which could be a reason why some mothers feel reluctant in sharing the news before the first trimester has passed. You might be interested in birthday invitation designs & examples.
3. Late Bloomers
For those who'd rather keep a low profile for personal or professional reasons, choosing to stay mum until the last few weeks of your pregnancy is only doable if you aren't seeing certain individuals in person. Though a baby announcement is a decision that you're responsible for making, there's no harm in delivering the big news after the baby has already been born. You don't owe it to anyone, and if privacy brings you comfort, don't feel guilty about not telling your friends or relatives about it. You may also see holiday invitation examples.
Black & White Baby Announcement Design Example
Chalkboard Announcement Design Example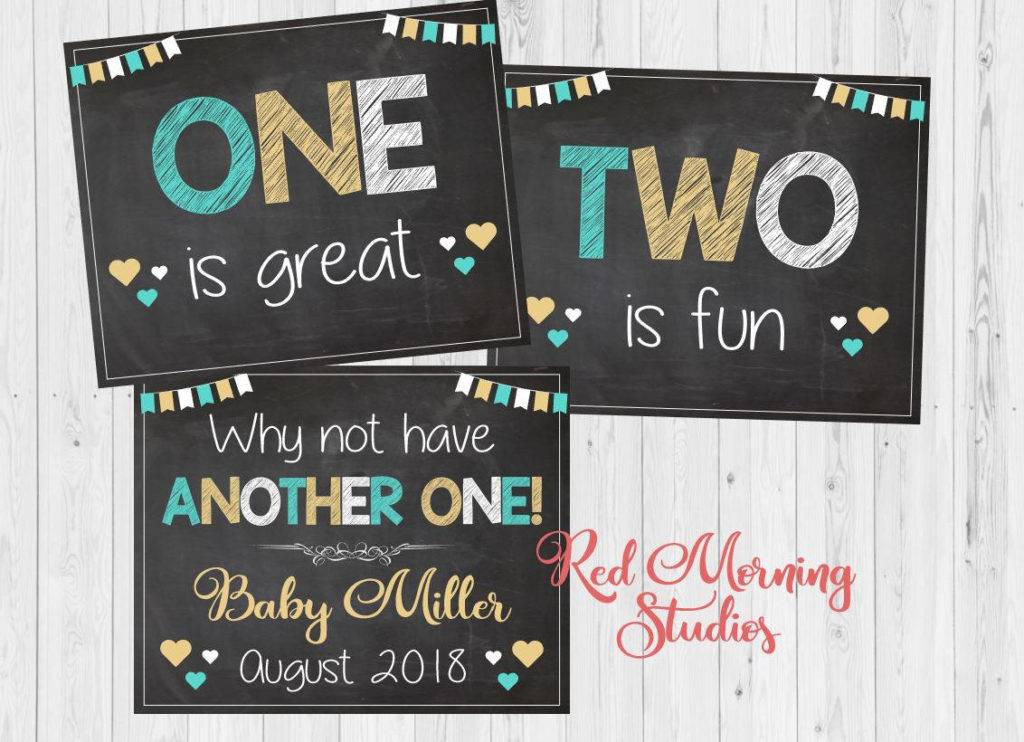 Modern Baby Announcement Design Example
How to Announce Pregnancy
To find out that you're expecting can be a very overwhelming experience. But then again, you'd be struck with a peculiar mix of pure panic and excitement. Figuring out how you can share something as grand as bringing new life to this world still puzzles many expecting mothers. But before you decide on creating a lengthy Instagram post for your big announcement, here's what you need to consider about breaking the baby news:
1. Don't wait.
Never keep your partner out of the loop, regardless of the situation at hand. The father of the baby might want to be the first to know about what's to come, so you need to let your partner know as soon as possible. You may also see examples of wedding invitation design.
2. Keep your family and friends close.
Tell the people you're closest to first before you go on to making a public announcement. Keep in mind that moments like these are pretty intimate, so it's only right to take a personal approach with your announcement. There are various baby announcement designs and ideas that offer a fun and unique way of communicating with friends and family. And if you must, you might want to get some tissues ready because we all know that there's going to be a lot of waterworks coming from those who mean the most to you. You may also like lunch invitation designs & examples.
3. Do it when you're ready.
Don't feel pressured to disclose any information to other people, even your own partner, if you aren't completely ready. Pregnancy is a life-changing experience, so if it's something that you want to slowly take in, then take all the time that you need. You won't start showing until a couple of weeks, so don't feel as if it's your obligation to let everyone know about it right away.
4. Keep your audience in mind.
So here it is, the big reveal. Though baby announcements can be a thrilling moment for any expecting parent, many individuals still get those butterflies that are hard to shake off. Even if you choose to make your announcement private to close friends and family, you can still be make it a fun event for everyone to enjoy. You could gather people for a small get-together, make the announcement, and rely on good, old-fashioned word of mouth for the news to spread like wildfire. You may also check out invitation ticket examples.
Chalkboard Baby Announcement Example 2
Oh Baby! Announcement Design Example
Baby Nest Announcement Card Design Example
New Born Birth Announcement Design Example
7 Cool Baby Announcement Ideas
Telling friends and family that you're pregnant without any extravagant gestures following it is a quick and direct way to deliver the news. But for expectant parents who want to make things extra special, there are various baby announcement design ideas that can surely spice things up for you! You may also see bridal shower invitation examples.
Here's a short list of some of the craftiest, most original, and heartfelt ways to make your baby announcement stand out:
1. Pets
For every animal-lover, a pet plays a significant role in every milestone reached. So letting your beloved animal become a part of the big announcement is surely a fun way to things a million times more memorable.
But instead of using your pets like a prop for the announcement, treat them like an important part of the family. Many animals, especially dogs and cats, are reliable and lovable companions to children. Not only can they protect your family from harm, but they can also show just as much love and affection to a newborn baby as an average human being can. You may also like baby shower invitation examples.
2. Siblings
There are so many sweet and heart-warming baby announcements that portray older siblings as the center of attention. Though not every soon-to-be older brother or sister fully will fully understand what it all means, it's still fun to capture their reactions on film. Similar to animals, young children would be completely clueless of the whole situation, making it all the more hysterical for the expectant parents, and their friends and family. You may also check out printable greeting cards.
3. Pregnancy Test & Ultrasound Photos
A common, yet equally meaningful, way to announce your pregnancy is through the use of pregnancy tests and ultrasound reveals. Most women opt for this approach when sharing the big news with their partners, as its simple and intimate nature creates a deeper connection between both individuals.
4. Announcement Signs
For anyone looking for a sweet and simple route for their baby announcement, due date signs are popular among expectant couples. You can have a handwritten or printed sign announcing the arrival of your little bundle of joy held up for people to notice. Some people even go as far as requesting popular celebrities to lend them a hand in making the announcement a lot more interesting. You might  be interested in birthday card designs & examples.
Although not everyone will be lucky enough to get in touch with a famous actor, the sign route is pretty cool and creative nonetheless.
5. Social Media
In this age of digital revolution, social media has become a common platform for all kinds of announcements. Since almost every living person on Earth has a Facebook or Instagram account, then it wouldn't hurt to break the news on these platforms. This is perfect for individuals who wish to publicize their baby announcement. You can share a story about your journey so far, as well as your hopes and dreams for the future, or you can keep it short and sweet with a few words of thanks to show your appreciation to the people who have been there for you every step of the way. You may also see examples of invitation envelope.
6. Photo Shoots
If you're having trouble finding the right words to make your announcement, then why not let photographs do the talking? Not only are photos great for safe-keeping, but they also capture the essence of a moment perfectly. The photos will serve as a reminder of the love shared even before the baby takes its first breath.
7. Gifts
We often give away gifts and presents as a surprise to the people we love. So why not consider gifting your partner or family member with an item which indicates that a baby is on the way? Baby clothes, bottles, toys, and even your pregnancy test will easily ring a bell. You may also like examples of graduation invitation design.
So there you have it! There are many fun and creative ideas to announce your pregnancy in the most imaginative way possible. From signboards to video reveals, themed references to calendar designs, all these prove that you can always take things to the next level if you just learn to step out of the ordinary to make your baby announcement the most memorable one yet.