Having a new member of the family excites relatives and friends, and they look forward to updates regarding the baby as they want to witness his or her growth. Almost every little milestone of the baby is documented and celebrated in small ways or in big. No matter how small or great the milestone is, it is better to share and celebrate it with the tribe or with the whole community. In order to inform and invite these people, you need to design an invitation for whatever celebration, may it be a baby shower, baby naming ceremony, baby's first birthday, among others. Here are awesome templates and examples that you can use or refer to.
Baby Invitation Examples and Templates
1. Classic Baby Shower Invitation
Use this classic baby shower invitation, which is easily downloadable and highly customizable, to invite guests to attend your baby shower party. In just a few clicks, you can already achieve a professional design that will surely satisfy your preferences. This is available in MS Word, Photoshop, and Publisher file formats, so you have a lot of options on how to edit this file. You can include your personalized content and drag the elements around until you get satisfied with the overall presentation of the invitation.
2. Baby Gender Reveal Invitation
Many people are thrilled and excited to know the gender of the baby. With the help of the increasing accuracy of various technologies, such as an ultrasound, the couple can easily find out their child's gender. The moment becomes magical when you know the sex of your baby. Share this memorable moment with friends and family by hosting an epic gender reveal party and send an invitation now to your friends and relatives with the use of this baby gender reveal invitation.
3. Baby Shower Party Invitation
Heighten the excitement of your families and friends and invite them to celebrate with you as you welcome the new member of the family through a baby shower. Apart from the checklist that will guide you on what to do and prepare for that big day, you also need to prepare for the baby shower invitation. To save you from the hassle of creating the invitation, here is an invitation template that you can use. It can be edited in just a snap, making it very convenient for you and all the other users.
4. Baby Naming Ceremony Invitation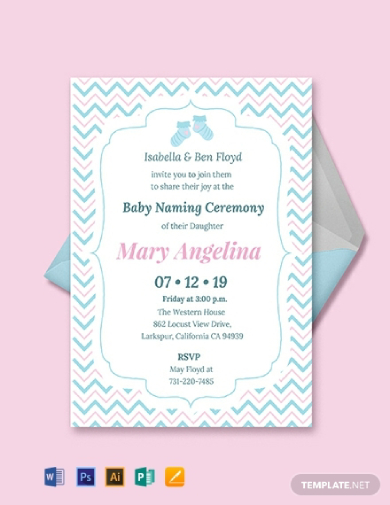 Have you decided on the name of your baby? Introduce your baby to your relatives and friends through a baby naming ceremony. The traditions in this ceremony vary, and regardless of the tradition, a naming ceremony is a celebration to welcome the newborn to the family, introduce him or her to the community, and offer good wishes to the baby. Invite the people around you in your baby's naming ceremony with the use of this baby naming ceremony invitation. You can immediately customize this template with ease, and you can replace the template name with the name of your baby and other important details regarding the naming ceremony.
5. Baby Girl First Birthday Invitation
As a parent, you want to make sure that your baby's firsts are something memorable, for example, your child's first birthday. Celebrate your precious one's birthday by throwing her a birthday party, and invite people to attend the celebration by sending them a birthday invitation. In order for you to immediately create one, here is a baby girl first birthday invitation that may help. It is carefully crafted by professional designers and graphic artists, providing an assurance of high-quality graphics and designs that will surely make your invitation elegant and presentable to your invited guests.
6. Editable Baby Shower Invitation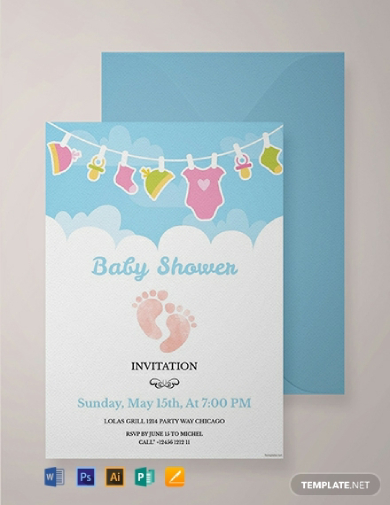 Struggling in designing a baby shower invitation? Worry no more for we got your back. We know you are busy doing the necessary baby shower preparations, so we would like to help in our own little ways by providing you this editable baby shower invitation template that you can use and customize as your own. You can incorporate the theme of your baby shower and include the details, such as the day, date, time, and venue of the event and your contact information so that people can immediately communicate with you regarding comments or concerns.
7. Printable Baby Shower Invitation
Baby shower preparation, no matter how big or small the celebration is, requires some time and you need to put an effort to create the perfect celebration for your baby. You want people to witness as you introduce your baby to your relatives and colleagues. Send an invitation to these people ahead of time by customizing this printable baby shower invitation template. It is very convenient since it can be edited using computer programs that can open Photoshop, MS Word, Publisher, and Apple Pages file formats.
8. Save-the-Date Baby Shower Invitation
While save-the-date invitations are common to weddings, you can also create a save-the-date invitation for a baby shower party. This is to inform the guests of the upcoming party that you want to throw for your baby so they could mark their calendars and free their schedules on that day. You do not need to spend long hours to achieve the perfect invitation for this template can surely help. You can customize the content of this template and personalize it to tailor-fit your current needs.
9. Simple Baby Shower Invitation Card
This is an example of a simple yet sophisticated baby shower invitation that contains the basic information regarding the baby shower party, which includes the name of the baby, date and time of the celebration, and venue of the baby shower. These are the primary information that your guests want to know. Hence, do not forget to include these essential elements in your baby shower invitation.
10. Unique Baby Shower Invitation
Most invitation cards come in rectangular shapes. However, this card is an exception. This unique baby shower invitation is shaped similar to a baby's clothing, which makes it remarkable and extraordinary. You can write the details in the blank space provided and personalize the design according to your specific preferences.