Living under a strict budget can be challenging, especially when hunger strikes to haunt you at the most random circumstances. When you're falling short in terms of financial resources, a meal voucher can be a definite lifesaver.
The popularity of vouchers, along with the overwhelming response garnered from the consuming public, has made it one of the most powerful marketing mediums available. Marketing experts have even revealed how around 95% of shoppers like vouchers, and how another 60% actively look for them. Using vouchers as part of your marketing strategy presents incredible benefits for both the business and its clients and customers. But in order to achieve success, marketing managers must first understand how voucher marketing works.
Meal Voucher Example
Meal Discount Voucher Template
Meal Dinner Voucher Template
Meal Gift Voucher Example
Lunch Voucher
Lunch Gift Voucher Example
Lunch Discount Voucher Template
Cafe Discount Voucher Example
Japanese Food Meal Voucher Example
Fast Food Meal Voucher Example
Voucher Marketing: Benefits and Risks
Vouchers can be a potent tool in marketing, specifically in attracting customers and encouraging brand loyalty. As a business owner or marketer, using vouchers to help keep your business afloat can be an effective strategy when conducted properly.
1. Benefits of Effective Voucher Marketing
In these hard times, shoppers take advantage of vouchers in order to save money. But voucher marketing can be beneficial not just for customers, but for the business as well.
Expands market area. If used correctly, vouchers can help grow your market area due to the number of customers that are willing to go through extreme lengths just to redeem the voucher. Even if you don't own an outlet anywhere near from where they are from, a person would still be willing to travel significant distances just to avail some awesome deals. You may also see blank voucher designs and examples.
Attracts new customers. As a thrifty shopper, it's hard to ignore merchandises on sale, especially if it offers great savings that are just too sweet to pass up. Knowing this, enticing potential leads and customers with discount coupons is an excellent way to persuade them to try your products or services for the first time. You may also like food voucher examples.
Reactivates old customers. There's a slight difference between recurring customers and those that are loyal, as the latter is likely to choose your brand over competitors every time. But recurring customers can slowly drift away from you as they begin exploring other brands. With the help of vouchers, you can slowly lure them back into your store. You may also check out shopping voucher designs & examples.
Drives sales. Using a voucher campaign to drive margin by pushing people to buy at least two items is a clever strategy. Not only can this make transactions more profitable, but it can also keep your inventory moving.
2. Risks to Avoid
There are times when voucher marketing can get way out of hand when customers begin to abuse its benefits. If you've ever watched an episode of TLC's Extreme Couponing, then you know just how far people are willing to go just to grab the opportunity while it's still there. There are dangers in voucher marketing, which are often associated with a poorly planned strategy, that need to be avoided in order to obtain success. You might be interested in business voucher examples.
Focusing solely on voucher marketing. There are many channels and tools that allow businesses to conduct their marketing campaigns. This makes it easier for you to reach out to a larger market and develop brand awareness. Otherwise, you could be focusing on a single, losing strategy that could cause a significant loss for the company. Constant exposure through the use of business billboards, social media marketing, vouchers, and other forms of print and digital media will aid the company in its quest to strengthen its market presence.
Selling discounted items only. Try not to focus too much on selling the discounted items. The prime purpose of providing these discounts is to boost the foot traffic into your store, so advertising must be done properly.
Telling customers that discounts are always available. Sometimes, customers can get pretty abusive when it comes to discounts. Using vouchers on a regular basis greatly affects a consumer's buying behavior. They'll no longer want to spend on a full-priced merchandise but instead, they'd rather wait for the item to go on sale. Though vouchers may be useful in driving sales, the outcome does not leave a parallel effect on profit and revenue. You may also see travel voucher examples.
Meal Gift Voucher Example
Fresh Cuisine Voucher Example
Restaurant Food Meal Voucher Example
How to Optimize on Voucher Marketing
It's a known fact that voucher marketing serves as a simple and popular way to open conversations in order to drive leads and sales. But how exactly can your business leverage from such approach?
To further understand the role of vouchers in marketing, here are some of the best methods to accomplish marketing success with the help of vouchers:
1. Distribute through Partners.
Co-marketing has become a popular strategy in today's market. Here, companies, whether they cater the same market or not, collaborate with one another to develop campaigns that can help expand their reach. Partnerships can help you entice a different kind of audience to turn curious customers into recurring ones. For example, customers that purchase a product from Company A are eligible to enjoy the services offered by Company B. On the other hand, Company B may also profit from the amount of promotional exposure given by Company A. This give-and-take type of situation ensures that both entities benefit from the shared campaign.
2. Customize Vouchers.
It's always best to tailor your voucher campaign according to a specific theme or season. For instance, using travel vouchers fit for the summer is sure to appeal to vacationers looking for a quick escapade.
Creating customized vouchers based on the time of the year, or even a customer's past purchases and visits, is a great way to motivate returning customers. Timely and relevant campaigns tend to appeal to consumers because of how they address a person's current wants and needs.
3. Ask for Something in Return.
Some people feel indebted to those who give them something or comply to a favor without asking for anything in return. In the world of business, this can also appear quite suspicious in the eyes of the average consumer.
In order to make it a fair deal, you can give vouchers to customers that are able to complete a given action. You can have them provide their email address and other information, or to complete something as simple as a survey form, in exchange for a discount coupon or voucher. Once you get a hold of their contact details, you can use this to communicate with consumers regarding future offers and the like.
4. Reward Loyal Customers.
Those who have been loyal to your business deserve some sort of reward, right?
Offering special promotions and exclusive deals to loyal customers is an excellent way to keep them engaged. Not only can this leave a positive impression towards your brand, but it can also make your brand stick to one's mind. This then motivates a person to keep purchasing your goods in hopes that they could be rewarded for their actions. But if they're already satisfied with your service, then there wouldn't be a need to keep pushing customers to choose your brand over others. You may also see printable voucher examples.
5. Create Urgency.
Persistence goes a long way in marketing, especially when you want prospects to respond to your call to action right away. When giving out vouchers through online marketing, words that go along the lines of "Don't miss out!" or "Click Here to Save 20%" are some examples of strong and urgent CTAs that prompt consumers to react immediately.
However, you don't want to bombard your website or social pages with these offers, as this can cause a sense of annoyance. Instead, take a subtle approach using CTAs that are friendly yet persuasive.
Ice Cream Voucher Example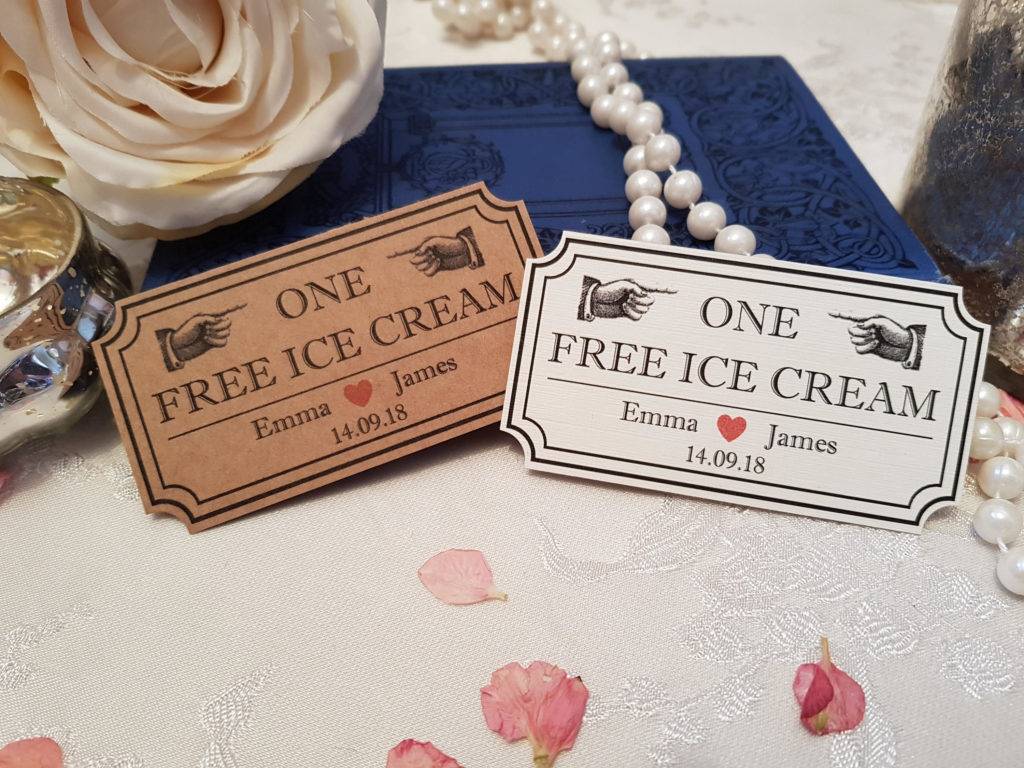 Restaurant Meal Voucher Example
Fast Food Order Meal Voucher Example
Meal Gift Voucher Example
A Quick Guide to Promoting Vouchers with Digital Marketing
Connecting with customers outside store grounds is perfect for maintaining familiarity and consistency. Once customers become acquainted with your brand, this builds a level of trust that will help you gain a better connection with your target audience.
Given how digital marketing has become a popular approach among many marketers, it's important for businesses to optimize on such for the sake of the company's survival. But this doesn't mean giving out vouchers like they're nothing more than a piece of paper, as there are various methods that a marketer can use to make an impact.
1. Write a Blog Post.
One of the best ways to generate traffic to your website is to start blogging. These blog posts may tackle topics related to vouchers such as gift ideas, shopping experiences, and personal advice, to not only market the voucher, but to entertain and educate readers as well. Anybody who browses your website may encounter the article, read it, and download the said voucher for their own use. You may also see food coupon examples.
2. Use Website Pop-Ups.
Though pop-ups can get pretty annoying for most users, you'd be surprised how many people still respond to them. You can use this to grab a person's attention by offering a simple voucher in exchange for something they could easily provide, like an email address or a survey response. Keep in mind that not everyone with a voucher is bound to use them, so whether or not a person redeems it, you were still able to collect significant data that you could use for future promotions. You may also like
3. Develop Email Signatures.
Email marketing gives you the opportunity to distribute vouchers while also promoting brand releases and events. You can insert a link to your email signature that will direct users to your website or social pages. Since emails are typically structured in a dull, business-like form, you can use your email signature to attract consumers with a touch of creativity.
4. Interact on Social Media.
Considering how a majority of your target audience are on social media, you can use this as a platform for distributing vouchers. You can hold contests that people can participate in with a discount voucher posing as your prize. Not only can this increase your online presence, but it can also keep customers updated on the latest announcements, happenings, and product releases your company has to offer.
Using vouchers as part of your strategy can definitely be a winning move, not only for your business, but for the market it serves as well. This is highly effective in attracting potential customers, reactivating old ones, and generating better sales. With this in mind, it's important for you to develop a deeper understanding of your customer's shopping behavior, as well as how you can meet their needs and preferences when it comes to general vouchers. Through this, you can improve your promotional response, your sales, and your profits. You may also check out gift voucher designs & examples.