If you're planning on creating invitations for a party that you're going to throw, then you can always make use of the many Examples of Invitation Designs that you can find on the internet. However, you need to go with the ones that actually match the purpose of the invitation.
If you're sending an invitation for someone to be a bridesmaid for your wedding? Then make use of Bridesmaid Invitation designs. But what if you're planning on holding an anniversary party? What kind of invitations do you have to make? This is where you'll need to learn how to create anniversary party invitations and this article will teach you just that.
Anniversary Invitation Example
25th Wedding Anniversary Invitation Template
Simple Wedding Anniversary Invitation Card
50th Wedding Anniversary Invitation
Beach Wedding Anniversary Invitation
40th Wedding Anniversary Invitation
How to Make Your Anniversary Party Invitations
If you're planning on holding an anniversary party for a couple that has been together for a year or even more, then you'll want people to know that you're holding a party. And if you want to happen, you're going to have to learn to create the invitations for the celebration.You may also see romantic wedding invitations
So here are the things that you'll need to do in order to create your own anniversary party invitations:
1. Write Down the Exact Location of the Event
It doesn't entirely matter where you're going to hold a party, just make sure it's at a place where you, your spouse, and all of your invitees can enjoy. The only thing that you need to do is make sure that you're able to put in the exact address as to where the party is going to take place. Be sure that you write down all the necessary address details so that your guests will know where to go.
Also, you need to go with a location that will match with the theme of the anniversary party you're going to throw. So let's say that your anniversary party is going to be tropical themed, that would mean you can send out Beach Wedding Invitations where you can state that the venue is going to be at a beach that's accessible to all of your invitees.
Make the Purpose of the Invitation Clear to Your Invitees
If you're going to throw a party, then you want your invitees to know just what kind of party it's going to be. The reason for this is because you want them to expect just what kind of food is going to be served, the kind of activities that will take place, and what these people should bring if they decide to bring anything to the party.
So let's say that you're already making your Anniversary Party Invitations and you want to make it clear that the event is going to be formal. One of the best ways to do that is by going with a design that clearly states it's a formal event, as well as stating information telling the invitees that they'll need to wear formal outfits such as suits and dresses.
Anniversary Party Invitation
50th Wedding Anniversary Invitation
Greenery Anniversary Invitation
Surprise Anniversary Invitation
3. Write Down the Exact Date and Time of the Party
If you're going to hold an anniversary party, then you want your guests to arrive on the date and time that you expect them to. This would mean that while you're making the invitations, you'll first need to decide the best date and time as to when you should throw the anniversary party. Once you and your spouse have decided on that, the next thing to do is to actually write them down into the invitation.
You have to make sure that the date and time are reasonable enough so that everyone can attend. Because let's say that you're planning on sending out Fiesta Invitations to your invitees, but it says that the party starts at 11 p.m on a weekday. Don't expect the majority of your guests to participate because the time is too late and most likely they have jobs or other important matters they need to attend to on the next day.
Tips for Creating Your Anniversary Party Invitations
You've received the instructions on how to make them, now it's time for you to learn a couple of tips that should make your invitations more appealing to your invitees:
1. Always Remember to Write Down the Name of the Celebrants Clearly
No matter what kind of party you're going to throw, the people you've invited will want to know why the party is being held or who the party is meant for. Since this is an anniversary wedding party, the people you've invited would want to know the names of the couple that are celebrating their anniversary.
Make sure that you've written down the complete names of these two people and check if the spelling is 100% accurate. You don't want to end up in a similar situation where someone sent over Movie Night Invitations to hold a little movie party for someone's birthday, yet nobody showed up because the name on the invitation was incorrect; making the people believe that the party was meant for someone they didn't' know.
Editable Anniversary Invitation
Wood Rustic 50th Anniversary Invitation
Rustic Anniversary Party Invitation
Peacock Anniversary Invitation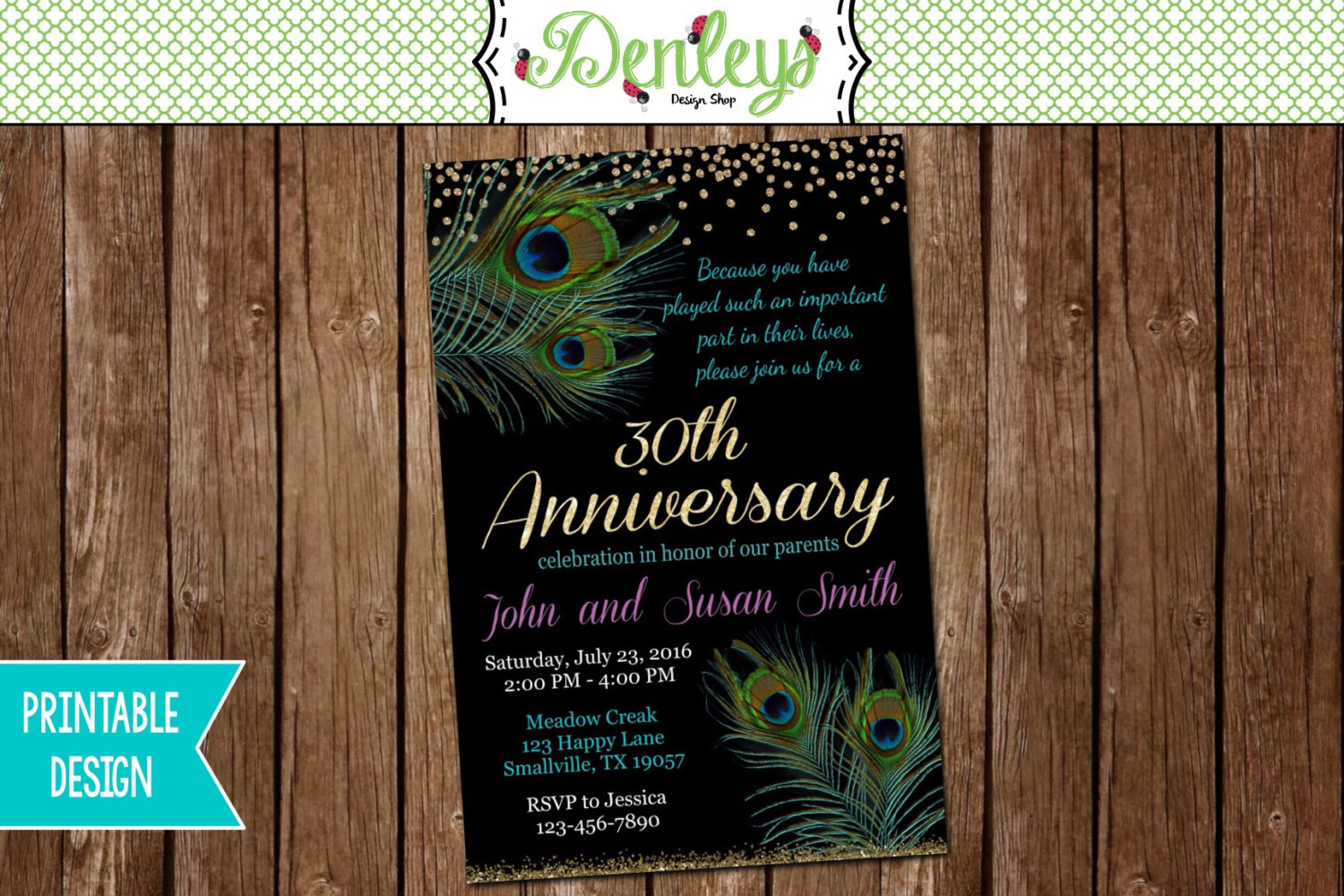 Surprise Anniversary Party Invitation
Platnium Anniversary Party Invitation
Fall Floral Anniversary Invitation
30th Anniversary Party Invitation
Diamond Personalized 60th Anniversary Invitation
2. Place in How Many Years the Couple has been Together
If you're going to make an anniversary party invitation, then your invitees will want to know how many years the celebrants have been together. This is simple as all you need to do is know how many anniversaries the couple has spent preceding the upcoming one, and write down the number for the one that they're going to celebrate. You may also see wedding party invitations
3.Go With a Good Font and Font Size
The whole point of the invitation is to share the details of the party with the people that you want to invite. That's going to be very hard to do if the invitees can't even read whatever it is you've written in the invitation because of the lousy font and font size you chose. You need to go with ones that are clear and large enough for your invitees to learn what they need to about your anniversary party. Also, go with a font that matches your event. So if you're sending out Elegant Invitations for your fancy wedding anniversary, then you can go with a font like Garamond Narrow to perfectly show that it's going to be a formal and elegant anniversary party.
If you want to learn more on how to make anniversary invitations or if you want to make use of our Printable Invitation Examples, then all you have to do is go through our site and find the articles that should give you everything you need.