When you are planning to promote your business through flyers, you must first create a plan (i.e. budget, design, layout). In creating a layout and design for your flyer, you must make sure that a flyer is readable enough for the prospective clients. Fonts and color must be in perfect sync with each other, and graphics should not overpower the text, vice versa.
Football Flyer Template
Football Game Flyer Template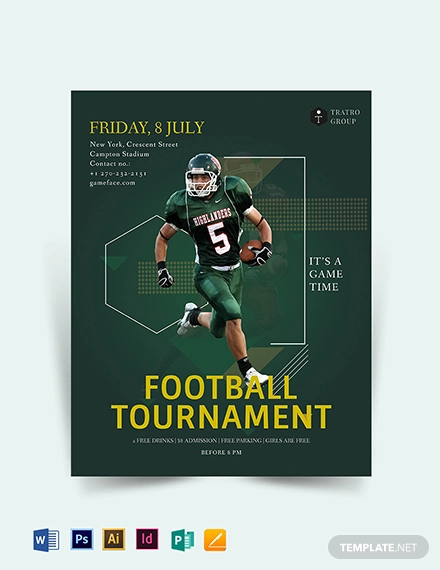 Football Camp Flyer Template
As one of the greatest promotional tools of all time, flyers are still used by many marketers in almost every business as they need to advertise or promote their own products. Flyers are very popular since they are distributed in the streets and other public areas. Obviously, they must be distributed in areas accessible to most people, especially the target market.
Examples of Soccer Flyers
Soccer Camp Flyer Template
Similarly, when having events like a soccer game, flyers are best used to promote the sporting event. There are several ways on how and where to distribute your flyers. They are thoroughly discussed in the next section. You may also see multipurpose flyers.
Elegant Soccer Flyer
We all know the minimalist flyers usually come in small sizes which makes them very convenient to print and distribute, thus making them less costly. This reason alone will convince any businessman in the marketability of a flyer.
Soccer Match Flyer Template
Methods in Distributing Flyers
To save time reaching your target market, you must distribute in areas which are very accessible. In that way, your flyers can easily be seen and will be effective in reaching your audience. There are several ways to distribute your flyers, and we will discuss the three most convenient ways on how to disseminate them. You may also see sports flyers.
1. Local Distribution
The easiest way to distribute flyers is to post them in public areas (business and entertainment centers, schools, hospitals). For a soccer match, it best to distribute flyers in schools and public sports and fitness centers.  If you are hiring someone to distribute to your company, inform them of your target market. In finding the right target market, you should use market segmentation. Examples of market segmentation may include the following:
Product-related segmentation. You can categorize customers through their relationship to a certain product. For example, products would they usually need and purchase.
Demographic or socioeconomic segmentation. Demographics (the use of data such as gender, age, race education, income) greatly assists you in finding a target market.
Psychographic segmentation. This concerns with your market's attitude and personalities, religion, and lifestyle.
Geographic segmentation. The target market can also be a form of a specific region, location, and climate.
Understanding your product will, in turn, help you identify your target market. Thus, it is best first to assess your product and find methods in how you can make your products accessible to your market. You may also see music flyers.
2. Newspaper Inserts
Another way to get your soccer flyers distributed quickly is through newspaper inserts. You may contact a publishing company to discuss the distribution. You may meet their staff and ask methods on how you can collaborate with them. Usually, there are fees related to the transaction, but the expense is more or less similar to the salary you will be paying to a flyer distributor. The decision is up to you on which of the two options you will eventually choose. You may also see photography flyers.
3. Partnership with Local Business
Aside from newspaper publishing companies, you can also tie up with stores near the area like restaurants, convenience stores, coffee shops, and bakeries among others. When you partner with these companies, also expect a free. However, when you know someone working inside the company, you may broker an exchange deal with them.
For example, they distribute your flyers while you also advertise their products. Additionally, if you are the one organizing the soccer event while being tasked to make the flyers as well, you can ask for sponsorships with the local stores. You also see christmas party flyers.
If the company is generous enough, they may offer to distribute your flyers for free. For example, you can suggest to the company to display your flyers at an information desk, in the walls, bulletin boards, or even in their menus (if they are a restaurant).
Soccer Tournament Flyer
Soccer Flyer Template PSD
Soccer Cup Flyer Template
Blazing Soccer Flyer Template
Intramural Soccer Flyer
Football and Soccer Flyer
Women Soccer Flyer Template
Soccer Party Flyer
Soccer Mania Sports Flyer
College Soccer Flyer
Soccer Cup Flyer Template
Tips for Flyers to be Effective
Here are a few tips on how to maximize the use of flyers.
1. Customers Should Easily Find You
One of the most things that companies subconsciously forget is that they don't make themselves easily available for their clients. They are too focused on their products and services in that they don't list down the most basic contact details in their promotional flyers. For example, you should include your contact number and business address on the flyer. If space is limited, print out another copy showing your company's location and attach it to the flyer.
2. Add Freebies
Freebies are among the things that will easily catch people's attention. In order for people to read your flyer, include discounts, promos, and giveaways to name a few. Make sure to list down specific information on how the customer can claim the freebie. In this case, if you are purchasing one of the soccer flyer templates above, try to incorporate text in regards to freebies. If you are organizing the soccer event at the same time, give our freebies such as stickers, clothing apparel, clothing accessories, health drinks, etc.You may also see movie night flyers.
3. Don't Settle for Photocopies
It is more than fine to cut costs, especially in advertising. But the magnitude of the event will depend on how you will print your flyers. In this case, a soccer event should not settle for photocopied flyers. Soccer is a high-octane and high-energy sport adored by millions of fans around the world so the flyers should be printed in color. Advertisement expense is a leverage for a bigger income. You may also see club flyers.
4. Work on Graphics
Graphics enhance the overall visual presentation of your flyer. Choose the right design, paper quality, size, and layout of the flyer. The flyer will stand out and be more noticeable in public if the design is fantastic and well organized. Refer to the soccer flyer templates for your reference. You may also see party flyers.
5. Include Testimonials
Potential customers may not immediately believe unless somebody will testify the effectiveness and quality of a product or service. Testimonies are important and will raise not only awareness but also income. You may also see gym flyers.
6. Keep Everything Simple and Elegant
You don't need to incorporate numerous sports jargons and layers upon layers of design to make your flyer effective. Sometimes, a grand and complicated design is detrimental to the overall design of the flyer. Keep it simple and elegant. Here is another tip: use contrasting colors on the color wheel. You may also see Valentine's Day Flyers.
The color wheel is very important in an artist's point of view because it helps you identify which color matches the other. Use contrasting colors for your flyers as they create a more visually appealing look.You may also see summer flyers.
Final Score
In order for your soccer event to be a success, the use of flyers is helpful in effectively disseminating information to your target audience. The distribution method you will eventually use is vital to the success of your event. You can either hire someone to distribute them or you can partner with stores and other companies for distribution (mostly through exchange deals). This way, you do not only promote your event but you can also build relationships with other establishments and institutions. You may also see campaign flyers.