A poster is one of the best marketing tools a business can use. The effectiveness of a poster has been proven time and time again, with all types of businesses (large corporations and small enterprises) using posters for their marketing and promotional activities. It is a fact that sports have become a business. Individuals purchase teams from different sports while public institutions partner with private firms to host massive sporting events. The equation is quite simple: if teams win or if sporting events become a success, everyone earns.
If you are hosting a sports event, you definitely need a poster. We have provided some templates and examples that you can download. We also provided simple tips in creating an effective yet visually appealing sports poster.
Elements of a Good Sports Poster
Listed below are the elements of a good sports poster. Make sure you include all the elements that are mentioned so that you can maximize the effectiveness of the poster.
1. A sports poster needs to have a clear purpose: A sports poster needs to have a clear purpose. Having a clear purpose or end goal builds a road map toward what you want to achieve for your sports poster. The purpose should be very clear in the poster. If you will not be communicating the message through text, communicate through graphics and images instead. By doing so, you can easily attract attention and increase engagement.
2. A sports poster needs to be relevant and significant: The poster you will be creating should be relevant to your target audience (which includes both graphic and text elements). Additionally, the details you will list down should also be significant to your target audience and potential customers as well, as you will be relying on them for sales and revenue. Don't add information that are too trivial or too difficult for your target audience to comprehend.
3. A sports poster is not a lengthy business document: Take note that a poster is nothing like a business plan or a research paper. Posters contain specific information that has been narrowed down to its bare essentials, which means it doesn't need long sentences or paragraphs that state further details or supporting documentation about the poster. Some details may be relevant (for example: date, time, and location of event), but if it's not relevant, don't include it.
4. A sports poster needs to be organized: Similar to other graphic designs, a sports poster also needs to be organized. It is important to break down your general content into logical categories, and to do so, you must organize information into section headings for viewers to be guided. For example, the last thing you want to do is put every information in the upper half of the poster leaving the lower half of the poster with empty space.
5. A sports poster needs to be clear and concise: As previously mentioned, a sports poster needs to be organized. It also needs to be clear and concise. For the poster, you can add bullet points and you should always avoid wordiness and jargon. Also, use an active voice, use simple language, and spell out acronyms to avoid confusion for individuals who are not aware of your product.You may also see event poster examples.
14+ Sports Poster Templates & Examples
Sports Club Poster Template
Template Details
Size: A4, US
Free Soccer Poster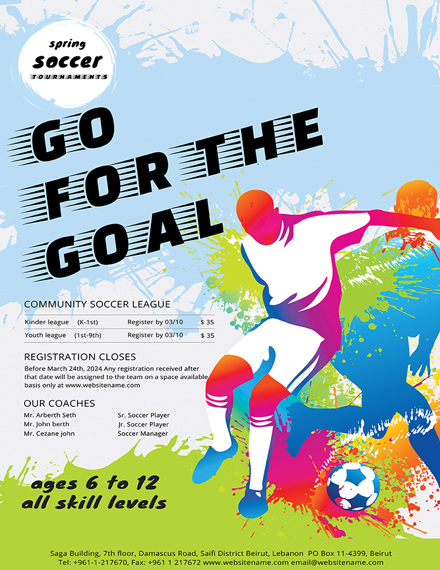 Template Details
Size: (A3) 11×17 inches
Sports Event Poster Sample
Template Details
Size: (A3) 11×17 inches
American Football Poster Design
Template Details
Size: (A3) 11×17 inches
Cavaliers Warriors Sports Poster
Michael Jordan Last Shot Sports Poster
Stephen Curry Dribble Sports Poster
LeBron Lakers Sports Poster
EPL Players Sports Poster
English Premier League Logo Sports Poster
Chelsea FC Champions Sports Poster
Steven Gerrard Sports Poster
NFL Sports Poster
FC Barcelona Sports Poster
UFC 223 Sports Poster
UFC 197 Sports Poster
Simple Tips for an Excellent Sports Poster Layout
Here are some simple tips in creating an excellent sports poster layout:
1. Make it easy to read
The main purpose of a sports poster (or any type of poster) is to provide information about a product or a service. It also helps raise awareness about a particular product, event, or campaign. That is the reason why information listed in the poster should be easy to comprehend. Begin creating the poster by creating a headline, followed by the other supporting details, then finish it off with colors and designs.
2. Create a visual
Whether it's an image, an illustration, or a text, it is important to use visual to catch the attention of the readers. This allows your customers (and potential customers) to stay intrigued and stay interested in your product. However, you also need to be careful when layering images and text. Each element must have enough contrast to make them independently readable.You may also see vintage poster examples.
3. Utilize the space being provided
Posters usually possess a wider work area for you to create your design. The bigger the space, the better, allowing you to add more elements in the poster. In some areas, you can use images and pictures while in some areas you can add text and other typography. It will be your decision on the placement of the text and images, just make sure each and every space is utilized and will not be put to waste.
4. Always include a call to action
People who will be viewing your poster should immediately respond to what your poster is saying. How do you want people to respond after seeing your poster? Do you want them to call the number that is listed in the poster? Do you want them to come to your store? Do you want them to purchase a product? No matter what your purpose, there should always be a call to action that allows the persons viewing the poster to do something (preferably something that will translate to sales for your company).You may also see advertising poster examples.
5. Experiment with typography
There are some posters that limit the use of typography, but it should not be a reason for you to completely avoid using typography. Use font styles that match the overall theme or concept of the poster. For example, university or varsity style typography if you will be creating a poster relating to a school event, or roman/greek typography if you will be creating a poster relating to a history event.
Steps to Designing a Sports Poster
Follow these steps to designing an effective and visually stunning sports poster:
1. Determine the ideal format
How will the sports poster be used? Do you need a large poster to numerous passersby? You need to identify beforehand the purpose of the poster so that you can also determine the exact size, layout, and design of the poster you are creating. Once you have it all figured out, you can now move on to the next step.You may also see poster designs.
2. Conceptualize the content
The main purpose of the poster is to immediately capture the attention of the people viewing it. You can incorporate a catchy slogan or use a huge visual so that your poster will be immediately remembered. A poster needs to be interesting to keep people engaged, yet simple enough for everyone to understand.
3. Use color to attract attention
Using color is another important aspect of a sports poster. You can always go for a black or white combination, but it just looks very dull. Use multiple colors so that it will look visually appealing. You can go for colors in the same palette or go for contrasting colors.
4. Decide on graphics and typography
Although you can substitute text with images or pictures, text is important if you will be providing specific information to your customers and/or potential customers. Choosing the right graphics and typography will greatly influence the outcome of your poster design.
5. Edit and revise if necessary
Once you have everything in place, it's time to omit the unnecessary details in your layout. Edit and revise if there are errors in regards to the typography and graphics. Once you are good with the final design, you can then print the poster.You may also see hanging poster designs
Sports Poster Sizes
Here are some poster sizes you can use for your sports poster:
1. 11 × 17 inches (small): Also called a ledger or a tabloid, these poster sizes are also used for flyers, street lights, and bulletin boards due to their limited size.
2. 18 × 24 inches (medium): This is a slightly bigger size compared to the previous one. This poster size can be used for offices, schools, and government institutions since they are not too large which might cause distractions to passersby.
3. 24 × 36 inches (large): This poster size is basically meant to show off and inform. This size is mainly used for large scale events and activities.You may also see concert poster designs
4. Movie poster size (27 × 40 inches or 40 × 60 inches): There are two different dimensions for a movie poster: 27 × 40 inches or 40 × 60 inches. The latter is usually found in a bus stop or subway. The latter is also used for promotions in a public place or highly urbanized location.
Sports Poster FAQs
How can I make a poster?
Follow these simple steps when creating a sports poster: (1) determine the ideal format, (2) conceptualize the content, (3) use color to attract attention, (4) decide on graphics and typography, and (5) edit and revise if necessary.
What is the purpose of a poster?
A poster is one of the best forms of advertising a business can use. It is an effective way to disseminate your message to your targeted audience and convince them through the design of your poster.