If you're going to have a party, then you're going to have to come up with a good design for the party invitations you plan on sending out. While there are a ton of available Examples of Invitation Designs you can make use of, it's best to go with ones that match the party you're going to throw.
For example, if you're going to throw a superhero themed party, then you should go with designs akin to Superhero Invitations. So let's say that you're planning on having a Star Wars party for all your Star Wars loving friends, you'll need to learn how to make the right kind of party invitation and this article will teach you how to do just that.
Star Wars Birthday Invitation Template
Star Wars Birthday Party Invitation Design Template
Printable Star Wars Invitation
How to Make a Star Wars Party Invitations
For those of you who love star wars, you should know that in order to make an invitation that will perfectly portray your star wards themed party, you're going to have to make sure that you put in whatever star wars reference you can to make that really clear. You may also see Ceremony Invitations
So here are the things that you're going to have to do:
1. Go for Star Wars Characters or Star Wars Themed Backgrounds for the Design
You want your invitations to capture the essence of the hit franchise as much as you can, and you want to make sure that the people you invite know that the party you're going to hold is for true die-hard fans. So let's say that you're going to hold a Star Wars birthday party for your child. While there are a ton of Birthday Invitation Examples you can choose from, you want to make your own personal invitations by including images of famous characters such as Yoda or Luke Skywalker. The background should also capture what Star Wars is all about, so it's best to have it set in space or on a planet like within the franchise such as Tatooine.
2. Remember to Point Out When the Party Is Going to Start and End
If you're going to make creative invitations, you're still going to have to set the date and time as to when your guests should arrive. You won't have a party if you don't have anyone to celebrate it with, which is why it's very important that you never forget the write both the date and time of when the party starts and when it ends. You need to be very specific when writing these two pieces of information down as you want to make sure that these people get all the information they need. Because you don't want to have a situation where your guests show up late or have them arrive on the wrong date just because you didn't write down the information clearly.
3. Write Down the Complete Address of the Party's Venue
If you're going to have a party, then you're going to have to designate the place of where you're going to hold it. When you're writing down this section of the invitation, you need to make sure that you don't miss out on any of the important details of the address. So that should be everything from the street address, the name of the building or even the house number if you decide to throw the party at your own home. Because let's say that you're sending out Fiesta Invitations for that Star Wars themed fiesta that you want to celebrate with your friends and family, it won't exactly help if they can't even find the party venue because the details were vague to the point where they can't pinpoint its exact location.
DIY Star Wars Invitation
Tips for Creating  Star Wars Invitations
Now that you've learned how to make this type of invitation, you'll need to know the ways in which you will be able to attract your invitees through the invitation's use.You may also see Event Invitation Examples
So here are a couple of tips that should help you do just that:
1. Pick a Place that can Perfectly Capture the Star Wars Theme
If you're going to have a Star Wars party, then you need to go to a place that will match it. Remember that you can always opt to hold the party at the comforts of your own home, but there may be a time where you want to hold it outside or somewhere like a Cafe. You want the places you pick out to match your party as it will make it more meaningful to your invitees. Because let's say that you're sending out rustic invitations to your friends and family. Since it's for a rustic event, they would obviously expect the place and food to be old-fashioned or what that perfectly captures the meaning of the word "rustic". Just remember that if you're goign with Star Wars, then pick out a place that defines Star Wars.
Star Wars Birthday Invitation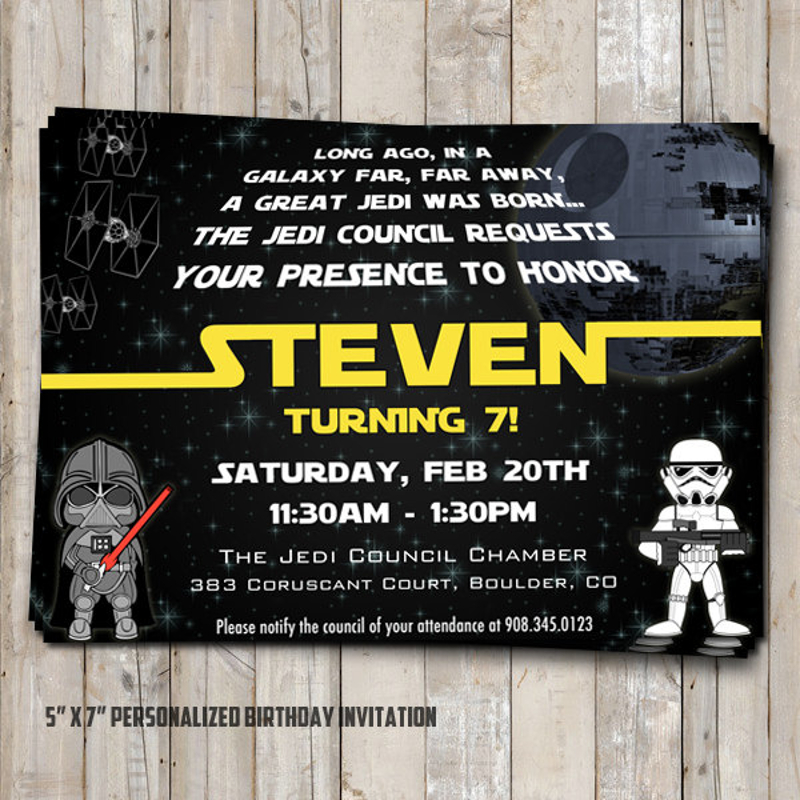 Star Wars Invitation Card
Cute Star Wars Invitation
BB8 Star Wars Invitation
Printable DIY Star Wars Invitation
2. Have a Good Star Wars Greeting and Ending in the Invitation
Since these are Personalized Invitations, you really want to make yours stand out from the very moment your invitees read the invitation. When you're greeting these people, you can go with classing lines such as "Greetings young padawan" to really get the Star Wars vibe in your invitation. As for the ending? There are a ton of different lines that you can use to help you out with that. However, the most common line that you would usually end with a Star Wars invitation would have to be "May the force be with you" as it's one of the most iconic quotes in the franchise's history.
3. Be Sure to Check the Invitations for Any Errors
No matter what kind of invitation you end up making, it's your responsibility to make sure that there are no errors in it whatsoever. You do not want to find yourself in a position where you are embarrassed simply because you couldn't write down the name of the celebrant or the time and date of the party properly. So before you send these out to the people you want to invite, make sure that you go through the invitations at least once or twice and fix any grammar, spelling, of information errors that you spot immediately before sending them. You may also see Vintage Invitation
If you would like to learn more about Star Wars invitations or if you want to find Printable Invitation Examples, then all you have to do is go through our site until you're able to find the articles that have what you need.