Building your brand and increasing market visibility can be a challenge for most start-ups. Thus, investing in a good marketing campaign should be one of your main priorities. Fortunately, this can be accomplished with the help of a good voucher. Designing the perfect voucher for your business is sure to raise awareness about your brand and draw customers to your stores.
Best Voucher Examples & Templates
Airplane Food Voucher
Airplane food costs twice as much as the meals you can get on the ground. Fortunately, some airlines offer special food vouchers for people to use. Those eligible have either purchased the vouchers in advance or were rewarded one after winning a contest held by the airline company or its collaborators. Giving vouchers to your passengers will help boost airline sales and encourage them to fly with you again. By doing so, you can get a head start against your strongest competitors.
Birthday Gift Voucher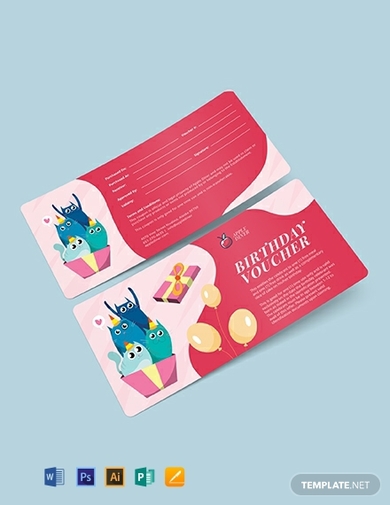 Celebrating your birthday is all the more festive when you have vouchers to splurge with. One way to make your customers feel valued during their special day is to offer them birthday vouchers as a treat. This entitles celebrants to freebies, discounts, and other promos upon redemption. It's a unique way to engage repeat customers so your brand stays on top of their minds for future transactions.
Event Ticket Voucher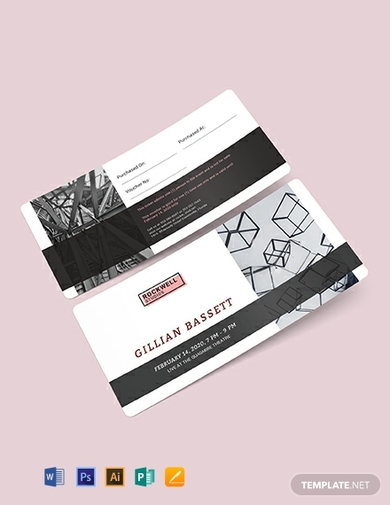 After purchasing a ticket online, a voucher is issued for you to claim your event ticket at the authorized ticketing outlet or venue. Monitoring your ticket sales is much easier to do when vouchers are involved. Customers can also use the ticket to redeem certain goods and services that are accessible to them at the venue of your event. This will also qualify them for certain raffles and contests held during the program. However, make sure the ticket carries key information about the event for customers to be guided.
Hotel Gift Voucher
An overnight stay at a well-known hotel is a luxury that no one in their right mind would want to pass up. As peak season comes to a close, you still want to make sure you have people staying over at your hotel to keep business running. One way to attract locals and tourists is to give away discount vouchers with exclusive perks and accommodations that hotel guests can enjoy. These hotel vouchers can be up for grabs to the first few customers who visit your website.
Meal Dinner Voucher
Is there a new dish in your restaurant menu that you want diners to try out? Use a meal voucher to catch their attention! Enticing customers to taste one of your specialties can easily be achieved with the help of a meal dinner voucher. This will drive foot traffic to your restaurant and help upsell some of your goods to hungry guests. Consider offering these vouchers to those who are already dining at your restaurant to see if you can get them to dine with you again in the near future.
Pizza Shop Voucher
Getting a voucher for a free or discounted pizza is every pizza lover's dream come true! Voucher marketing is a great way to introduce limited-time offers to customers who might be curious about your new dishes but are too scared to waste their money on an unsatisfying pan of pizza. After all, it's hard to ignore the perks presented by the voucher when it's already there for you to use. You can hand out these vouchers to passersby in front of your pizza parlor or to prospective customers at public places.
Simple Thank-You Voucher
Looking for a clever way to extend your gratitude to recurring customers? You can show your appreciation by giving them gift vouchers that they can redeem at your store. A simple thank-you voucher is perfect for celebrating the anniversary of your business and to express your heartfelt thanks to customers you had numerous transactions with before. You can send the voucher to their email address or along with their orders in the mail.
Travel Voucher
Traveling to foreign soils is always an exciting experience. But every traveler knows just how costly it can be to enjoy this luxury, which is why you might want to consider using travel vouchers as gifts. Airlines and travel agencies usually offer travel vouchers to clients as a means of promoting their services. Clients can also use the voucher to prove that they have settled the payment required to qualify for a service or good, especially when a ticket is not available for them to use.
Themepark Sports Voucher Template
Eusebi Gift Voucher
If you're in the food business, you can use a restaurant voucher to lure in customers to your branch, similar to the example above. These vouchers may be purchased by customers who wish to gift the voucher to their friends and family for birthdays, anniversaries, and other holidays. Keep in mind that it's important for the voucher to have an expiry date to build a sense of urgency among holders. A unique identifier should also be printed in the voucher for you to track the ticket and verify its authenticity.
Sabai Corner Spa Gift Voucher
Want to treat your parents, friends, or significant other to a relaxing day at the spa? A spa voucher is the perfect gift idea for anyone who's unsure about what to gift their loved ones. Shown above is a good example of vouchers used as gifts to give your family and friends to celebrate a special occasion. This is also an opportunity for your business to expand its market to those who are not a part of your specified demographic.