In business where companies produce and provide products and/or services to consumers, it is expected to receive some complaints. Complaints arise not only when a consumer dissatisfied or disappointed with the purchased products and/or services, but also when a production description is vague, purchasing instructions are complicated or confusing or even when consumers think the product is not priced appropriately. You may also see complaint letter to service provider examples.
Although the urge to write a complaint letter to a certain company may come from a bad place, it must always be objective and must not be written in an angry mood of complaining and fault finding. It is in fact impossible for companies to keep in mind and include all the likes and dislikes of all their consumers, therefore, there will always be a scope for complaints.
Restaurant Complaint Letter Example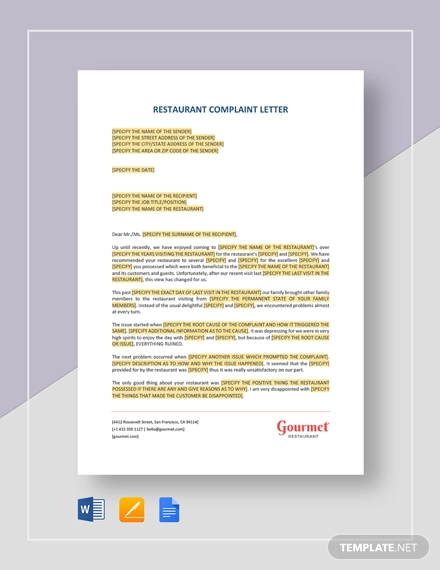 Hostile Work Environment Complaint Letter Template
Complaint Letter Against Tenant Template
Complaint Letter for Unprofessional Behavior Template
Formal Complaint Letter Template
Complaint Letter Against Neighbour Template
Complaint Letter to Landlord about Tenant Template
Business Complaint Letter Template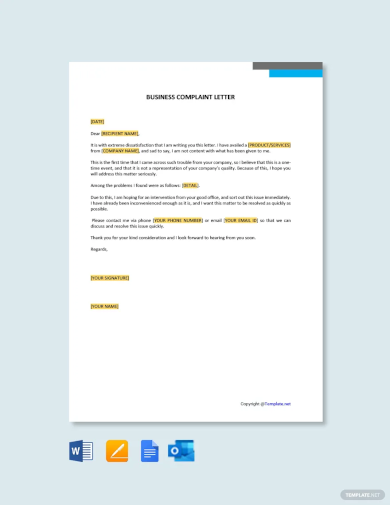 Complaint Letter About Your Boss Template
Noise Complaint Letter Template
Workplace Harassment Complaint Letter Template
Noise Complaint Letter to Property Manager Template
Complaint Letter for Poor Service Template
Customer Complaint Letter Template
Employee Complaint Letter Template
Apartment Noise Complaint Letter Template
Employee Formal Complaint Letter Template
Free Formal Complaint Letter Against a Person Template
Complaint Letter Against Employee Template
Complaint Letter Against Staff Template
Complaint Letter Against Supervisor Template
What is a Complaint Letter?
As the name would suggest, it is literally a letter to air out complaints from an individual to another individual or an organization or company. It is the type of letter written to address any type of mistake for example an offense, grievance, displeasure towards a product or service. It is used to raise an individuals' concerns about unfair or wrong doings and chase after a productive outcome. You may also see how to write an official letter.
A complaint letter brings to light and informs the authorities about the mistakes and resentment an individual feels towards the responsible party. It also helps inspire other hassled consumers and influence the authority to take the proper action. At the same time, it makes the responsible parties more liable, responsible and responsive when issues arise. You may also like formal letter writing examples in pdf.
Aside from it being personal or systematical, a complaint letter it is also apart of the fundamental right of an individual to seek justice in the face of injustice. It serves as a semi-official manner of communicating grievances to the concerned authority. It is the first step towards exercising an individual's Consumer Rights. In addition, it is the first step taken when resolving issues with an entity before seeking hep with a consumer protection agency.  When the responsible party is unresponsive towards issues they are liable to a punishable court proceeding or an expensive lawsuit. You may also check out resignation letter examples.
Writing a complaint letter is an inherent right and responsibility of a consumer whilst seeking positive outcomes. It is not just a pre-warning to the offender but also a chance for them to rectify their actions in time. It is not only applicable in the business setting, it can also be used to raise concerns about societal injustices and issues that needs to be addressed. You might be interested in application letter examples & samples.
A complaint letter can be written by anyone with a legitimate reason. An individual need not to be famous or influential in order to raise his/her concerns. Anyone can write a complaint letter to the government about traffic problems, water supply, or anything that needs government intervention. It is a good way to communicate with people, organizations, or even companies in power that the people are not satisfied and wants more out of these authorities. You may also see acknowledgement letter examples & samples.
Complaint Letter Sample
What to Include in a Complaint Letter
A complaint letter should effectively express the following:
describe your problem and the outcome you want
include key dates, such as when you purchased the goods or services and when the problem occurred
identify what action you've already taken to fix the problem and what you will do if you and the seller cannot resolve the problem
ask for a response within a reasonable time
attach a copy of any supporting relevant documentation such as a receipt or simple invoice.
Types of Complaint Letter
In the light of business dealings, there are quite a few types of complaint letters but they can be grouped into two major groups:
1. Routine Complaint Letter
A routine complaint letter is written in the case when mistakes are considerable and by nature, a routine. In these cases, there is only a need for correction and it can be complied easily and willingly without the need to be persuaded. For example, when an item is priced at 999$ but the seller charged the customer for 1050$ a piece. This mistake can easily be discussed through a routine complaint letter and is usually managed or complied by the seller almost immediately. You may also see business letter examples.
2. Persuasive Complaint Letter
A persuasive complaint letter is written in the cases where there is a need for the consumer to convince the seller to correct the mistake. For example, the quoted price of an item was 400$ per unit while placing the order but after placing the order the price was reduced to 300$ per unit. However, the seller is not legally bound to pay attention to this type of claim. You may also like examples of writing a simple application letter.
Complaint letters can be the following depending on the level of an organisation or an individual:
3. Personal Complaint Letter
This type of complaint letter are on a personal level and is written by consumers to get refund, replace a product etc. When issues or grievances affect an individual or society at large, this complaint letter is written.
4. Professional Complaint Letter
This complaint letter is written in behalf of an organization. This letter pertains to professional items and services acquired by a company and stands as a backing f an organization. You may also check out how to write a job resignation letter.
Formal Complaint Letter Template Sample
Complaint Letter Writing
Here's an easy guide to write an effective complaint letter:
1. Address the customer service department
It is best to address your complaint letter to the customer service department for a higher chance of achieving the goal of your letter. the costumer service is specifically made and is accustomed to dealing with complaints and your letter will most likely be quickly processed and addressed.
Website companies indicate their customer service department in their company website or in any of the company's promotional or advertising materials or product packaging or labels. In addition, try to find the department head/manager/supervisor of the said department and directly address the letter to them. As per usual, start your letter with a formal greeting as in Dear Mr., Ms. Mrs. If you are not able to find out who the supervisor, simply start your letter with Dear Sir/Madam. You may also see official resignation letter examples.
2. Quickly get to the point
The very first line of your letter should directly and clearly address why you are writing the letter and state what your exact complain is. Give as many relevant facts as possible; include the date, time and location where you made the purchase or received the service, as well as any pertinent serial or model numbers.
The reader of your letter must immediately identify the point of your letter in just five seconds. As this is also a formal letter, there is no need for a long introduction; treat this as a straightforward business letter. Additional details regrading your complaint can be added on the paragraph following the first paragraph. Remember that the first line must immediately draw your reader's attention to your complaint. For example, the first line can go: "I am writing to complain about a faulty washing machine that I purchased from your company on the 18th of May at your location on ABC Street, Sample City." You may also like reference letter examples.
3. State your desired remedy or action
Make the remedy or action to be taken regarding your complaint be known immediately. State if your want a refund, product replacement, a repair, etc. this is best discussed in the second paragraph. This will help you avoid receiving a stock letter or any automated response. This will also give the receiver have something to work with on their end.
Always try to give constructive comments and indicate that you want to continue a relationship with the company, mentioning that you want to take your business elsewhere will most likely discourage the company in taking an action. If your complaint letter pertains to a broader problem, state that in your letter but also realize that will take a longer time. Most importantly, do not threaten to take any legal course of action in your first attempt with communicating with the company, it may be the solution you ultimately desire but send your complaint letter first and await a response. You may also check out what is an application letter?
4. Attach copies of supporting document
These may include receipts, guarantees, warranties, copies of checks you sent and, if appropriate, photos or videos. Documentation relevant to your complaint must be included in your letter. However, remember that you should include the copies and not the originals of the documents. In this ways, there will be no chance of having these documents go missing, damaged or mislaid should you need to present evidence to other authorities.
In addition to this, indicate in your letter that you have indeed included relevant documents. For example, "Please see attached a copy of my original receipt, along with a copy of the washing machine's guarantee and information regarding the serial number." You might be interested in two weeks notice letter examples & samples.
5. Give them a time limit
It is very useful to provide a specific date when you wish to have the problem resolved. Providing a time limit will not only help bring a speedy conclusion to the matter but will also you give you peace of mind. This will also prevent the company from forgetting about your letter. However, make your time limit sufficient and reasonable. Recognize that the broader the complaint the longer it will take to resolve. You may also see termination letter examples & samples.
6. Finish the letter respectfully
Just like any letter, always end your letter respectfully. Thank the receiver for taking time to acknowledge your complaint and addressing your concern. Let them know when and how they can reach you so the issue can be resolved more efficiently. End your letter with a formal closing such as Yours sincerely, Respectfully, etc. Avoid using informal closings. You may also like examples of writing an acknowledgement of resignation letter.
How to Write Complaint Letter Sample
Elements of a Winning Complaint Letter
Here are six things every successful complaint letter has:
1. Solid research
As any write up, your complaint letter should be well researched. You should be able to determine whether or not the company recognizes and addresses the nature of your complaint. Aside from this, you can easily find formats and contents of a successful complaint letter that warrants a response in the Internet. Not only does this help you know how to approach the problem, it will also help you set you expectations.
You can search the Internet for How-to articles regarding complaint letters or additional tips and pointers. Some websites give other people's actual advice regarding the matter, this is an excellent place to begin as it provides necessary and proven actions that have been effective. You may also see appointment letter examples & samples.
2. Keeping it tight
Effective emails and letters are usually short and direct. Your complaint letter should be the same as well, it should not be more than one page or 500 words.  Bear in mind that there is a real person processing your letter and if it's way too long it's possible they won't make it to the end of your letter. You may also like employee reference letter samples.
In addition, always go directly to the point of your letter, there is no room for chitchat in your letter. Also include all the necessary and relevant details that can help track your problem.
3. Being polite
As the saying goes, "Manners maketh a man," it is important to display manners in your letter. You may be annoyed as o the fact that you need to make a letter of complaint but you must always be polite. Address customer service agents cordially as they are real people as well. And it can be a great factor for them to want to help you out with your problem. On the other hand, missives with four-letter words, threats, and ALL UPPERCASE are often treated with the bare minimum or not at all. You may also check out simple cover letter examples.
4. Citing the rules
I you can convince the company that it did not follow their own rules or that they have broken the law, you letter will most likely be treated with a sense of urgency. For example, your airline ticket rules aren't on your ticket, but in an almost unreadable document called the contract of carriage. Some products provide a copy of an end-user licensing agreement along with the box container, however the rules are strategically less obvious. Should you have any questions, ask the company for a copy of the contract or find a copy in their website. You might be interested in business reference letter examples.
5. Nicely tell them what you want
As mentioned above, manners really mater. Be extra nice to the customer service agent, they are just doing their job and acts appropriately with your given information about concern. You should directly mention what outcome do you want from the letter as it should leave no room for questions. Nicely tell them what you want and be direct as much as possible. Rest assured their response will be in your favor. You may also see how to write a resignation letter.
Sample Complaint Letter
Common Reasons for Complaint Letters
There can be various reasons why a need for a complaint letter arise. Here are a few examples as to why giving a complaint letter is necessary:
Incomplete or defective order
Abnormal delay in sending the consignment
The goods arrive in a damaged condition
The goods are not what were ordered
Quantity of goods is not what was ordered
Goods are delivered at the wrong place
Work undertaken is done unsatisfactorily
Misbehavior of staff or salesman
Mistake by the accounts section in preparing the invoice
Defective packing that might lead to the damage of goods in transit
Mistakes in a bill or reminders for payment after the bill has been paid
Dispatching products of wrong quality, color, brand, pattern and defective pieces of goods etc. You may also see offer letter examples.
Dos and Don'ts in Complaint Letter Writing
1. Dos
Do address you letter to the right authority or person
Do incorporate your complaint and praise
Do include relevant and necessary details
Do suggest a specific resolution
Do go to social media if possible
2. Don'ts
Don't make threats
Don' say you'll never do business with them again
Don't ramble on and on
Don't forget your contact information
Don't be rude
Complaint Letter Writing Tips
Be clear and concise.
State exactly what you want done and how long you're willing to wait for a response.
Be reasonable.
Don't write an angry, sarcastic, or threatening letter.
Always be polite and approachable.
Include copies of relevant documents. You may also check out new hire welcome letter examples.
Keep original copies of your documents for future reference.
Include your name and contact information.
Request for a return receipt or proof you letter has been received by the right person.
In the end, you may come from a bad place of dissatisfied state that is why you have come to write a letter of complaint. However, it is important to separate the people from the problem. Always treat customer service agents with respect and always be polite when asking what you want in return. You may also like what is a resignation letter?