There are many benefits to conducting a training program in your organization. It leads to increased efficiencies in your company's processes. It also increases the capacity to adopt new methods and technologies by your employees which can lead to better innovations in products and strategies. However, in order to conduct regular training programs, any organization will need to come up with a proper training program schedule. This schedule will define what the training would be and at what days or months it would be held.
Here are some of the training program schedule templates to help you understand how you can make one. The training schedule is always a good idea because it keeps the organization and the trainees both on track without losing vision. These schedules can also be used later on in the evaluation phase to see how much time was spent in training and whether it was enough.
Training Program Schedule Examples & Templates
1. Training Program Schedule Template
Here is a short and simple training schedule template that you can use in your company. It works best for one-day training workshops that you intend to hold every month. Sending this template off to your employees can help them schedule their work around the schedule of the training so that they don't miss out.
2. Training Schedule Template
This high-quality training schedule helps you track and analyze a training routine's progress. This file is accessible in MS word, excels, and pages. It is fully customizable and easy to edit in any format of your choice. Your time and money is saved by using this affordable template that would only take minutes to personalize.
3. Work Training Schedule Template
Do you want to document and monitor a training program? This free work training schedule template is downloadable in an instant. It is ready made and designed for use by professionals like you. It is print and digital ready. Increase your workforce potential and be productive. Choose from six different formats.
4. Monthly Training Schedule Template
Give your new recruits a well-organized training schedule to develop limitless capabilities. This monthly training plan template is of utmost quality and has a broad range of benefits. Other advantages include a varied selection of file formats and a user-friendly design. Download this template now and begin outlining the monthly training schedule!
5. Employee Training Schedule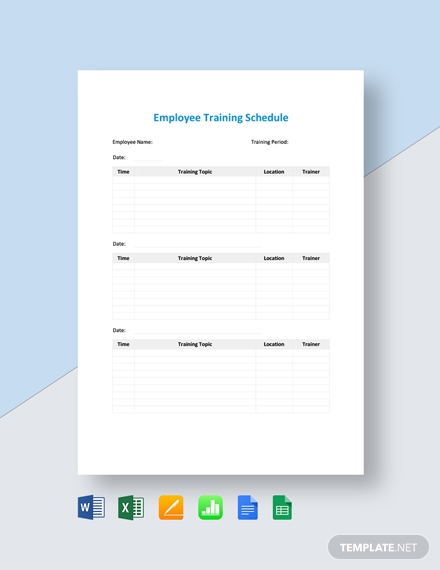 6. Daily Nurse Assistant Training Program Schedule
If you are interested in nursing, you will find this daily nurse assistant training program schedule very useful. It is not important to attend all modules of the training as you might want to pick your specialization so you can see from this schedule which parts of the training you need to attend. You can make your own mini schedule accordingly.
7. 8 Day Training Program Schedule
An 8-day training program schedule such as this one is an excellent template to use especially when your training is catering to a large number of people. This template has the exact names of the modules of training, their timings and duration as well. You can edit this template to have the venue written down too if you are not conducting the training in the office.
8. Weekly Training Program Schedule
A weekly training schedule such as this one for hospital administration can really organize the work and training to be received by the hospital staff. It shows exactly what training will be offered on the 8 days and how long each module of the training will last. The hospital staff can easily print out this template and keep with them.
9. Teacher Training Program Schedule in PDF
Good schools also have training programs for the teachers to ensure that the teachers are attuned to the processes of that school. Here is a sample teach training schedule of a certain school that spreads well over a few months. You can distribute this to the interested candidates who are interested in teaching. You can also add more details about the modules of the training so that the teachers can have a better idea about what each month will consist of in relation to training. This way you will be able to get more teachers to sign up.
10. Team Training Program Schedule Example
A team training schedule by DAC can help you design a training schedule for teams of different departments. You can copy the template and its format to match any department such as marketing or sales. You can turn this weekly schedule into a monthly one if you are not offering weekly training.
11. Running Training Program Schedule Template
Participating, in the long run, requires a person to train his best before the marathon. Here is a sample 6 week running training program schedule that guides the runners about how they can train beforehand.
12. Roads Training Program Schedule Sample
If you are hosting general training that anyone can join, you can create a training schedule like this Roads Training Program schedule with all the needed details like modules, times, cost and venue. You can print this out and then distribute it in the relevant places to get maximum participation.
13. Renal Nutrition Training Program Schedule
A renal nutrition training schedule plan such as this one can come in handy for anybody seeking to learn training and information on nutrition. It is a large topic and many aspects can be covered. Download this template today and edit according to your own content.
14. Training Program Schedule Example
Here is a survey or training program schedule that you will be interested in if you are holding a similar training in your own area. It includes travel information for the trainees as well. Download in PDF format and edit the icons according to your brand.
15. Training Program Schedule in PDF
For a training center, that conducts and hosts a lot of training every day, the schedule needs to be very organized. Here is a very detailed training schedule template that can accommodate up to 50 training programs in an organized manner. You can download and edit the content of this template if you are looking for more training.
16. Manager Training Program Schedule Example
Managers can play a key role in the performance of their teams. However, they also need to be trained first. Some organizations would engage their managers in a long term 2-year training programs. Here is a sample 2 year manager training schedule with exact numbers of hours that the person will spend in training. Download this detailed document and edit with your own content.