Out of all the properties that you own, your home is the most valuable. It's your place of comfort. And it's where you nurture a healthy relationship with your family. Your home should always be in perfect condition for you to call it a great place to live in. That's why it's necessary to set up regular maintenance for your home. Every component that makes up your house must be in good shape, from top to bottom. Our Home Maintenance Schedule Examples can help you establish routine maintenance for your home. You can view all of them below.
10+ Home Maintenance Schedule Examples
1. Home Maintenance Schedule Template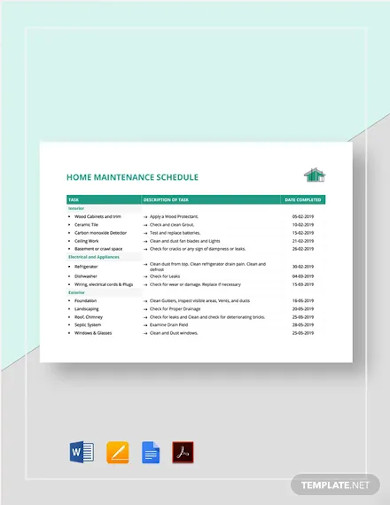 2. Free Home Maintenance Schedule Template
3. Yearly Home Maintenance Schedule
4. Sample Home Maintenance Schedule
5. My Home Maintenance Schedule
6. Summer Home Maintenance Schedule
7. Home Maintenance Schedule Example
8. Annual Home Maintenance Schedule
9. Typical Home Maintenance Schedule
10. Seasonal Home Maintenance Schedule
11. Home Maintenance Schedule in PDF
What Is a Home Maintenance Schedule?
A home maintenance schedule is a guide on what type of home maintenance to do in a specific period. It shows the when and what of a house maintenance checklist. This specific type of scheduling document is what you need to formulate a routine to maintain your home's tip-top condition.
How to Maintain a New House
If you and your family just recently moved into a brand new house, of course, you have to think of a home maintenance plan. You have to care for it so that it'll look as good as new in the next few years. To help you with that, we've gathered some tips below for the maintenance of your new home.
Familiarize the ins and outs of your new home.
Be wary of dust. Dust is the most common and reoccurring mess in houses.
Vacuum floors regularly, especially carpet surfaces.
Regularly check windows and walls for cracks. Hire a handyman or home maintenance services to fix them.
Control the moisture inside your house. Too much moisture can attract insects and rodents to infest your home.
Remove dirt and other particles that clog your home's air filtration system.
Clean your air conditioning systems regularly. Dust can easily enter their interiors.
Check your pipes for possible leaks. If there are, you can hire plumbing services to handle them.
Repaint your walls when their paint is starting to wear off.
Manage wires and cables around your home.
Discard burnt out fluorescent tubes and light bulbs. Replace them with new ones.
Mow the lawn of your front yard every week.
How to Create a Home Maintenance Schedule
A home maintenance routine isn't going to run itself. As the homeowner, it's you who should make an action plan for it. To get you started, here are the steps to create a maintenance schedule for your beloved home.
Step 1: Inspect the Areas of Your Home
To know what to maintain in your house, you have to conduct a thorough inspection of its areas. In that way, you'll be aware of your home's critical areas that you need to keep an eye on. Try to identify areas that require constant cleaning, repairing, or simple monitoring.
Step 2: List Down Every Essential Maintenance Task
After inspecting your home, you'll be able to identify what types of maintenance it requires. So list them all down in the schedule sheet. Make sure that you're listing down the right maintenance task for your home improvements. If you're unsure, you can do a quick research of home maintenance guides. You can also refer to our guide about maintaining a new house above.
Step 3: Set a Time for Each Maintenance Task
Once you're done listing all the tasks, you can then set a time for each of them. This is where you'll do the actual scheduling, budgeting the time for your home maintenance routine. All you should look out for is only to avoid conflicting the maintenance schedule with your work. You can set your maintenance schedule over the weekend or the hours after your work shift schedule.
Step 4: Add Important Notes
Feel free to add notes to your schedule. Each maintenance task might have some essentials that can be easy to forget. If you take note of them on your schedule, it'll be impossible for you to overlook them. After that, that's about it. Your home maintenance schedule is complete. You can print and post it on your fridge door using a fridge magnet.
FAQs
How do I make my house clean consistently?
If you're a busy person, you might not have the time to set up a general house cleaning schedule. But you can still keep your house tidy with these tips:
How much should I set aside for home repairs?
Discover says that homeowners should follow the one percent rule to budget their home repairs. For instance, if your home's value is $360,000, one percent of that is $3,600. That $3,600 should be the amount you must set aside for home repairs yearly.
What should I include for maintenance costs?
These are the expenses that you should cover for your home maintenance:
Lawn care
Electrical repairs
Plumbing repairs
Remodeling
Bulb and fluorescent light replacements
Pool cleaning (if you have a pool)
Air condition repairs and cleanup
Not everyone is privileged to have a sturdy roof above their head. A house is a basic need. But not every individual can afford to have a decent one like yours. That said, never take your home for granted. Take good care of it like it's a precious treasure because that's what it is. So devise your home maintenance routine now using our Home Maintenance Schedule Template.