The days of the year that excite us the most are none other than the holidays! Those are the days when we get to spend quality time with our family and friends—away from the stress and hecticness of the office or school. As an HR manager or school admin, your employees or students deserve to enjoy the holidays, including you. So let them know about the upcoming holidays to give them something positive to look forward to. You can use our Holiday Schedule Examples for that! Download them below!
10+ Holiday Schedule Examples
1. Holiday Schedule Template
2. Company Holiday Schedule Template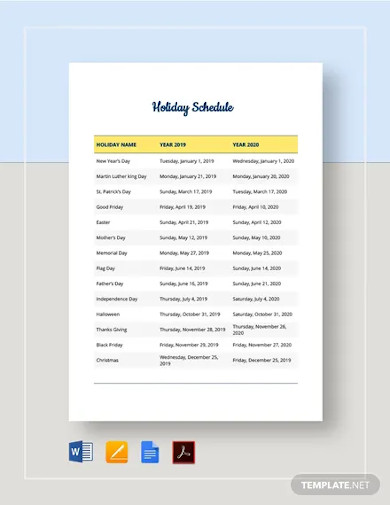 3. Sample Holiday Schedule
4. Health Care Holiday Schedule
5. College Holiday Schedule
6. Staff Holiday Schedule
7. Holiday Schedule Example
8. University Holiday Schedule
9. Children's Holiday Schedule
10. Administrative Holiday Schedule
11. Faculty and Staff Holiday Schedule
What Is a Holiday Schedule?
A holiday schedule is a document that shows what exact date each holiday of the year will take place. Schools and companies use it to inform their students and employees of each year's holiday list, such as federal holidays and national holidays. It also helps them to structure a yearly schedule that doesn't affect the flow of their classes and business operations, respectively. With that said, formulating a complete year-round holiday schedule is important. It's not just for the purpose of informing students and employees of their time off.
What Are the Federal Holidays with Pay?
For employees, a paid holiday is such a delight. It's a nice feeling receiving a full day's salary without going or doing any work. You are also an employee. Paid holidays should also excite you. So here's a list of federal holidays with pay that you should take note of in your vacation planner.
Martin Luther King's Birthday
George Washington's Birthday
Independence Day
Columbus Day
Veterans Day
Different states and cities have their own set of holidays. So make sure to check what holidays your locality celebrates every year as well.
How to Create a Holiday Schedule
Throughout the year, multiple holidays come and go. These holidays are already on the radar of your students or employees. Some of them might've set them on their personal calendars already. However, they need assurance that your school or company officially recognizes the upcoming holidays. So, announce the year's holidays through a holiday schedule memo sample. We'll show you a few steps on how to create it.
Step 1: Identify All the Holidays
First, you have to identify all the holidays of the country. But not just in the country. Identify the holidays that are exclusive to your state, city, or town also. To do this, you only need to do a quick research of the notable dates of your country and city.
Step 2: List Them Down
Once you've identified all the holidays, list them down on your schedule sheet. Make sure to list them down in chronological order. The first would obviously be New Year's Day. And likely followed by the birthday of Martin Luther King, Jr. A schedule is a timeline of upcoming events. That's why you must list the holidays chronologically.
Step 3: Specify the Dates
As you list the holidays, make sure to specify their respective dates. But not just their date. Include also the exact day of each holiday, even if it falls on a weekend. In that way, it'll be clear to the students or employees when each holiday will occur. It's important for a holiday schedule notice sample to be specific to avoid misguiding the students and employees.
Step 4: Emphasize With or Without Pay
If you're an HR manager, you need to emphasize whether each holiday will be with pay or without pay. Federal holidays are mandatory with pay. Whereas other holidays can either be with or without, depending on the company. If you're going to opt for without pay for non-federal holidays, consider giving employees the option to work. Many of them will likely object to holidays without pay. So might as well grant them the chance to report for work during non-federal holidays.
FAQs
What is the oldest holiday?
The oldest holiday in history is Halloween. It dates back thousands of years ago. However, the Halloween that we know now is drastically different from before. There were no trick or treats and kids wearing their favorite superhero or fairy costume. Halloweens centuries ago was more of a religious event.
What are the Americans' most favorite holiday?
According to Total News Wire, the holiday that Americans love the most is Christmas, followed by Thanksgiving and then Halloween. Well, it's not surprising why Christmas ranks higher than other American holidays. When December comes, it's evident everywhere how Americans are so excited about Christmas. Malls start selling Christmas trees, decors, and accessories. Stores start organizing Christmas sales and the like. In fact, Christmas is probably the number one holiday in the world, not just in the US.
What is the origin of the word holiday?
Holiday was derived from an Old English word called h?ligdæg, which means holy day. H?lig means holy, and dæg means day. Originally, holidays were deemed as special religious days. But to this day, some holidays are considered as religious holidays, such as Christmas and the Muslim's Eid al-Fitr.
Holidays will always be special. They are an important part of our lives. And they're our chance to unwind from doing our usual responsibilities and just enjoy time with loved ones. You, your students, and your employees deserve to spend holidays. So start formulating a holiday schedule now with our examples of holiday schedule templates!