Are you looking for solutions to help you organize your schedules, activities, and tasks that are all over the place? You might find the need to have professional and well-designed schedule templates and examples that will not only put things in order but will assure you that you will surely get a lot of things done.
Elements of a Basic Schedule Design
If you are about to create your own schedule design, do take note and take account of the following elements that must contain your schedule.
Lists: Most schedules would contain a list such as a list of items, a list of activities, and a list of programs to attend to. Through lists, you will be able to set the right priorities when planning and actually writing your lists. Through lists, you will be able to arrange the items of your schedule in an orderly fashion. Without lists, you will surely forget a lot of things that your brain alone can not contain. You may also want to check out these task checklist examples.
Calendars: You may have a lot of tasks that come with specific due dates and strict time frames. Since these are critical dates and time, your schedule must always have a calendar where you can easily take note the due dates and time frames that you need to remember. If you will not have one, you will certainly find it difficult to track and monitor the progress of each of your tasks. You may also want to know the differences between calendars and agendas.
Responsible Delegation: There are some tasks that you do not accomplish by yourself alone. By having responsible delegation as an element in your schedule, you will be able to make your schedule functional since you will get to delegate and assign tasks to other people who are involved in the process of completing the tasks at hand. Aside from being able to identify the key persons, you will also be able to easily track and monitor everyone's progress, yours included.
20+ Schedule Templates
Hourly Schedule Template
Template Details
Size: A4 & US Sizes
Movie Shooting Schedule
Payment Schedule
Template Details
Size: A4 & US Sizes
Production Schedule Template
Restaurant Cleaning Schedule
Production Schedule Template
Template Details
Size: A4 & US Sizes
Schedule Planner
Template Details
Size: (A4) 8.27×11.69 inches
Strength Training Workout Schedule
Study Schedule Template
24 Hour Medication Schedule
Doctor Appointment Schedule
Class Schedule Template
Cleaning Program and Schedule Template
Construction Schedule Template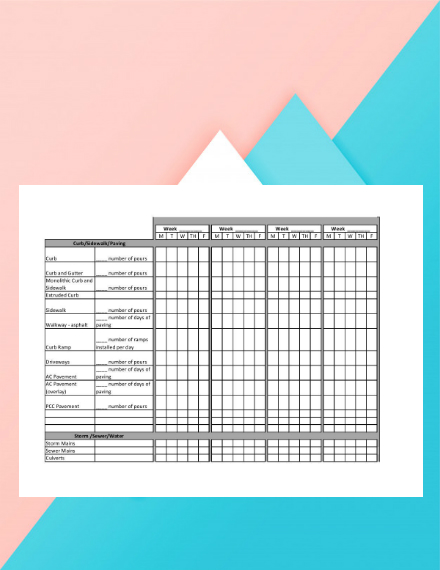 Daily and Hourly Schedule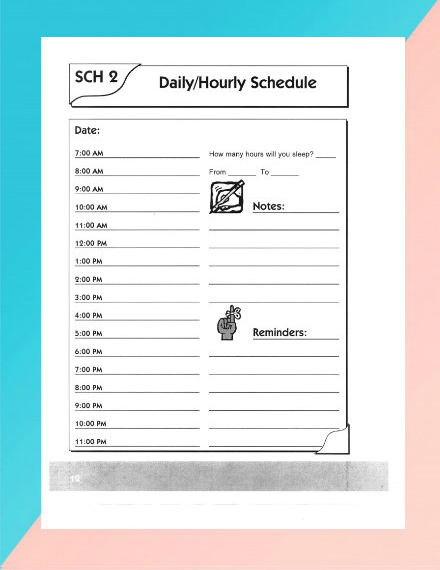 Equipment, Tool or Vehicle Maintenance Schedule
Food Standards Agency Cleaning Schedule
Master Class Schedule Template
Sample Cleaning Schedule
Sample School Schedule Template
Sample Workshop Schedule
Steps to Effective Scheduling
Now that you have already familiarized yourself with the basic elements of a schedule, you can now effectively schedule your daily schedule, weekly schedule, and monthly schedule. You may also consider having a yearly schedule.
1. List down all of your tasks and activities
It is important that you would know what are the activities and tasks that you need to accomplish so that when you will finally plot it on your schedule sheet, you will no longer waste time in trying to remember what to put in it. When listing things down, do not worry and just take your time. Do not bother with its order yet but just make sure that you have indicated the important dates.
2. Sequence and order the things you have listed down
For this step, it is now time for you to order the things you have listed down in the first step. If there are some specific dates to accomplish a task or finish a project, place it on your schedule first. If there are some things that do not have specific dates, you should decide its order according to importance or urgency before plotting it on your schedule sheet.
3. Cite or estimate the resources you will need for each task and activity
Have you ever found yourself always running out of time when doing a project just because you have not prepared the things you need for it? This is due to a lack of preparation. Your schedule can help you avoid such a situation again by making sure that by the time you plot your schedule, you already know what you need for each project. It saves you so much energy and time that you can solely give to the completion of your project alone.
4. Estimate the duration of the completion of each of the activities
This is the step that will require you to analyze how much time it would take for you to accomplish an activity, project, or task. You can analyze the use of tools such as expert judgment, analogous estimating, parametric estimating, and three-point estimation. Whatever tool you use, make sure that you will fulfill the time you have estimated to complete a task or activity because failure to do so will create a domino effect to the rest of activities you have lined up.
5. The development of your schedule
This is the step where the previous steps above will be optimized to your overall schedule. Once you will be able to develop your schedule, you will easily have a baseline, something that will provide you an overview of the things you need to do or accomplish for the day, week, or month.
6. The monitoring and controlling the schedule
While this is not the actual act of scheduling, this step is important because it helps you to make sure that you are sticking to what you have written on your schedule. If you will heed to your schedule, you will surely make progress and this ensures that the work results would line up with the schedule you have just created.
Simple Tips for an Excellent Schedule Layout
Schedules serve as a guide the flow of how you are going to deal with your daily undertakings. Even if you have the best schedule design and template, it is will not be enough for you to work if you do not ensure that it is operational and effective to make sure that you can achieve your goals and desired outcomes out of it.
With that, here are some tips that can ensure that you will make your schedule layout functional:
Make sure that you have created a context-based list

Always provide a complete list of the activities, programs, objectives, and all of your undertakings that you must meet and fulfill. However, enumerating everything and writing them on the list is not enough.
It is important that you should also assess your overall capacity as an individual especially when it comes to resources, priorities, standards, and values for you to figure out what measures are effective and functional for you.

It is important that you should always prioritize your agenda

For you to prioritize your agenda, you should also make sure that you have also created a clear and comprehensive agenda.
In coming up with your schedule, you should also ensure that you would consider time as a very important resource given the fact that you can never replace it.
With a clear and comprehensive agenda, you can be assured that the schedule you have prepared will go on smoothly. You may also check out these free agenda examples.
Types of Schedule
Both individuals and organizations would make use of schedules when it comes to the preparation and refinement of their daily, weekly, or monthly undertakings. To understand schedules better, we are going to introduce and discuss the major classifications or types of schedules which are public schedules and schedules for internal affairs. You may also be interested with panel schedule examples and templates.
1. Public Schedules
Public schedules refer to those schedules that are disseminated for public use. Most government offices and departments would make use of this especially with matters regarding business operations (tourist attractions, restaurants), government offices, health, finance, employment, transportation (bus and train schedules, airline timetables), broadcast programming of radio or television broadcast channels, concerts, and sporting events.
2. Schedules for Internal Affairs
Schedules for internal affairs are basically schedules that are private in character and are usually used by organization members and in the workplace and are usually just of importance to those people who are obliged to follow and abide by it. Schedules for internal affairs are usually used in computer science, in operations research, and in transportation planning.
Some of its concrete and common examples include work schedules and project planning schedule. Some of this type of schedule is kept confidential since it can also be a matter of security or propriety. You may also check out these examples of employee work schedules.
3. Schedules for Education
Educational institutions also make use of schedules and these are established among students and teachers as to designate a time for each subject and/or course. You may check these classroom schedule examples.
Schedule Sizes
While there are no fixed sizes for schedules, most come in A4 and in US sizes. In this article, the templates we have uploaded here come mostly in A4 and in US sizes which can be really helpful for you since it can be easily found everywhere, plus, you can also easily create your own schedule with the help of such sizes.
Schedule FAQs
What is a schedule?
Cambridge dictionary defines a schedule as "a list of agreed and planned activities and events to be accomplished within an expected time frame."
What is the purpose of a schedule?
A schedule helps an individual to get his or her list of agreed and planned tasks, activities, and other undertakings organized in one place, along with a clear flow as what to what he or she should be prioritizing.
How do you stick to a schedule?
A lot of people find it hard to stick even to the schedules that they have created themselves. In order to stick to a schedule, one must be able to avoid procrastinating, eliminate distractions, and give even small rewards in a completion of a task, project, or activity.
Making your life's daily grind manageable and organized should not be that difficult. With the use of a schedule, you are slowly building your way toward your path to success. And creating a schedule should not be difficult too, because, with the help of the schedule examples and templates that we have here in this article as well as the other informative insight, you surely have something that can help you get started. You may also want to check out these samples schedules for more schedule examples.