Have you ever felt giddy when getting an item you've been eyeing on for months, for a price that's a lot lower than its original? There's nothing like scoring an awesome deal on products and services from an established brand. With clear benefits including brand engagement and customer retention, vouchers, as a powerful marketing medium, greatly influence customers to try a business they haven't even considered before. Many marketers can agree that attractive vouchers are a clever option for businesses of any type.
Though business owners may worry about losing profits, there are a number of advantages of voucher campaigns that marketers have failed to recognize. All it takes is a proper understanding of how it works, and what must be done to achieve success.
Vintage Voucher
Elegant Gift Voucher
Simple Gift Voucher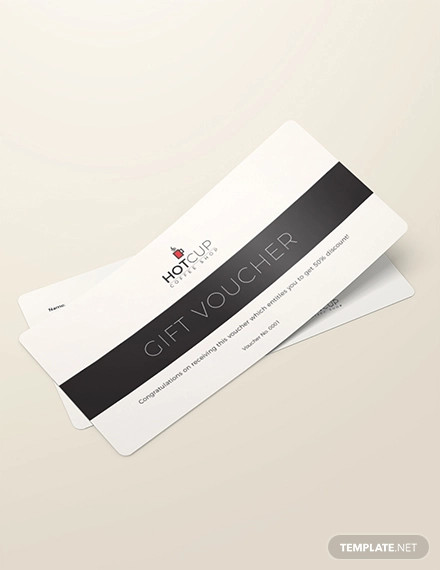 Printable Shopping Voucher Template
Discount Voucher Template
Cash Voucher Template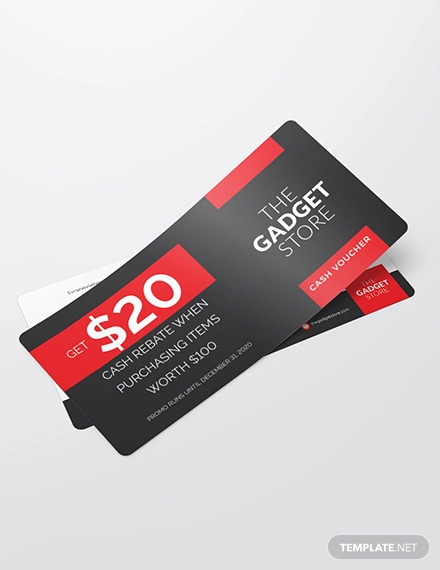 Event Ticket Voucher
Wedding Gift Voucher
Spa Voucher Template
Beauty Spa Voucher
Spa Gift Voucher Template
Beauty Massage Voucher
Printable Vintage Hipster Voucher Example
Printable Discount Voucher Example
Printable Devil Red Gift Voucher Example
Printable Gift Voucher Example
Printable Fashion Voucher Example
Vouchers as a Marketing Tool
To voucher or not to voucher? This is a question that many marketers have asked themselves.
Vouchers are a potent marketing tool in generating a direct return on investment. But like every other marketing campaign, success is never guaranteed. This is why the business must understand the needs and buying behavior of its consumers in order to tailor their campaigns according to its ideal market.
Shoppers, no matter where they are in the world, often look high and low for offers that ensure great savings. As hard-hitting times continue to affect the general population, striking a great discount is almost like finding water in the middle of a drought. But vouchers are not just for the economically challenged, but they're also for everyone that may find use out of them. This is why companies must optimize on such for the sake of their customers, and for their business to prosper as well. You may also see shopping voucher designs & examples.
However, it's important to remember that vouchers should not be used carelessly. Offering a voucher whenever and wherever is a major red flag in marketing. After all, it's not just about giving out discounts, but it's also about delivering a message to your target audience. The value of your offer plays a huge role in the the intensity of its desired response. If you want to get the best response from your prospects, then you must determine what kind of offer will appeal to them the most. You may also like gift voucher designs & examples.
1. Advantages for the Business
Apart from elevating sales, there are many ways a business can gain from voucher marketing. These are as follows:
Increases market visibility – Discount coupons and vouchers can easily attract a crowd. This allows marketers to draw attention towards a business to encourage others to purchase your services as well. If a person is satisfied with what you have to offer, they become recurring customers which increases your chances for consumer loyalty.
Boosts brand awareness – Like other marketing channels, vouchers give you the opportunity to build your brand. Not only does it advertise your business, but it also helps reach individuals that may not be aware about your services.
Moves inventory – During the holiday season, you will see a peak in demand, but not all your offers are going to fly off the shelves in an instant. Unsold items tend to pile up in your store's stockroom long enough for it to lose its appeal. So if you're looking for a way to get rid of old stock, then vouchers are sure to give you that extra hand. This will help keep the inventory moving to make room for a new batch of items. You may also check out business voucher examples.
They expire – Even if a person fails to redeem the voucher before the indicated expiration date, the business has still succeeded in reaching its target audience. Potential customers who now know about your products and services are likely to purchase from you in the near future — and end up paying for the full price at that. You might be interested in travel voucher examples.
2. Advantages for Customers
Customers, on the other hand, can also benefit from vouchers in a number of ways.
Flexible – Though vouchers do have an expiration date, there isn't a specific date of when they must be consumed. This makes it easier for consumers to redeem the voucher whenever it is convenient for them. Some vouchers even prompt customers to purchase more items than normal just to maximize its use. This way, specific needs are met and shoppers can quickly decide what to purchase. You may also see food voucher examples.
Ease of distribution –  Most companies send vouchers to consumers via email, direct mail, websites, or even through magazine and newspaper cut-outs. These platforms ensure that the voucher reaches a target group of people immediately.
Sweet deals – For the average shopper, being able to 'save' due to amazing discounts and store offers will always be a blessing. Vouchers allow customers to try out items they have never bought before as a form of a test trial to see whether or not it's something worth purchasing again. Even if it isn't something they prefer, the deal is too sweet to pass up! You may also like marketing coupon examples.
Printable Christmas Voucher Example
Printable Food Voucher Example
Printable Fast Food Gift Voucher Example
What Are Digital Vouchers?
Digital vouchers are a kind of discount and promotional tool utilized in ecommerce marketing. These are aimed to entice online prospects to make a purchase at a digital marketplace. It has become increasingly popular in the world of digital marketing thanks to its advanced nature that prevents misredemptions and reduces denials. Businesses are also able to connect with younger audiences with the help of trendy social platforms.
To understand how digital vouchers work, there are different types of vouchers that fall under such category, such as those found below:
1. Downloadable vouchers
These vouchers are typically available at a company's website or social pages. Here, customers may download the voucher and access it through their mobile devices. This makes the voucher completely accessible for customers from different locations. You may also see minimal brochure examples and designs.
2. Mobile vouchers
Some digital vouchers are made exclusive for mobile use only. Online stores that have their own mobile application usually use this technique to drive sales in their mobile marketing channels.
3. Voucher codes
Instead of using actual money-like vouchers, codes are used for quicker transactions. Coming in the form of QR codes or number and letter combinations, voucher codes make it easier for customers to complete a point of sale.
4. Automatic discounts
This isn't your ordinary type of voucher, as discounts are automatically applied during checkout, without making the consumer do anything for it to register. This is great for online retailers that want to reduce cart abandonment rates with offers that are too good to ignore. You may also like food coupon examples.
How to Launch the Perfect Voucher Campaign
Keep in mind that no good marketing campaign is developed at the last minute. It's a thorough process that requires intense planning and careful execution. This prevents a company from investing on a failed marketing venture that may cause the business its dignity and reputation as a professional entity. With the competition becoming more intense with the rise of innovative marketing ideas and strategies, marketers must put their heads together to develop a campaign that suits the said business.
So, how can you ensure an effective voucher campaign?
While you may have your own approach to this, here are some smart marketing tactics that will make the best out of your vouchers:
1. Know Your Audience.
What do your customers want? There's no use in launching a campaign containing offers that customers have no interest in. Not only is it a waste of time and resources, but this can also affect the way consumers look at your brand.
Understanding the wants and needs of your customers will help you determine the offers that may generate the best response. Perhaps they prefer a $20 gift voucher over a 15% discount card, or maybe they respond better to a referral marketing campaign that grants them free service for telling a friend about your offerings. It's important to conduct a thorough research regarding market behavior for you to craft the perfect voucher campaign.
2. Co-Market.
In small business marketing, partnering with other businesses to make a sale can lead to incredible things.
Co-marketing allows a business to capitalize on a shared campaign to explore other markets and gain new customers. In any case, it must be a win-win situation for both entities involved. For instance, offering customers who purchase a product from company A are entitled to a free meal from company B. This allows the two companies to tap into each other's customer databases to extend their sales reach and promote brand recognition.
3. Offer Early Bird Discounts.
People who are quick to respond to your call deserve some sort of a reward for their actions. Early bird discounts are typically granted to these consumers for a number of reasons.
For starters, early birds tend to create a hype that attracts other customers to the brand. Through word-of-mouth marketing, more and more people grow curious about your brand, prompting potential leads to make an immediate purchase decision. This is common among companies that seek for marketing methods that can increase their cash flow. One example for this includes companies in the travel and tour industry. Agencies often give out travel vouchers that provide awesome discounts to clients who book flights or accommodations in advance.
4. Provide a VIP Experience.
Loyal customers deserve to be treated like royalty. And there's no better way of making them feel special than with a personally addressed voucher that reads 'Exclusive to VIP Customers only.'
Over the years, marketing professionals have realized the importance of giving their customers the VIP experience. Creating a VIP database for frequent customers will make it easier for you to launch targeted campaigns in their honor. Not only can this drive customer loyalty, but this may increase one's purchasing activity as well. You may also see donation flyer designs & examples.
5. Upsell Items.
Never settle for the average spending rate of your current customers. Although you have successfully captivated an audience to buying your products and services, going beyond these walls to encourage further buying behavior should be your next goal. You may also like landscape brochure designs and examples.
To do so, think about the potential element you can upsell to them. It doesn't have to be one of your most expensive items, as this will only scare prospects away instead of enticing them. Focus on products and services that do not require a weighted buying decision. This will make it easier to persuade customers to purchase your store's Point-of-Sale (POS) items. You may also check out examples of billboard designs & examples.
Printable Wooden Style Voucher Example
Printable Vintage Voucher Example
How to Create a Voucher
It's one thing to develop a voucher campaign, but designing the voucher itself is a whole other story that marketers must work closely on with a skilled designer.
Vouchers come in different shapes and sizes but because they serve a common purpose, its content stays pretty much the same. Remember, the voucher is the bearer of your brand's message. It contains various elements that contribute to the function of the voucher, as well as its design. With that being said, you must pay attention to even the slightest details of the voucher; otherwise, you could be sending the wrong message. You may also see golf brochure designs and examples.
1. Keep it simple.
Simplicity is key in marketing. Since a voucher is considered to be a channel for communication, sending a clear message is essential. You must keep every component of the voucher organized by finding the proper balance between the text, images, and its background. Use colors that are easy on the eyes, as well as font type that can keep the text readable despite every other element present. Make sure every detail that must be emphasized stays visible when a person looks at your voucher. You may also like pharmacy brochures designs and examples.
2. Use basic language.
Avoid using words (or technical terms) that are difficult to comprehend by the average individual. A person should be able to read through your voucher without having to think twice about what's written on it. You can avoid confusion by keeping it brief and to-the-point.
3. Provide clear instructions.
Some marketers concentrate a bit too much on the voucher design that they forget to give customers what they need: instructions on how to use it. The voucher should guide customers or recipients regarding how they may redeem discounts and prizes with the said voucher. This will serve as a call to action for customers to be aware of what they could do to enjoy such deals.
4. Indicate an expiration date.
All good things come to an end, or so as the saying goes. Setting an end date for your offered promos will create a sense of urgency among consumers. This will prompt them to respond right away before it's too late. When people act fast, you'll also see an immediate return in the form of sales. But remember to be considerate with the expiration date you set, as you wouldn't want to catch anyone off guard. You may also include the terms and conditions for the voucher's redemption to keep people informed. You may also check out fitness billboard examples.
5. Make sure it reflects your brand.
Like every other promotional medium, such as a business brochure and an event poster, a voucher must be a reflection of your brand. Part of good branding is being able to maintain consistency all throughout. Adding your logo design will be good, but it won't be enough to do the trick. From the colors and font type to its overall look and feel, the voucher must represent your brand in the best way possible.
Printable Multi Use Voucher Example
Printable Food Gift Voucher Example
Printable Business Voucher Example
Printable Beauty Voucher Example
Printable Fast Food Restaurant Voucher Example
Printable Luxury Gift Voucher Example
Things to Consider When Creating a Voucher
Effective marketing revolves around your ability to persuade customers with deals that are nearly impossible to ignore. It doesn't matter how much these deals are worth as sometimes, it's all about delivery. The following tactics and questions are prime examples of how you can carry out discount marketing the right way:
Sometimes a percentage discount would make more sense than a dollar value, and vice versa. For example, there's no use in saying that a fridge is 25% off if customers aren't aware that this percentage is equivalent to $300 in savings. In other cases, a 15% OFF voucher wouldn't seem as exciting as a $20 voucher. You may also see billboard mock-up designs and examples.
A buy-one-get-one or get-two-for-the-price-of-one offer is a deal that will get a customer's attention every time.
Offering a unique experience that money can't buy, like a trial offer or a private tour, is sure to entice consumers. As previously mentioned, the VIP treatment will be your key weapon.
Big, bold advertisements are ideal in every way. If doesn't speak to a person, then it's back to the old drawing board! You may also like beauty salon brochures designs and examples.
Cluttered layouts tend to be distracting. If it's a voucher offer, focus on that aspect and refrain from adding anything off-topic, as this will only prevent you from sending a clear brand message to an audience.
Can the customer mention the offer to redeem it, or do they need to download the voucher or cut it out to bring it in? This has to be made clear to avoid any confusion or conflict that may arise. You may also check out real estate billboard designs and examples.
And last but definitely not the least, will your customers be impressed by your offer? If this has left you pondering for more than three seconds, then you already know it won't bring in its desired outcomes.
Running a business is never easy. The fierce competition in the market has made it difficult for many small businesses to make a breakthrough. This is why as a marketer, launching the right campaign is critical to your company's survival. You might be interested in fast food brochure examples.
Several marketing strategies have been proven to be an effective tool in boosting sales. These mediums come in the form of coupons, vouchers, gift certificates, and cards. Offering discounts has always been a simple yet effective approach in attracting potential customers and gaining loyal ones, which is why many experts suggest marketers optimize on such for the benefit of the business and its customers. After all, discounts don't only help buyers, but they benefit sellers as well.
Whether you're a retailer offering shopping vouchers to store customers or a restaurant giving out food vouchers to diners, it's important to craft a marketing campaign that centers on the end goal of the business as a whole. So what are you waiting for? Apply everything you have learned from this article and take inspiration from the creative examples we have provided you with to launch the perfect voucher campaign for your business!