When you think about creating invitations, then the design would usually be one of the first things that would immediately come to mind. While there are many different Examples of Invitation Designs that one can find all over the internet, it's important to know how to make the other aspects of the invitation as well.
So let's say that you're planning on throwing a big rehearsal dinner for all your friends and family. This would mean that you'll need to learn how to create rehearsal Dinner Party Invitations and this article is going to teach you everything that you'll need to know how to make one.
Wedding Rehearsal Dinner Invitation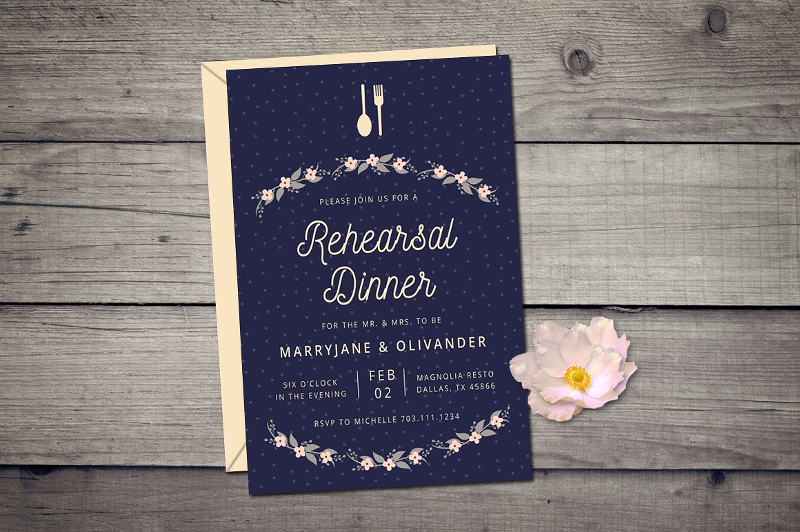 Rustic Rehearsal Dinner Invitation
Greenery Rehearsal Dinner Invitation
What Is a Rehearsal Dinner
Before you start making the invitations, you'll first need to learn what a rehearsal dinner is. This is a type of event that's held a dinner for the participants in a wedding ceremony and for the families and close friends of the people that are celebrating their wedding. This is the kind of event that would usually take place after a rehearsal of the ceremony that's on the night of the wedding itself. So basically, it's a dinner that acts as a pre-wedding ceremony which signals that wedding is going to happen the next day. So if you plan on holding a rehearsal dinner, then at least know you what it is and you can create the right kind of invitation for it. You may also see reunion save the date invitations.
1. How to Make Your Rehearsal Dinner Invitations
When you think about rehearsal dinner invitations, then you'll have to make sure that the invitations match with the type of invitation you're going for. So let's say that your dinner has nothing but rustic cuisine, this would mean you'll want the design to be similar to that of  Rustic Invitations. However, you'll also need to remember that the invitation should have basic components that will tell your invitees all that they need to know regarding the event.
So here are the things that you'll need to do in order to create your dinner rehearsal invitations:
2. Point out the Purpose of the Invitations
If you're going to invite someone over to celebrate an event, then you'll want to tell that person just what kind of event that they're going to celebrate with you. The reason as to why you'll want to do this is becase you want your invitees to know what they should expect the moment that they've decided to take part in the rehearsal dinner. So let's say that you sent out Wedding Invitations that will tell your invitees about the rehearsal dinner. You want there to be a statement telling them about the rehearsal dinner. However, you have to make sure that these aren't too long as well as not too short as you want to convey the purpose as clear as possible.
Elegant Rehearsal Dinner Invitation
Printable Rehearsal Dinner Invitation
Rehearsal Dinner Invitation Design
Watercolor Floral Rehearsal Dinner Invitation
3. Make the Location of the Rehearsal Clear
When you've finally decided on the best place to hold the rehearsal dinner, then it'll be your responsibility to make sure that your invitees get all the details regarding where they should go. You want to hand out the complete address in every invitation you make to avoid problems when it comes to finding the venue. Because let's say that you were to make Open House invitations, yet the address lacks important bits of information that would have otherwise given your invitees all they needed to find the event venue. So be sure that you've written everything from the name of the establishment to its street number to ensure that your guests won't have a hard time finding the location of the rehearsal dinner.
4. Write Down the Time and Date of the Rehearsal Dinner
Since we're talking about creating formal invitations for a rehearsal dinner, then you have to guarantee that the people you've invited know the exact date and time as to when it's going to start. This is one of your main responsibilities as you'll be the person that will be held accountable should there be a situation where guests miss out on the dinner just because you've set the wrong date and time, or that you've forgotten to put it down in the invitation. So be sure that you've written down the month, date, year, as well as the hour and minute as to when the rehearsal dinner will officially start. This way, you can guarantee that all of your invitees know when to be there and that they actually show up on time.
Black Rehearsal Dinner Invitation Card
Rehearsal Dinner Invitation Card
Rustic Wedding Rehearsal Dinner Invitation
Vintage Lights Rehearsal Dinner Invitation
Fiesta Rehearsal Dinner Invitation
Black Gold Rehearsal Dinner Invitation
Navy & gold modern rehearsal dinner invitation
BBQ Rehearsal Dinner Invitation
String Lights Rehearsal Dinner Card
Review Your Invitations
When you're done making the invitations to your party, then the next thing that you're going to have to do is to see if there are any mistakes that you may have missed. This is everything from the spelling, grammar, and even the kind of information that you've placed into the invitation. You do not want to embarrass yourself to your guests if you can't even spell the name of your own spouse right or if you've given them the wrong information about the rehearsal dinner. So to avoid this, what you'll need to do is check the invitation more than once, fix any problems that you see as soon as possible, and then you can make the copies and sent them out to the friends and family that you want to invite.You may also see business invitations.
Remember that the point of rehearsal dinner invitations is so that you can give your guests everythign that they need to learn about the event; but it's also your duty to make sure that you do what you can to make your invitaitons look beautiful as well as giving it that personal touch. So follow all of the steps above and try to make use of the tips to help you create the best kind of rehearsal dinner invitations that you could possibly make. You may also see ninja birthday party invitations.
If you would like to learn how to create other types of invitations (Vintage Invitations, BBQ Invitations, wedding invitations, birthday party invitations, etc.), then all you have to do is go through our site until you are able to find the articles that contain all the information you need to help you.