We often see brochures along with our purchases, on information desks, and even on the streets handed by advertising agents. General brochures are one of the ways to get people get interested in once products or services by having a quick overview on what the company is offering. Many companies will invest more for their brochures as these are equally important as other marketing tools utilized by the company. In designing a brochure, the company must adhere to their goals and objective and take the customers' perspective in determining their interests. There are also trends regarding brochure designs and formats these days and one of those is having a square-shaped brochure. It gives a new and fresh impact to the readers as compared to the usual and classic rectangular look. The usual sizes are 210-mm square and 150-mm brochures based on the sizes of A4 and A5, respectively.
Don't get left behind with the trend and browse through this article to see if there is something in square brochure designs that appeal to you. Also check on other brochure designs to have novel ideas on brochures.
Photography Lookbook Square Brochure
Square Brochure Mockup
Vintage Square Trifold Brochure
Measurement Types of Paper Thickness for Your Brochures
Paper thickness and paper weights are often an important in determining for heavy printing or not. It is valuable to have a basic understanding on the measurement of the paper thickness for you might use them in the future in whatever field you may be working such as retail, advertising, designing, IT, finance, or marketing. Usually, the thicker the paper, the more conducive and better is the paper for printing. It conveys durability and quality to your print. However, sorting through paper thickness has different methods and types. There are three common methods in the measurement of paper thickness namely US basis weight, metric weight, and points or mils which are described and explained as follows:
1. US Basis Weight
US basis weight is not a common type of measurement and can be confusing because similar paper can result in different values as based on basis weight applied while manufacturing the paper. What do you mean by basis weight? It is the weight of 500 sheets of paper in its basic unit uncut size. It sorts the papers into bond, book offset, points, tag, index, and cover. It depends on the size and purpose of the paper in determining its type and not based on values, for higher values do not always equate to heavier or thicker paper. For example, an 80-lb cover stock is much heavier than 100-lb text paper. Hence, the values do not really determine on its actual weight as well as the actual thickness of the paper, thus confusing to the users. You may also see examples of company brochure.
2. Metric Weight
The metric weight or the metric measurement, which measures the paper in terms of grammage (or grams per square meter or GSM), quantifies a 1×1 square meter sheet of paper equally in all types of paper, hence the weight of the paper in grams for one meter. This provides uniform measurement of a paper's weight and thickness in all types of paper since the same size of sheet is the basis of the weight of the paper. This is also the commonly used measurement in commercial papers in stores and bookstores. When you are looking for a certain thickness of paper, immediately scan the page and search for numerical values with the metric unit "GSM" or "gsm". You may also like real estate brochure designs & examples.
3. Points or Mils
Points or mils are the actual caliper reading of the weight and thickness of the paper. The paper is often measured in points or 1/1000 of an inch. For example, a paper that measures 0.010 inches thick would be marked as 10-point media. This might also be easier for the people to determine the actual thickness of the paper, but this is not commonly used since the more popular one, the metric weight which measures the paper in grammage, provides a more convenient measurement to the people who wanted to know the thickness as well as the weight of the paper that he or she is using. You may also check out creative brochure examples for designers.
Multipurpose Square Brochure Template
Simple Square Brochure
Square Bifold Brochure Mockups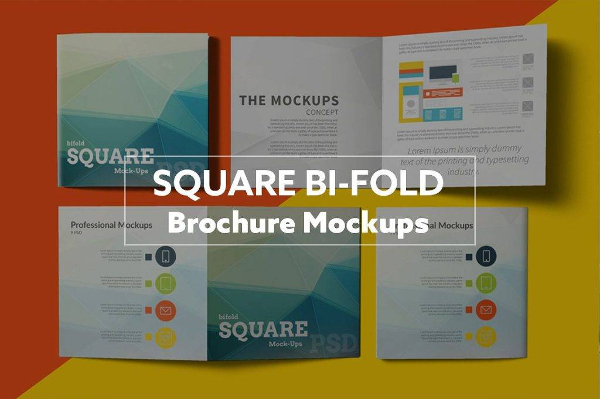 The Ideal Paper Weights for Your Printed Brochures
Now that you have the basic knowledge on how the paper is being measured, with grams per square meter (gsm) as the most common one, we will try to apply what we know to the brochures that we might be needing for our company's advertising and promotion. To reiterate, the higher the value of the gsm of a paper, the heavier and thicker the paper will be. Understanding this would also help you assess what paper is fit for your brochure and what paper is recommended for a certain type of printing. Below is a brief discussion on the grammage of the paper that are most likely used for printing brochures. They are as follows:
1. 80 to 100 gsm
Applying what we know about the grammage of the paper that the higher the value of the gsm, the thicker the paper, we can immediately observe that this type of paper is not so thick and is not commonly used for brochures. This is the general weight of the standard office paper. This can also be used for charcoal and graphite sketching but is not well recommended for wet medium. In printing, full-page colored printing is not recommended for this type of paper because it is not thick enough to absorb the ink from the printer. This can be used for light printing only such as text and small graphics. You may also see examples of bi-fold brochure design
2. 110 to 120 gsm
This is a little more thicker than the first one and can be used as a stationary paper for certain things such as letter heads and compliment slips. For letterheads, it is usually recommended to use A4 size, with print on only one side of the paper, with a thickness of 120 gsm, and without a paper coat. For compliment slips which usually come in landscape orientation, the recommended size is 1/3 A4 or DL, also printed in only one side, with a thickness similar to letterheads, and also without a paper coat or finish. Having a knowledge of paper thickness will help you easily decide on what paper you are going to use. You may also like advertising brochure examples
Rustic Square Brochure
Square Brochure Mockup
3. 130 to 170 gsm
This paper is obviously a lot heavier than the previous two and can be used for the creation of poster, flyers, and leaflets. You may also use this type of paper for the pages inside your brochure. This may not be as thicker than the next ones, but this is just fit for your best brochure content as brochure pages do not necessarily require very thick papers since many people would treat the pages similar to the pages of the magazine and not to the cover of a hard-bound book. Using this would also help reduce the costs for printing since there are only minimal spoilage in printing as this paper is very appropriate for printing.
4. 170 to 200 gsm
This is thick enough that it can be full printed on both sides. This is also considered the midway point between a paper and a card which makes it great to be used for brochure covers. This is thick enough to serve as a protection to the content and pages of your brochure. It can be used for luxurious posters and produce a quality result when printed for double-sided flyer. The most recommended print for flyers and leaflets is A5 size, with paper thickness of 150 to 170 gsm, printed on both sides, in a silk paper. You may also print your flyers in 200-gsm papers for an extra amount for a higher quality of paper. You may also check out medical brochure examples
5. 200 to 250 gsm
This is considered as the starting point for boards or the heavier cards. This is also perfect for brochure covers if you want to have a quality finish for your cover. This may also be printed on both sides, and similar to the previous one, it is best used with gloss or matte finish for durability of the paper and for aesthetic purpose. Gloss finish, as the term suggests, is those with silky and smooth output and texture of the paper. On the other hand, matte finish preserves the natural texture of the paper, making it appear dull and rough. Any finish will do depending on the purpose of your paper. You might be interested in examples of business brochure design
Minimlist Square Brochure Mockup
Modern Square Trifold Brochure
6. 300 to 400 gsm
This thickness of paper falls to the category of a board, which is said as the ideal thickness for most business cards. The suggested print for business cards is 85 mm × 55 mm, with a thickness of 400 gsm, matte finished, and with or without lamination. Similar to the previous two, this can also be used as a brochure cover and can be finished with either a gloss or a matte finish depending on the preference, purpose, and use of the paper. You can even use thicker cards, but always remember the stitching and folding implications of using heavy board as a cover for your brochures. You may also see examples of service brochures
7. 400 gsm and above
This is the thickest category among all others and is perfect for luxurious and best-quality greeting cards. This provides your business card a more professional and elegant look. This is really super thick when compared to the common business cards, hence very sturdy and durable. This is considered the top quality among other types especially with the right paper coat and finish. Also, just like the previous one, when used as a brochure cover, assess and weigh the implications of heavy board as a cover over the benefit it provides to the overall appearance and quality of your brochure. You may also like event brochure designs & examples
Customizable Square Brochure
Editable Square Brochure Mockup
Common Paper Sizes for Brochures
Before you even turn on your computer for designing your brochure, decide first on the size of the paper for your brochure. To help you select which size fits best for your brochure, below are some suggestions for you.
1. A3
The dimensions for an A3 paper are 297 mm high × 420 mm wide (11.69″ x 16.54″). A3 papers are popular for brochures because it offers great visual impact since you have a lot of space to showcase your products and services and display your creativity. This is usually printed in small pages since the cost of printing for A3 sizes are relatively high when compared with the other sizes small than A3. Yet, many designer would prefer to use A3 in their brochures especially for brochures that are to be left on customer service tables and business establishment front desks. You may also see travel brochure designs & examples
2. A4
This is said to be the most popular among all the sizes of paper and the most paper used since it is the size that customers are more familiar with. The dimensions for an A3 paper are 297 mm high × 210 mm wide (11.69″ x 8.27″). Observe that an A4 size is the half of an A3 paper size; thus, A4 papers in a brochure are just folded A3 paper. You may also like fitness brochure sesigns & examples
3. A5
The second most popular size for brochures is the A5 size. The dimensions for an A3 paper are 210 mm high × 148 mm wide (8.27″ x 5.83″). Take note that an A4 folded into half is the A5. Thus, when it comes to printing your brochure, your design will be a folded A4 page. This is the reason why you must remember the margin of your paper as well as your bleed area. What is bleed in printing? It is the term to describe a paper with prints and images that touch the edge of the page. The graphics extend beyond the trim, leaving no white margin in the process. You may also check out examples of modern brochure design
Venice Brochure Template
4. DL
DL, or sometimes called 1/3 A4, is increasingly becoming popular nowadays. DL means dimension lengthwise. Three DLs make up an A4 page, the reason why it is also called 1/3 A4. DLs are great for direct mailing campaigns because they have the perfect size for inserting into envelopes. If you want to use DLs for your brochures, the recommended size is 210 mm high × 99 mm wide. You may also see examples of recruitment brochure design
5. 210-mm Square Brochure
There is a new trend to brochures nowadays—square-shaped brochures. This has been increasing popular because it is becoming more appealing to the people since it highlights the products and services of a company. The dimensions 210 mm high × 210 mm wide is based on the A4 size which is 210 mm wide × 297 mm high. You may also like training brochure designs
6. 150-mm Square Brochure
Another square-shaped brochure that comes into the center stage in terms of brochures is the square brochure with the dimensions 150 mm high × 150 mm wide. Also note that this size is based on A5 size which is 210 mm high × 148 mm wide. You can find lots of awesome and cool square brochure designs and examples in this article as presented above. You may also check out examples of hotel brochure design
Square Company Brochure
Trifold Square Brochure Mockups
Quick Summary
Knowing the paper size, thickness, and format is necessary to achieve the desired outcome of your brochure. Now, you already know well that there are three measurement basis for the thickness of papers such as US basis weight, metric weight, and points or mils, and the most commonly used paper weight measurement is the metric weight which measures the paper in terms of grams per square meter or GSM. There are varieties of paper thickness that serves different purposes. Paper sizes range from 80 gsm to 400 gsm with each having different properties and characteristics suitable for a specific purpose. You may also see psd marketing brochure examples
Also, for the format and size of your brochure, you may choose among the following: A3, A4, A5, DL, and the square formats with a size of 210 mm and 150 mm. It depends on the purpose of your brochure on what size you are going to use. You may also like landscape brochure designs and examples
Don't forget to check on the examples above in case you need a square-shaped brochure.