One of the best ways to promote your business is to give away vouchers to those who buy from your business often. The one who receives your vouchers may use this to buy other merchandise, to pay for a certain partial order, or to give it as gifts to their loved ones. But what's important here is that you can use a voucher as your means of advertising business not only to your loyal visitors but as well as to your new visitors or to your potential customers.
How to Make an Effective Voucher
If you still do not give out vouchers as part of your marketing efforts, this is now the time for you to get on that beat. Here are some really simple and no-brainer ways on how you can make a voucher that people will actually use.
1. Encourage your customers to spend more.
What's the point of having a voucher if you do not aim to make your customers buy your products and avail of your services? For example, you offer a voucher that offers a $20 discount from your selected products. You might think you might lose a lot but in reality, it will actually lead your customers to buy more of those selected products just so they can avail of that discount. And even if they will be giving your voucher as a gift, you will earn a new customer anyway.
2. Leverage them for brand awareness.
Offering discounts off your products and services through vouchers is one of the best ways that would raise awareness of your brand to the point that you will gain new customers. Who wouldn't want discounts and freebies, right? People are normally hungry for vouchers so this means that all you just have to do is to market it and, in return, you make people aware of your brand and business identity.
3. Do not forget to include a call to action.
A call-to-action or a CTA is a must-have element that any kind of voucher must always have. A CTA provokes an immediate response coming from your target audience. This is basically an instruction directed to your target audience since CTAs usually start with an imperative verb such as "call us now," "purchase while supplies last," and "visit a store today."
Voucher Examples and Templates in Apple Pages
Hotel Gift Voucher
Do you run a hotel business? If you want to provide your guests and clients a whole new level of your exceptional hotel services, give them access to these by providing them this hotel gift voucher. This template is not only easy to download and edit using Apple Pages but it also contains an elegant design that fits your equally elegant hotel business.
Pizza Shop Voucher
Selling pizza is not an entirely difficult business to run since everyone seems to love eating pizza. However, you may want to increase your sales up to a notch with the help of this pizza shop voucher. You can now easily convince your loyal customers to stay loyal and potential customers to finally be one of your customers since this voucher comes with a customizable layout that you can easily tailor and fit your business's branding.
Spa Gift Voucher
Everyone deserves a day off for relaxation alone after a week's worth of hard work. Acknowledge this fact by providing your clients with this spa voucher. Your clients will surely thank you for giving them an opportunity to just relax and release all their stress without stressing about paying so much for it.
Sports Voucher Template
Thank-You Gift Voucher
Express your gratitude to your customer by using this thank-you voucher. Without the existence of your customer, your business will surely not survive in the cutthroat industry it currently belongs in. By giving this kind of gift voucher, it allows you to thank your customers well while making it possible for you to still make a profit out of it.
Business Voucher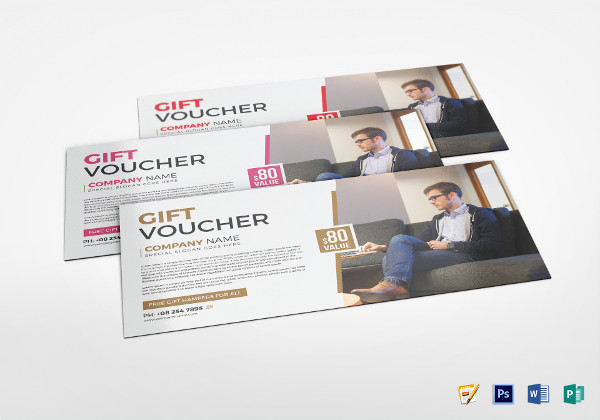 Whatever business you own and run, you can never go wrong by using this business voucher. This voucher contains an effective and editable layout that you can easily customize to fit the branding of your business. This voucher also allows you to write down more informative details regarding your business so in the event that your current and potential clients will have further inquiries, the answers are just right there on the business voucher.
Food Voucher
Whatever food you serve in your business, you can definitely make use of this modern food voucher that fits your clients who have modern tastes. Aside from having an undeniably modern design, this voucher also comes with a simple and minimal design that does not overwhelm the eyes of your receivers upon receiving it.
Modern Gift Voucher
Whether you are selling beauty products or even motor parts and services, you can conveniently promote your products and services through this modern gift voucher. This high-quality modern voucher can be easily customized since it supports editing software such as Apple Pages, Adobe Photoshop, Microsoft Word, and Microsoft Publisher.
Drink Voucher
If you want to increase the sales of your business that sells drinks, consider the use of drink voucher templates that contains a ready-made call-to-action that your customers will surely act on upon receiving. A call-to-action or a CTA is an important element that your voucher must always contain so it can actually drive the action you want to get from your target customers and that is for them to use that voucher and buy your products and/or avail of your services.
Acresfield Gift Voucher
To healthcare and leisure business providers out there, you can get inspiration out of Acresfield's gift voucher. Acresfield is both a health club and spa that is driven by their passion for excellence in providing healthcare, relaxation, and leisure. So if ever you run a similar kind of business, then this gift voucher is definitely the best source of inspiration for when you will finally be creating a voucher for your business.
Miles for Style Cuvee Restaurant Voucher
Do you run a restaurant and that you are planning to make use of a voucher to market it? Get inspired by this classy restaurant voucher from Miles for Styles, which is an exclusive online shop that provides and sells premium brands to the general public. One of the things they provide is this restaurant voucher that contains a classy and elegant design and layout that you can definitely get inspiration from especially if you also run a restaurant that equally has a classy and elegant ambiance. Isn't it also a good way to market your brand?