Planning your wedding is a stressful yet exciting journey that can have you sitting on the edge of your seat about 70% of the time. You're likely to have a long list of to-dos to complete before the end of each week, one of which includes your save-the-date cards. This pre-invitation card should help you announce details of your wedding and let guests know that they will, in fact, be invited to the occasion.
Best Wedding Save-the-Date Examples & Templates
1. Wedding Save-the-Date Postcard
While it might sound like a thing of the past, wedding postcards are pretty popular in the party scene because of how convenient they can be to hosts and guests alike. You can use a save-the-date postcard to announce your wedding date and location for guests to do just that—save the date. It's also an efficient way of completing your guest list by allowing recipients to confirm their attendance through prepaid postage.
2. Beach Save-the-Date Card
Saying your vows to the one you love by the beach is probably the most picture-perfect scene you can envision for your special day. A lot of couples get married with sand in their toes and the summer breeze against their skin because of how romantic the whole setup can be. A save-the-date card can help you share details of the celebration to people on your guest list by emphasizing the date of your wedding for them to remember.
3. Burgundy Floral Wedding Save the Date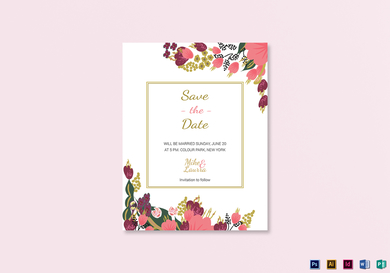 A wedding card with a floral design is always a good addition to your wedding stationery. Incorporating a floral theme into your save-the-dates is sure to complement your celebration regardless of the theme. Florals depict formality and sophistication in every way, so you won't have to worry whether you're doing too much or too little to make your wedding materials stand out. If you have a lot to accomplish with so little time on your hands, feel free to use the template provided to give you a head start.
4. Garden Save-the-Date Card
Garden weddings might not be the most low-cost option in your wide selection of ideas, but you'd be surprised by how common they are in wedding celebrations. It's a simple concept that will pave the way to a range of stationery designs for your wedding. You can use this to create your save-the-date cards to inform guests of the specifics of your wedding months before the actual day.
5. Nautical Wedding Save-the-Date Card
A nautical theme for your wedding might be a concept that fascinates your partner in which you can't help but go along with. Fortunately, the stunning combination of maritime colors seems to complement any type of celebration you can think of. So if you're hoping to send a save-the-date card to your family and friends, consider using the given template for the main layout of your card. This will help you save time and effort to focus on other essentials in your wedding plan.
6. Pink Floral Save-the-Date Card
Pink might appear much too feminine to a couple of people, but it's a good motif to choose for your wedding. Even if you don't want to use pink for your bridesmaids' dresses, adding a touch of color to your wedding stationery is one thing you won't regret. The pink floral save-the-date card above is simple yet elegant in nature. It doesn't matter if you're hosting a celebration with over a hundred guests or an intimate get-together with your closest friends and family members, as the visual essence of the occasion is best depicted through the materials prepared.
7. Summer Floral Save-the-Date Card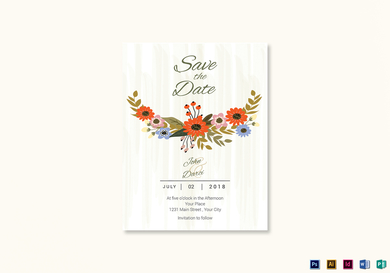 If you're hoping to get married over the summer, there are a few things to consider before finalizing your wedding arrangements. For one, some of your guests are likely to go on some summer escapade in a different state or country along with their friends or family. It would be sad to walk down the aisle without some of your closest friends there to share this milestone with you. To offer them a heads-up on the matter beforehand, it's best to send a card months prior to your big day. That way, guests can mark their calendars before they make a spontaneous decision of booking a last-minute trip.
8. Vintage Wedding Save-the-Date Card
There's something about incorporating some vintage vibes to whatever stationery is needed for a celebration. The elegant and captivating display of colors and patterns in a vintage card is what makes it a popular choice among soon-to-be-married couples. If you want to do the same, don't hesitate to use a card that has already been crafted to meet your basic requirements. A pre-made template, such as the one above, is always a good choice when you're in a rush to get things done on time.
9. Save-the-Date Wedding Invitation
Although most save-the-dates are an invitation in itself, you want to make this part clear by designing an actual save-the-date invitation. This will help you relay the details of your wedding to guests, including the time, date, venue, and attire that attendees should know about. Invitation cards are pretty easy to design, especially when you have a template that you can use to begin with the basics of your stationery.
10. Simple Wedding Save-the-Date Card
Shown above is an example of a simple save-the-date card enclosed in a matching envelope. The pleasing display of text and graphics are perfect for couples who want to keep things as direct as possible. By emphasizing key details of the event through different design styles and techniques, recipients are likely to remember this information when the circumstance calls for it.