Businesses offering car wash services must know that constant cleaning of your car is necessary to maintain not only its appearance but also its good performance. Many people would wash their cars on their own as they have the right materials needed for washing.
However, for some, they leave the task to a more professional and experienced cleaner who devote their time in studying what are the essential parts that need to be cleaned and what are those that require a careful touch while cleaning. The demand for car wash services had quickly surged in the market today due to the increasing population who are using their own cars. Hence, entities doing car wash services are in demand nowadays. You may also see multipurpose flyers.
Car Wash Flyer Template Design
Auto Mechanic Flyer Template Example
Though these services are among the things that most car owners look for, they still need advertising materials to promote their services and join in the competition of car wash services. Flyers help people locate them and give the customers ideas and information regarding their services like the rate, opening and closing time. You may also see photography flyers.
Looking for a flyer that fits your car wash services? Here are astounding examples of car wash flyers that you must not miss. Check them all out in the next section. You may also see vintage flyers.
Examples of Car Wash Flyers
Professional Car Wash Flyer Template
Car Wash Summer Fundraiser Flyer
Elegant Car Wash Flyer Template
Car Wash Flyer Template
Simple Car Wash Flyer
Car Wash Flyer Template and Design
Commercial Car Washing Flyer
Fully Customizable Car Wash Flyer
Car Wash Fundraiser Flyer
Professional and Clean Car Wash Business Flyer
Multipurpose Car Wash Flyer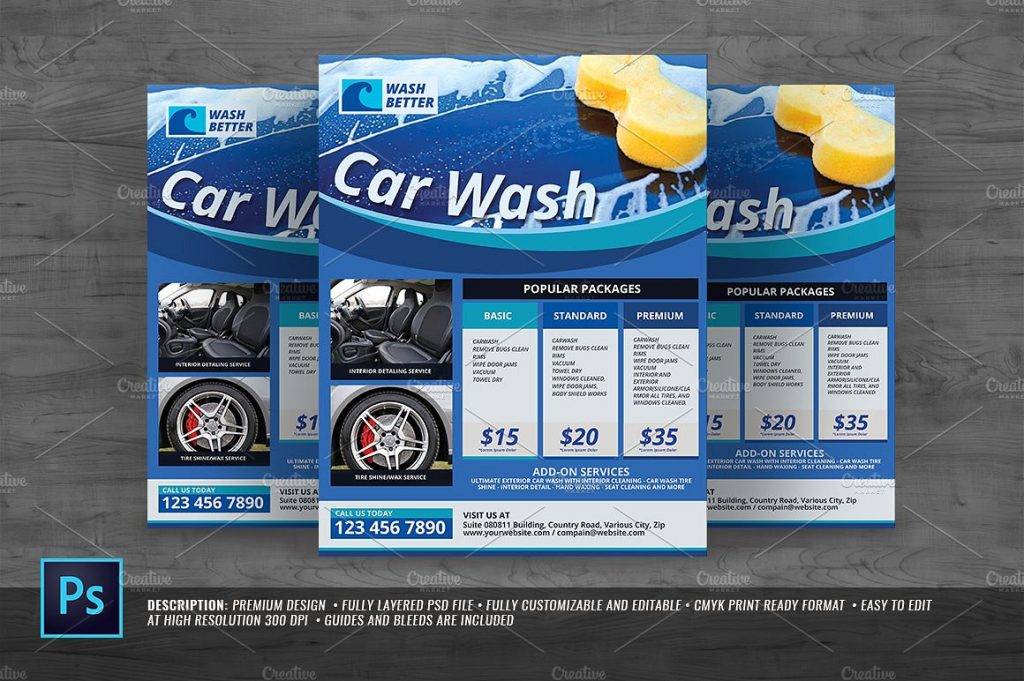 Printable Car Wash Fundraiser Flyer
Editable Car Wash Flyer Template
Car Wash Flyer Poster Template
Creative Car Wash Flyer
Importance of Car Wash
We commonly know that we need car wash every time we think the seat in our car is dusty enough or we had passed through a muddy road, or you cannot any more clearly see the road through the windshield in the passenger seat. But, we should not make this a habit of only having a car wash upon experiencing these things. Car wash should be constant and regular to maintain the performance of your car and to preserve your car for a long time. You may also see church flyers.
Here are the reasons why you should go for a regular wash for your car. There may be other reasons but these are just the most common and basic reasons why you need a car wash every now and then. You may also see travel flyers.
It Removes Dirt
This is the most obvious reason why you need a car wash—to remove the dirt from all the parts of your car. But did you know how important it is to clean your car? Not only that the dirt annoys you but also it is very damaging, more damaging than you could have ever thought. You may also see advertising flyers.
The last thing that a dirt can do to your car is it wears off the protective coat of your paint and fade your car's color. Not only that, if you leave the dirt on your paint unwashed and uncared, it may leave a scratch on your paint. This scratch can eventually turn into a chip for a short time. Then, rust would take place and eat that portion of your car. Your car will be completely wrecked in a short span of time just because of this tiny speck that you did not pay attention to. So, make sure that you regularly check and inspect your car for some dirt. You may also see marketing flyers.
It Keeps Your Car Looking New
A brand new car does not smell awful, is shiny and glossy, and is attractive in its simple way. Would you like your car to stay that way? If you want that, you must take good care of your car by maintaining its good appearance internally and externally and doing regular washes. You might think that car washing is time-consuming. Well, you can just do a quick wash, vacuum, and that's all. Alternatively, you can leave your cars at car wash service providers so they will be the one to do the task for you. You may also see invitation flyers.
It Prevents Disease
Treat your car as if you are treating your own home. It is our priority to clean our homes, although it may be messy at times, we really spend the time to arrange our stuff and clean the house especially those areas that are prone to mess like the bathroom and kitchen. We do this not just for aesthetic purposes but to keep the germs from spreading as well and to prevent illness from attacking the members of the family. You may also see fitness flyers.
Similarly, you must also do this to your car to prevent the spreading of the germs not only to your family members but also to other people who get to ride your car as a passenger. You might think that the interior of your car is clean as you are not usually opening its windows, but think again. Your hands are very prone to dirt since you use them in almost everything you do including touching money, the door handles, and toilet flushes. So this is another reason why you should make the car wash your priority. You may also see event flyers.
For Safe Driving
Another reason for having your cars regularly washed is for safe driving. The dirt, dust, and debris may prevent you from seeing clearly through the windows which can be the reason for road casualties and accidents. Hence, you must do a constant washing of your car not just for your own safety but for other passengers as well. The popular proverb "better safe than sorry" applies. You do not want a media report saying the cause of the accident is due to dirty car specifically the windshields, right? Thus, make sure you constantly check and wash your car regularly. You may also see photography flyers.
For Fuel Efficiency
How can dirt in our car affect the efficiency of your fuel? "That's absurd!" you might say.
There are statements that say dirt particles can actually help your car become fuel efficient as it creates an aerodynamic effect similar to a golf ball. However, that is plainly a myth. In fact, the dirt can really cause a drag, causing to burn more fuel than its actual fuel consumption. It has been proven and tested that a clean car is more fuel efficient over those that are left unkempt and dirty. So, make it a habit to clean your car regularly or send them for a car wash. You may also see product promotion flyers.
To Boost Performance
The overall performance of your car will be boosted if you maintain the cleanliness of your car. When the engines are free of unnecessary dirt, it can perform well and it does not cause trouble to the driver. Having a well-cleaned car can also lighten up your mood especially when you are heading off to work.You may also see charity flyers.
See how important a car wash is? Now that you know that car wash is vital for the overall health of the car, take an action and start your regular car wash now.
In a Nutshell…
We don't want to take action when it's already late. Similarly, to prevent horrible things to happen to our cars, we must check and wash our cars consistently and on a regular basis. There are several reasons why we need our cars to be washed and among those are as follows: car wash obviously removes dirt and unnecessary filth in your car; it keeps your car looking new; it prevents you and the passengers from getting sick; it is for safe driving, fuel efficiency, and boosting the performance of your car. You may also see business flyers.
Because car wash is important enough, service providers need flyers to extend their promotion to the market. And that is where our examples presented above takes the center stage. We do hope you find the most car wash flyer design for you and your business. You may also see flyer designs.