A vertical banner is a promotional and advertising tool used in activities related to marketing. There are different kinds of vertical banners which ranges from event banners up to academic or educational banners. Businesses benefit from using a vertical banner as it can showcase the specific information that they would like their target customers to be knowledgeable of. Also, private individuals and organizations can use a vertical banner for events and other processes that they would like to execute.
There are different vertical banner sizes that you can choose from if you want to use the specified tool for your next corporate or personal activity. You may refer to the samples and templates that we have placed in this post so you can be guided accordingly on how you can design an impressive and effective vertical banner.
Vertical City Banner Mock Up
Ecology Vertical Banner
Financial Vertical Banner
Vertical Inauguration Party Banner
Why Use a Vertical Banner?
If you will be more observant the next time you go to a public location especially on those places where heavy foot traffic is expected, you can see that there are different kinds of advertising banners that are used to market a product, a service, or a brand. There are specific reasons why companies select a particular banner size, format and layout. In our opinion, using a vertical banner can do you a lot of favors for the following reasons:
Vertical banners is less common to be used compared to horizontal banners. Since the more popular choice in banner creation is a horizontal banner, there are companies who tend to veer away from the norms and use a vertical banner to present a unique approach in presenting a particular item. To make this statement clearer, look at how billboard spaces are created – most of them fit different sizes of horizontal banners. Having a vertical banner can make the look of your banner design more original as there are only a few options for comparison since most banner spaces, as we have mentioned, are meant for horizontal banners.
Vertical banners can be hanged in high ceilings. If you want to create a big banner that you can put in the high areas of a location, using a vertical banner is the best option for you. Ceiling-to-floor banners are usually formatted in a vertical manner so that the space that it will take is just little as compared to using a horizontal banner in the same instance.
Vertical banners can easily fill narrow spaces. There are some vertical banners that are created to specifically fill in narrow spaces. For business owners who only rent their business space, having full control of the wall and floor plans is not feasible. There are a lot of narrow spaces that may remain unused or vacant especially if it is too small for a regular banner to fit. Vertical banners can be easily customized to fit these narrow spaces. Since a vertical banner is also narrow in structure, it can easily create a boring space functional. May it be a restricted space or a narrow wall, you can always incorporate a vertical banner design that can supply the specifications of the space that you would like to fill.
Vertical banners can provide you with more creative opportunities especially in terms of marketing your offers. Vertical banners can be formatted like scrolls. You can also use them as roll-up banners and stand-alone banners if you would like to. There are different ways on how you can benefit from the aesthetic and functionality that a vertical banner can provide. With this, there are more marketing ideas that you can easily incorporate into the content and design of your vertical banner.
Vertical banners go well with cascading designs. If you want to achieve an elongated or stretched-like design, a vertical banner can fully realize the aesthetic that you would like to achieve. Cascading designs work best vertically as it can provide an impression of length through the help of the format and structure of a vertical banner.
Tourism Vertical Banner Set
Coffee Shop Vertical Banner
Usages of Vertical Banners
From a company banner up to an exhibit manner, there are a lot of instances and activities where the usage of a vertical banner can be beneficial to your company, household or group. Some of the specific usages of vertical banners include the following:
Vertical banners can be used digitally by placing them on the side panels of websites. Vertical banners that are used in this manner typically contain sponsorship ads that require being placed on the website for a long period of time. Since most vertical banners are already fixed in the layout of the website, viewers who will browse through the main site can see the information about the sponsor as well.
Vertical banners can be hanged in light posts especially those that are in the main roads and highways. With the narrow structure of vertical banners, they can perfectly be used as marketing and advertisement tools which businesses can place in light posts.  Even if these posts are on the main roads and highways, they will not block the view that drivers need to see for safety. This may not be achieved if you will use a horizontal banner as light posts are not wide and big enough to provide the spaces where horizontal banners can be placed.
Vertical banners can be used as window displays. If you have a lot of materials to feature in your shop's window display, you can use a vertical banner to make the entire display aesthetic look more put together. Vertical banners do not take a lot of design space which is perfect if you only want to present a few information about your offers.
Vertical banners can be placed behind the check-out counters. If the backboard of your check-out counters already contains a fixed information ad, you can use vertical banners to present seasonal deals and offerings. This way, you can ensure that your customers can still be reminded of the content of your fixed advertorial while giving them the chance to be aware of the new things that you can offer them with. Horizontal banners can be too visually-heavy and space consuming which makes it hard for businesses to design them when used in this particular manner.
Vertical banners can be used as roll-up banners. Banners with standees are commonly vertically formatted. This helps the tool have a stronger base support without getting too much space. You can usually see vertical roll-up banners in exhibits, conferences and information desks.
Tropical Paradise Vertical Banner Collection
Modern Creative Vertical Rollup Banner
Healthy Food Vertical Banner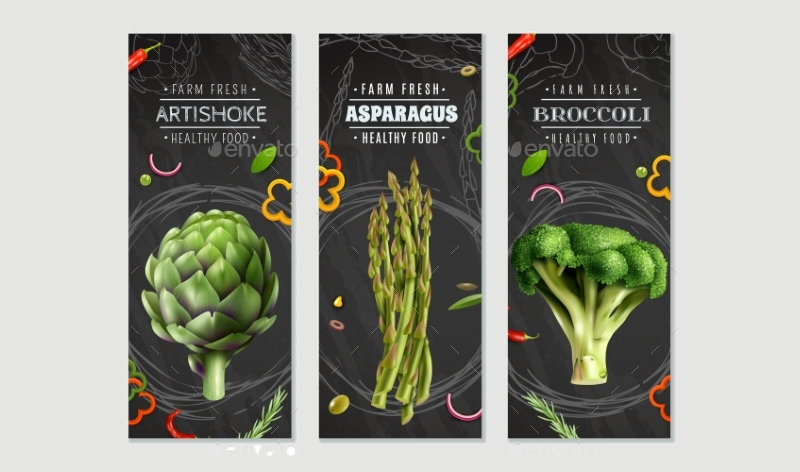 Factors to Consider When Creating a Vertical Banner
Even if there is a lot of promise when it comes to the usage of a vertical banner, the effectiveness and efficiency of this tool can only be achieved if you will properly identify the factors that can affect the entirety of its format and design. Some of the things that you need to consider when creating the banner design and actual layout of your vertical banner are listed below.
The images that you will incorporate in the banner design. The placement of the images in the vertical banner can affect the design layout that you will come up with. This is the reason why you have to make sure that the images that you will use can be put together in a cohesive and aesthetically-pleasing manner.
The size of the space where you will place the vertical banner. Before creating the vertical banner, you first need to know whether it can fit well with space where it is expected to be placed. Even if you can create an outstanding vertical banner, its impact can be lessened if it will be ill-fitting when installing in a particular platform.
The size of the vertical banner that you will print. As mentioned above, it is essential for you to be aware of the location where you will put your vertical banner. Will the vertical banner be hanged? Will it be placed in a glass case? Will it be in a roll-up banner form? Being able to have a precise idea of how the vertical banner will be presented can give you specific options that can positively affect the entirety of the banner design and format.
The overall design aesthetic that you would like to achieve. You should already plan the final design that you want to have even before starting the actual creation of the vertical banner. If you already know what you want, then you can easily follow a guide that can help you create an impressive vertical banner.
The information that you will put on the banner.  A lot of information will not fit in a vertical banner. If there are a lot of things that you would like to state, then using a horizontal banner can be more suggested. However, if your banner will contain specific and precise details, then a vertical banner is highly-recommended to be used.
The audience that you would like to target. Do you think that your target audience can appreciate the design that you have created? When creating a vertical banner, you should not only think of the message that you would like to relay but also on how your market will perceive it.
The purpose of the vertical banner creation. Since there are specific reasons why companies, organizations and even individuals create a banner, you first need to be fully aware of the reason why you need to make one. This way, you can easily know the scopes and some limitations that you need to consider before developing a vertical banner design.
Vertical Banner Mock Up
Business Concept Vertical Banner
Vertical Lamp Post Banner Mockup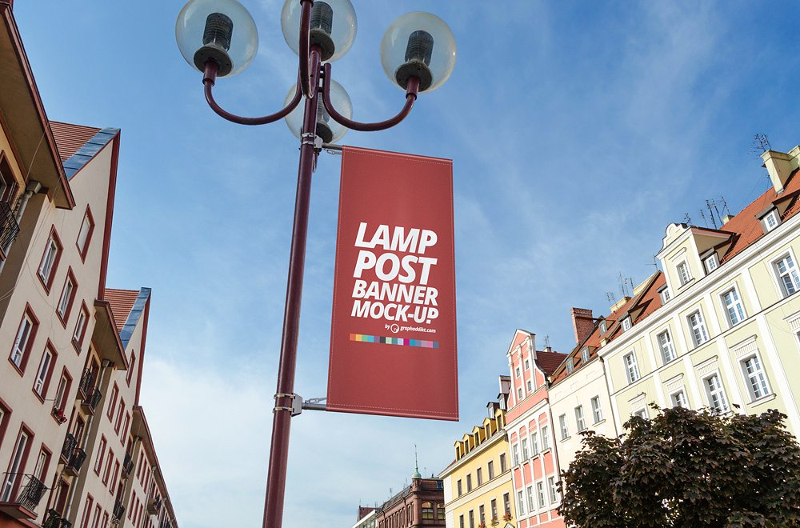 Guidelines in the Development of a Vertical Banner
You do not need to follow a specific process when developing a vertical banner. However, there may be some restrictions and guidelines that you need to consider especially if you are making a vertical banner for a client. Here are some of the basic guidelines and effective banner ad tips that can help you further improve both the design and layout of a vertical banner:
Do not stick with the common vertical banner size.
Keep your vertical banner design simple but appealing and informative.
Always ensure that you banner is pleasing to the eyes.
Make the content of your vertical banner easy to read.
Present a precise and direct call to action to your audience.
The design of your vertical banner should not interfere with the banner's content.
Make your banner design interesting so you can get the attention of your desired audience.
If you want to develop a vertical banner that truly works, you have to give a lot of attention in each of the step that you will implement. This way, you can have an idea on which to change, remove or improve when deciding whether a vertical banner is already good for display or not.
Vertical Origami Banner
Roll Up Vertical Banner Stand Design
A vertical banner is just as powerful and usable as a horizontal banner. If you think that the limited width is a downside, then why not think of how you can fully maximize the length of this tool? Just look at how vertical roll-up banners can provide a lot of advantages to companies especially during presentations and exhibits. Actually, there are a lot of creative ways on how you can make a vertical banner stand out. All you need to do is to be aware of the factors that we have discussed above so you can always be guided by the processes of your vertical banner development.
Ensure that you are knowledgeable about the design processes that can work well when incorporated in a vertical banner. Do not go with the flow and make sure that you can achieve your objective by using a vertical banner that can specifically supply all your needs and wants in relation to the marketing tool's creation. If you need further help and assistance in creating a vertical banner, download samples and templates that can easily provide you with a format that you may follow and develop.