An Executive Summary is a condensed version of a larger document that provides an overview of the key points and recommendations. It is a critical tool for conveying complex information quickly and effectively to stakeholders who may not have the time to read the entire document. However, not all Executive Summary Formats are created equal, and choosing the right one can make a significant difference in how well your message is received. In this article, we will explore the different types of Executive Summary Formats, provide a step-by-step guide on how to choose the best one, and offer tips for writing effective executive summaries.
1. Business Plan Executive Summary Template
2. Construction Project Executive Summary
3. Healthcare Executive Summary Template
4. Startup Executive Summary Template
5. One-Page Executive Summary Template
6. Executive Summary Format Internal Review
zshassoc.com
7. Business Case Executive Summary Format
fiu.edu
8. Basic Executive Summary Format
walton.uark.edu
9. Executive Summary Format for Funding
arc.gov
10. Organization Executive Summary Format
cleancooking.org
11. Standard Executive Summary Format
ucc.ie
12. Executive Summary Outline Format
sfu.ca
13. Guidelines for Writing an Executive Summary
ubalt.edu
14. Teaching & Learning Executive Summary Format
newcastle.edu.au
15. Formal Executive Summary Format
cbp.gov
16. Sample Executive Summary Format
dimensionmill.org
17. Executive Summary Report Format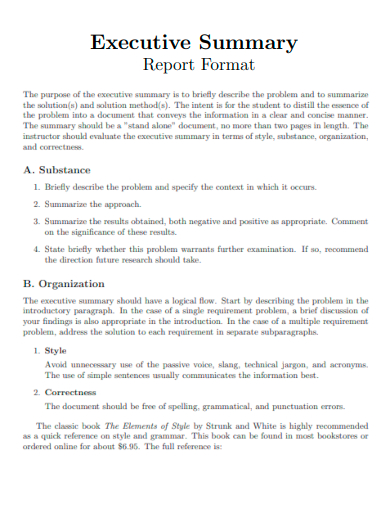 faculty.mercer.edu
18. Blank Executive Summary Format
newpaltz.edu
19. Executive Summary & Reflection Format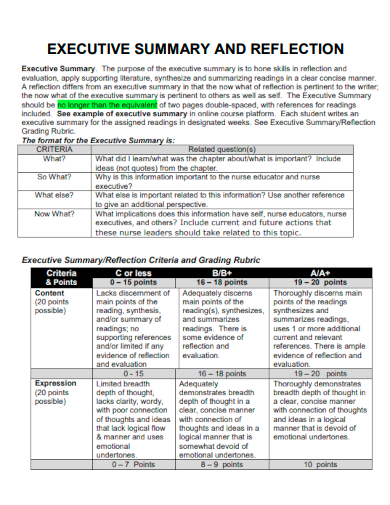 methodistcollege.edu
20. Professional Executive Summary Format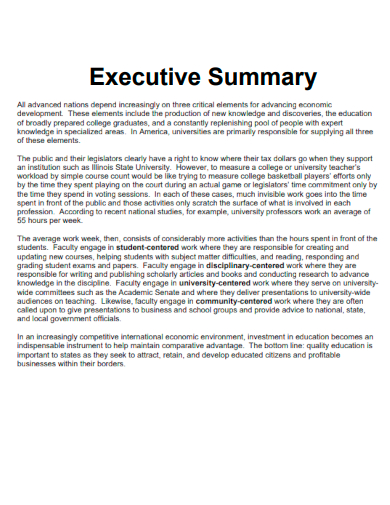 cas.illinoisstate.edu
21. Executive Summary Requirements Format
naccho.org
What is an Executive Summary Format
An Executive Summary Format is a structured way of presenting key information in a concise and easy-to-read manner. It typically includes an overview of the document's purpose, a summary of the key findings or recommendations, and any other crucial details that the reader should know. Executive Summary Formats can vary depending on the type of document being summarized and the intended audience.
How to choose the best Executive Summary Format
Choosing the right executive summary format can make a significant difference in how well your message is received. Here is a step-by-step guide on how to choose the best executive summary format for your document:
Step 1: Determine the purpose of your Executive Summary
What message do you want to convey, and what do you want to achieve with your summary?
Step 2: Identify your target audience
Who will be reading your summary, and what information do they need to know?
Step 3: Choose a suitable format for your summary
Different formats work better for different types of documents, such as paragraph-based, bullet-pointed, or visual formats like infographics.
Step 4: Follow the structure of the document
Your Executive Summary should accurately reflect the structure and content of the document it summarizes.
Step 5: Highlight key information
Focus on the most crucial information and avoid unnecessary details.
FAQs
What is a project management executive summary?
A project management executive summary is a brief overview of a project that includes key details such as objectives, scope, timeline, and budget.
What is a proposal executive summary?
A proposal executive summary is a condensed version of a proposal that highlights the key points and recommendations.
What is a marketing plan executive summary?
A marketing plan executive summary is a summary of the key aspects of a marketing plan, such as target audience, marketing strategies, and budget.
In conclusion, choosing the right Executive Summary Format is essential to convey your message effectively. By following the step-by-step guide in this article, you can ensure that your summary is concise, clear, and easily understood. Whether you are summarizing a project executive summary, proposal, budget executive summary, or marketing plan, using the right Executive Summary Format can help you achieve your communication goals and make a lasting impact on your audience. Additionally, a well-written Executive Summary can be an essential tool for showcasing your professional work experience on an executive admin resume or an executive offer letter.