No matter what type of card you are going to design—greeting cards, business cards, invitation cards, or membership cards—the most important thing is that you poured out your heart into making them. Whether it is for business or personal use, you must tailor it to your specific needs. With that, we will help you with regard to cards through these card templates and examples. Here are some cool and useful different kinds of cards that you can refer to.
Card Templates and Examples
1. Food Business Card
Perfect for your food, restaurant, or catering business, this business card can help widen your connections so you can attract more customers. With this, you can surely boost your branding and hunt a great deal. This is easy to customize and is available in Illustrator, MS Word, Pages, Photoshop, and Publisher file formats.
2. ID Card
For personal identification of students or workers, this ID card is perfect for both purposes. Also called an identity card, this is helpful in proving a person's identity or securing an access in a building or other private areas. You can use it for your business or institution and customize it by editing the information on the card as well as the photo.
3. Dentist Business Card
Just like any other types of business, a dental clinic or the dentist himself must have a dentist business card in order to provide their potential client their business information such as the name of the dentist, the dental clinic that he or she is associated with, location, and phone number, email add, and website. This is also a great marketing tool in launching the dentist's branding in the market.
4. Bakery Business Card
Looking for a business card design for your bakery business? This is the perfect one for you. This business card is very convenient to use since it is easily editable and customizable according to your preference. It comes in different file formats, such as Illustrator, MS Word, Pages, Photoshop, and Publisher.
5. Spa Rack Card
Market your spa business through this spa rack card. Place this on areas that enjoy significant foot traffic, such as hotels, restaurants, landmarks, rest areas, and convenience store for a maximum promotion of your spa. Its high-quality design provides an overall positive visual impact on your rack card, making it remarkable and appealing to your potential customers.
6. Event Invitation Card
If you are looking for an invitation card for your event, this one is your best choice, which is available in Illustrator, MS Word, Pages, Photoshop, and Publisher. You can customize this template according to the type of event you are organizing, whether you are designing a concert event invitation card or convention invitation card or any other event cards.
Provide your customers with a well-designed chalkboard menu card using this template. With its unique design and creative presentation, you can surely get the attention of your customers, making them loyal customers in the process. This can also boost your branding since more people will become attracted due to its visual elements.
8. Pregnancy Announcement Card
Got some big news to share? Make your pregnancy announcement more special with the use of this editable and customizable template. This is a great way to announce to your relatives and friends an addition to your family member. They will not only get excited of your pregnancy but also feel special since you find time in informing them through a pregnancy announcement card.
9. Wedding Invitation Card
Preparing for your special day can be exhausting given that you need to prepare a lot of things, such as the venue, food, attire, program, and invitation. Don't worry for we will help you in one of the most hassle things to create—wedding invitation cards. Through this template, you can surely create one that is appropriate for your big day. You can customize it so it would fit your theme or color motif.
Every hotel establishment must listen not only to their internal advisers but also to the feedback and comments of their customers as well in order to succeed. Through this hotel customer comment card, the hotel management will know what areas need to be improved and what are the things that will satisfy a customer. Use this template to create your own hotel comment card.
11. Birthday E-Card
In order to easily create and send a birthday card to your intended recipient, you can opt to sent a birthday e-card. This type of card is an online version of the traditional greeting card. While there are still many traditional cards sold in the market, many people opt for an e-card because you do not need to print it, hence can be easily sent even to multiple recipients.
12. Christmas and New Year Card
Being one of the most commonly used cards, a Christmas and New Year card, evidently, is sent during the holiday season. Children and adults can send this card to anyone, such as their families and friends. This can surely make them feel special and remembered.
13. Fitness First Membership Card
To verify the member's membership in Fitness First Gym, this membership card is issued. It provides the members certain privileges, such as access to the gym facilities and discounts on future purchases.
14. Graduation Card
Celebrate school accomplishments and milestones through this graduation card. Appreciate the hard work of the student by sending him or her this card on his or her graduation day. You can write your own personal message expressing how happy and proud you are as a family or friend.
15. Pepe's Loyalty Card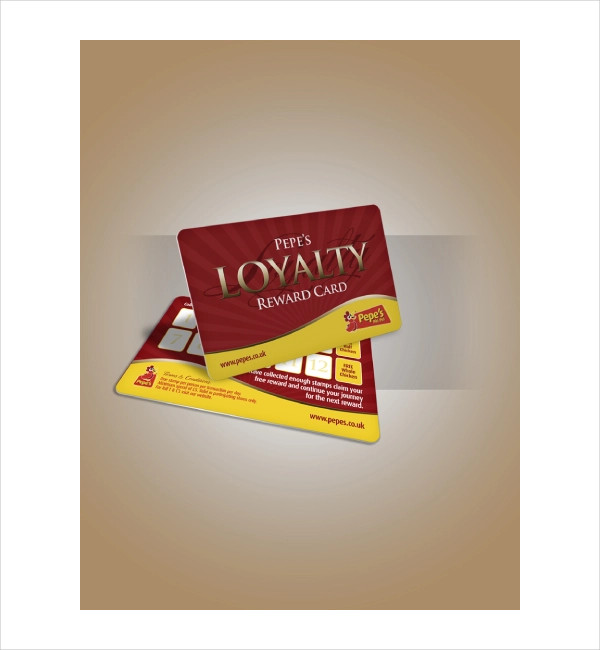 Entice your customers to consistently purchase your products and services and become a loyal customer so they can avail this loyalty reward card. This can provide them additional incentives, such as free merchandise, discounted price, and free coupons.
So, those are the different types of cards that you can use for various purposes. We do hope that the templates and examples help you a lot in your card needs.