We oftentimes see brochures everywhere and almost every business owned one that is used to promote and endorse their products and services.
These companies knew how important it is to have a brochure for branding and as a marketing tool. Along with other advertising materials such as media ads in radio and television, printed ads such as pamphlets, elegant flyers, best posters, general banners, simple billboards, and many others, this is perfect to make a noise and own the spotlight in the market. It is important that people would know your name and recognize your company so that you will gain more prospective buyers and fans. Just like any other businesses, these are also especially true to the sports, golf.
Golf Resort Bi-Fold Brochure Template
Golf Resort Tri-Fold Brochure Template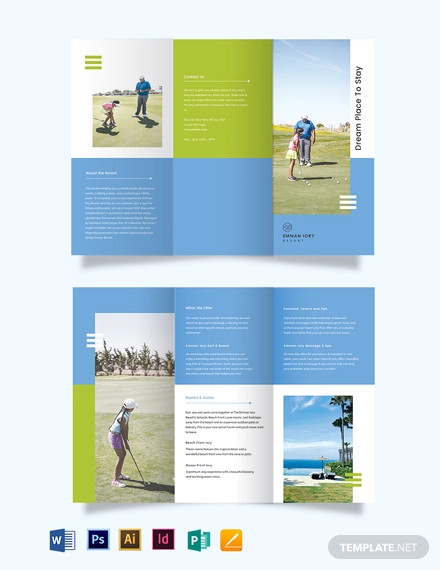 Golf Tournament Trifold Brochure Example
Professional Golf Tournament Trifold Brochure Example
Golf Brochure Template Example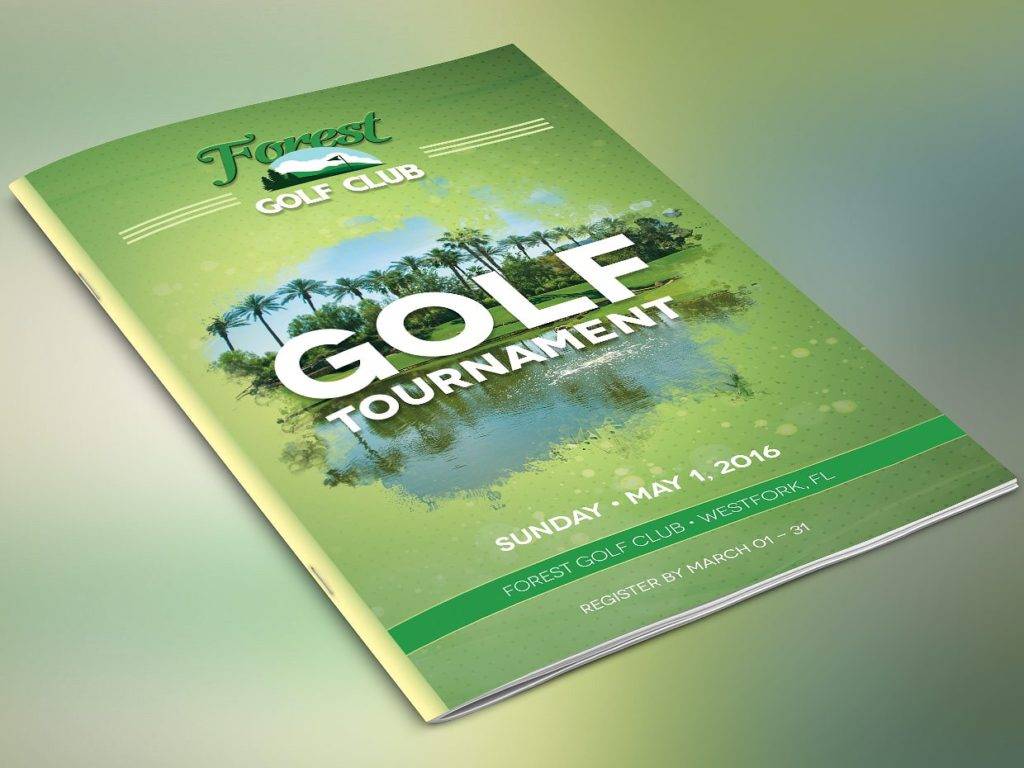 Golf Club Trifold Brochure Example
Vintage Golf Score Cards and Brochure Example
Golf Tournament Trifold Brochure Template Example
Golf Club Bifold or Halffold Brochure Example
Tips to Create an Effective Business Brochure
Not all brochures are successful. There are some best brochures that can be easily put down by the reader in just a few seconds. We never wanted that. Our aim is for people to read our brochure from cover to cover. We never want our potential customers to slip in our hands. We do not want them to miss the opportunity to avail our offers especially those that are time-limited.
Hence, we must work hard to create a brochure that can allure people and hook them into reading the whole brochure. In order to do this, you must design your brochure in a way that it gives interest to the readers. How can you do this?
Below are some powerful tips for an effective business brochure that you must know especially when you are writing the content of your brochure.
1. Create from the Readers' Perspective
Before you start doing anything, take a quick peek first to the end user of your brochure and ask yourself: Who are your audience for your brochure? What is or are the reason/s why they would buy your product? What can they benefit from purchasing your product? What problems can you address?" The bottom line is people will only be interested in your product if they can gain or have something that they want.
Hence, you must find out what they really want so you can provide it to them. Otherwise, it is like you are floating in a wide sea expanse without knowing where are you heading to. These people are your so called target market. Knowing your target and understanding their needs would give you an idea on what to offer to them or how can you enhance your products and services that will tailor to their respective needs. You may also see examples of company brochure.
2. Communicate to the Reader
You cannot directly communicate to the reader if you did not get first their attention. Hence, the first thing that you must do is to make your brochure appealing and alluring so that you can catch their attention. Graphics, layout, and design can do the job. Then, if these things are already sufficient to grab a reader's attention, know what interests them and how to respond those interests.
The moment that you met their needs, you can already communicate to the reader in a certain way that it is like you are talking with them personally and that you are addressing their personal concerns. It is as if your brochure is tailored specifically for them, but in fact, you just know what are their common needs. The person reading our brochure will most probably feel special and feel you are talking with him first hand through your brochure. In this way, they will read more and most possibly try what you are offering to them. You may also like real estate brochure designs & examples.
3. Avoid Being Cliche
Because there are so many business entities rising in today's era, you cannot some statements that are already used by most companies. However, these statement are already being overused, hence a cliche, to the business world. You must avoid words that are too general or those that we often hear and see everyday, because the more people will see these phrases, the lesser the impact would be to their lives.
Examples of the most common simple statements that you think is just okay are as follows: "We are conveniently located at…" and "In business for 25 years." People have enough of these phrases and the impact is not anymore that strong the moment that they see or hear those. Hence, think of your own novel statement, fresh and new to the ears of the potential customers.
4. Focus on the Benefits
"What's in it for me?" That is the very thing in the heads of the customers upon deciding whether to buy or not of your products. They are really not interested in your company, but instead, they are interested in the the things that will give them benefits the moment that they purchase your products. Hence, to grab their attention, you must focus on the things that will interest them the benefits of your product.
The features of your products and its advantages are what they are after for. For example, a buyer bought a drill bit. He is really wanting your drill bit. The main reason is that he wanted to have a hole which the drill can do for him. Thus, you must showcase and feature your products advantage so they will know how can your product give them benefits. You may also see advertising brochure examples.
Golf Bifold Brochure Example
Customizable Golf Trifold Brochure Example
Fully Editable Golf Trifold Brochure Example
Simple Golf Brochure Example
Charity Golf Trifold Brochure Example
Modern and Fully Editable Golf Tournament Brochure Example
Clean and Modern Golf Trifold Brochure Example
Tips to Create an Effective Business Brochure (continuation)
5. Create an Eye-Catching Headline
The person, especially a passerby, take a glance at your brochure, it will take him 2 seconds before proceeding to read it thoroughly or just drop it down. In that span of time, he will scan through the whole page and decide  whether or not your brochure is a good read.
The first thing that the person will consider is your heading. The moment that he will be caught by the heading, he will be allured to read your content. Hence, it is important that you work on your headline, adding information that makes the reader desire for more or those that can catch their attention even just in a few seconds. You may also like differences between a brochure and a pamphlet.
6. Write Benefit-Oriented Subheadings
After the reader take a quick glance at your headline, when you have a truly eye-catching headline, most people would proceed in reading the subheadings and see if there is something that interests him. Hence, even in subheadings, never fail your readers and include the benefits that they can acquire from purchasing you products, because as discussed above, customers are only interested in the things that will give them benefits. Create your subheadings in such a way that they will no longer turn their heads and step back from your brochure and instead read the entire content of your modern brochure.
7. Incorporate Call to Action
Call to action is also very important because it gives the customers the idea on what to do next upon reading your brochure. Call to action provokes immediate response and this is a way to know if people are really interested in your product the moment that will quickly make a move and respond to your offers. Examples of call-to-action phrases are as follows: "call now," visit us today," or "find out more."
There are other call-to-action phrases that you can create to subtly engage your customer in responding to your offer. It is important that they know how can they respond, for you might not know, there are interested buyers who just need a little push in deciding to buy your product. You may also see medical brochure examples.
8. Include Limited Offers
People are innately procrastinators unless during an emergency. They wouldn't decide and take action immediately as possible. However, most people would go frantic the moment you tell them that your offer is just for a limited time or for a limited count of people. Examples of limited-offer statements are as follows:
10 stocks left
Sale lasts until today
Last day
Today only
Ends Friday
You are setting a deadline so they will act quick if they really wanted to have a great deal. Otherwise, they can no longer avail of your special offer. You may also like tri-fold brochure designs & examples.
9. Give an Easy Access
In every page of your simple brochure, you can include your company, phone number, and website. You may also include your business address. Just make sure that they can easily see your contact number to have an easy access and communication to your company in case they got interested in the products and services that you are offering. Your URL is also important since people nowadays would check first online for the reviews of your company as well as your products and services.
We hope you enjoyed browsing through our golf brochure designs and examples. Don't forget to make a purchase for your future golfing event!