It's always nice to unwind after a stressful week at work. Spas and wellness centers are often packed with people looking for ways to relax the tension in their muscles and start another week feeling rejuvenated. Different spa treatments are listed in menu templates to communicate these offers for clients to refer to. But to help make sure that the needs of your clients are met, your spa menu must be designed strategically. This goes beyond the benefits of the actual spa services, but with how the menu is designed to aid clients in making a decision which will satisfy both the recipient of the service and the entity providing it.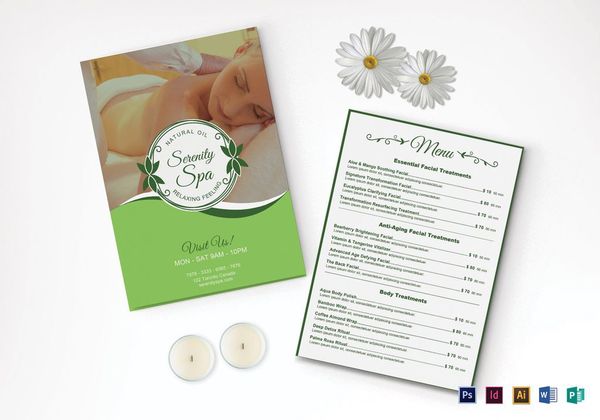 There are two things to aim for when designing a menu: aesthetics and function. It's not hard to craft a menu that's easy on the eyes, but how effective is it in terms of helping your business make a sale and earn a profit? The main elements of a menu design must always be considered to help influence the buying decision of a reader. This includes the way items are grouped and priced for a client's convenience. If you aren't familiar with the basics of menu psychology, you can use the template provided for a head start. The great thing about templates is that they're already designed to cover industry and pre-printing standards so you won't have to worry about applying these requirements before you begin with the actual content. Simply customize the template to satisfy your own preferences and you're good to go!
Running a spa center is just as challenging as any other business in the market. With competitors lining up at every corner, you need to make sure your services are made known to clients in the most creative way possible. This menu card template will allow you to relay general details of your services to encourage further inquiry and engagement with clients. You can put the menu in a place where people are likely to see it and pick it up for review. The size of the menu is also convenient enough for people to carry around in case you ever consider handing the menu out to potential customers just as you would with a flyer. Feel free to download and personalize the menu to reflect the identity and image of your brand.
As part of the luxurious experience that was promised to guests, hotels and resorts usually offer different spa services to accommodate anyone interested. Aside from a food menu, a spa menu is also provided to anyone who requests for room service. Massage treatments may be done in the room, by the pool or beach, or at a designated area in the resort. Keep in mind that not all establishments offer in-house spa services to guests, so if you do, it's best to inform customers about this matter beforehand so they can make the most out of their stay. It's also a good idea to design a separate spa menu from the rest of the menus available at the resort to make it easy for guests to find the information they are looking for.
Treating yourself to a day of pampering and relaxation isn't exactly cheap. People who spend on facial treatments, body scrubs, eyebrow threading, and hair waxing would know that taking care of your body to look and feel good is a luxury that not everyone has the privilege to afford. Thus, spa centers are constantly searching for new ways to meet with the personal and financial needs of their clients through different promotional packages. Although discount vouchers are often distributed for consumers to enjoy, some offers are listed in a menu in which clients can avail themselves of at a certain time in the day. Always remember to indicate what the inclusions of each package are along with the time that they are available. This is a great way to persuade repeat customers and attract those who are looking for an offer that no other business could provide.
Shown above is a good example of a stunning spa menu that lists and advertisers the services offered by a business. Most day spas have an ambiance that promotes peace and relaxation, which is often depicted in the marketing materials that they produce. It's important to design a menu that reflects the nature and objectives of your business to paint an image that clients will remember. However, make sure that the menu card remains clear and readable for clients to browse through. Key information, such as the name and price of each item, should also be emphasized to make it easy for readers to find what they need.
Some spa centers, especially those that are known for their specialties, have a lot to offer their client base. Their wide variety of spa treatments and similar services are usually listed in a menu for clients to be guided. You can keep it as detailed as you want it to be, as long as readers can easily grasp what's written without follow-up questions. Answering common inquiries with the menu will also allow your staff to focus on other tasks to continue your business operations.