In a life full of stressors, many people seek refuge to take a short pause from the busy and hectic schedule. People have different ways to relax and soothe themselves. Some pampered themselves with so much food that they crave, some will watch their favorite movies on the big screen, while others just wanted to visit a spa or establishments with health treatments and other personal care treatments. The spa provides relaxation and therapy and, at the same time, keep your mind at peace and still. These are the services that spas are keeping to enhance and upgrade to give the best services to their clients. These are also the reasons why people keep coming back to spas. You may also see free menus.
To enhance the services offered by spas for its customers, they hand out menus for an easy browsing access to their offers. Menus serve as a guide to the clients for them to have an overview of the things that they can acquire from your spa. Below are the different cool spa menu designs that are worth to check. You may also see bakery menus.
Examples of Spa Menu Designs
Spa Birthday Poster Price List
Tri-Fold Spa Menu and Business Card Template
Green Spa Price List or Menu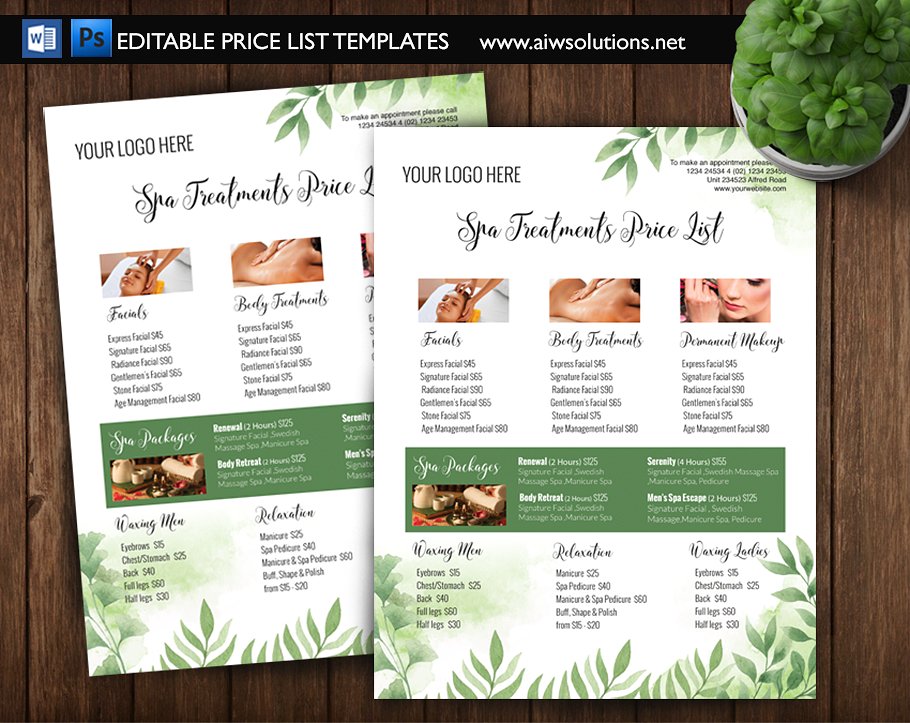 Havana Spa Menu
Spa Pricing Menu Sign
Spa Resort Menu and Brochure Template
Spa and Beauty Salon Menu
Beauty Care and Spa Menu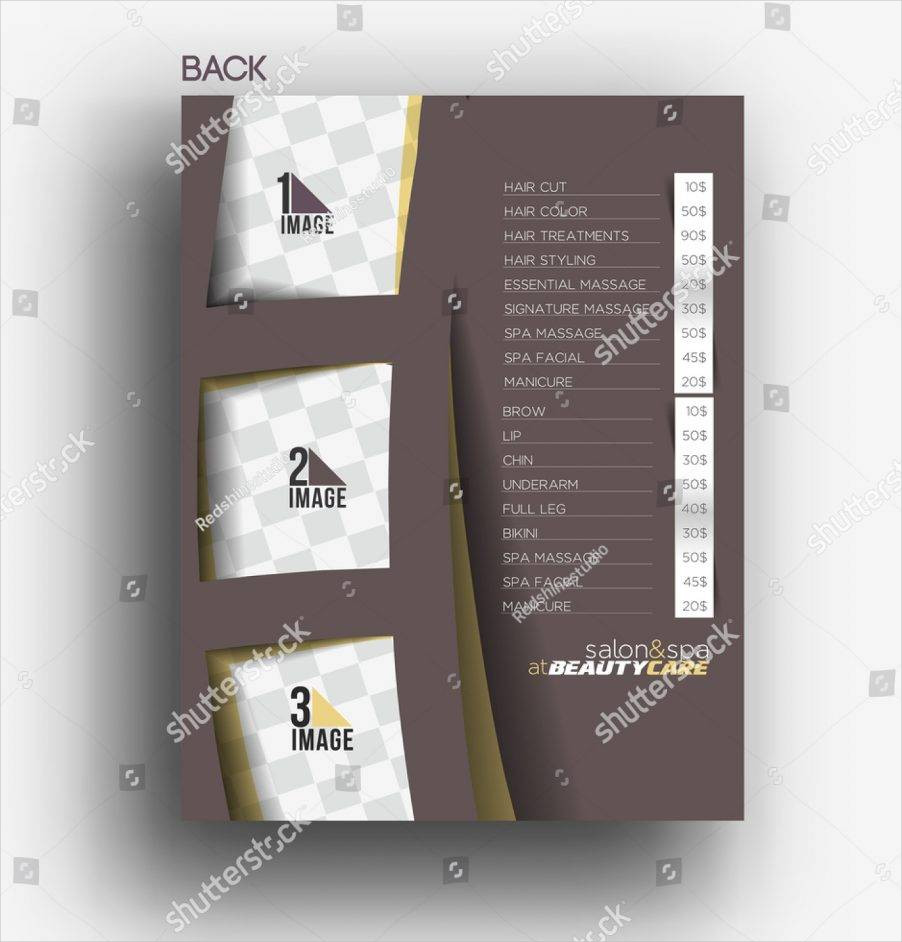 Spa Beauty Health Care Square Brochure and Menu
Spa Tri-Fold Brochure Template with Price List
Spa Brochure Template and Menu
Spa Center Table Menu Template
Spa Brochure and Menu Template
Spa and Salon Menu
Different Types of Spa
Spas nowadays can be found almost everywhere ranging from strip malls to village storefronts and in most salons. Because the definition of the spa is so broad, the word "spa" is not regulated; hence, anyone can use it for any purpose they want. What do you really mean by spa? It is an establishment with different amenities devoted to helping people enhance their overall well-being by the renewal of the mind, body, and spirit, through a variety of professional services. You may also see barbecue menu examples.
Spas offer a variety of services depending on the customer's demands. Note that you must first determine the kind of service that your target market needs in order for you to decide on what specific services you are going to offer. Similarly, there are different types of spa around the globe. You may find a couple of them in one spa establishment, but there are really those who offer several types in one business entity. The different types of spas are as follows. If you want to establish your own spa, you might consider remembering the important points discussed in each type. You may also see cafe menus.
1. Ayurveda Spa
This type of spa a specializes in Ayurvedic treatments and can be customized according to the client's need after a consultation with a physician. This treatment is inspired by the traditional Indian medical practices. It is a preventing or healing spa together with boosting the immune system to fight against diseases. Yoga and meditation may also be incorporated during the treatment program. You may also see lunch menus.
2. Club Spa
It is a spa located in fitness clubs whose primary purpose is fitness but may also offer professionally administered spa services on a day-use basis. Commonly, this requires a sign up for membership since non-members are not welcome. You may also see pizza menus.
3. Cruise Ship Spa
This is a spa aboard a cruise ship or a luxury cruise liner, offering spa facilities similar to the regular ones such as hydrotherapy, thermal treatments, seaweed, mud wraps, thalassotherapy, spa float, among others. The services are administered professionally so you need not worry about is quality. You may also see sea food menus.
4. Day Spa
These are spas offering services on a day-use basis where you can usually get spa services like massage and facials. These may also include low-cost spas where there are no rooms and lockers intended for you to undress. However, other traditional day spas include services such as body treatments and nails and have amenities like robes and slippers, steam room, sauna, changing rooms, and even tranquility rooms. You may also see modern menu designs.
They are also known as urban spa because they are basically located in city centers, shopping centers, hotels, airport, department stores, health club, and almost everywhere around the city or near the busy streets. People prefer these spas because these are very accessible and, at the same time, the least expensive when compared to the other types of spas but they can still enjoy and have a calming and relaxing soak. You may also see salad menus.
5. Dental Spa
The dental spa is a type of spa that is a combination of traditional dental treatment under the supervision of a licensed dentist and spa services. You may also see Italian menus.
6. Destination Spa
This is a spa for personal care treatments which requires the client to have a short stay at the spa to improve his or her health. The stay may last for two to three nights, and longer stays are even encouraged for a full wellness experience. Because of the length of stay in this kind of spa, this is usually age-restricted such that only persons with over the age of 16 are allowed. The treatment consists of exercise classes, lectures about mental and physical awareness, and other programs. Additionally, it also includes a healthy diet and physical activities, a perfect guide for a spa-goer to develop healthy habits that hopefully will become the lifestyle of that spa-goer. You may also see takeaway menus.
7. Eco Spa
This is called eco spa because of the materials used are environmentally friendly. Environmentally friendly because the treatments are organic and because of its energy-saving techniques used in running the spa.
8. Ganban'yoku
This is a hot stone spa which is said to have originated in Thailand. The main purpose of this type of spa is detoxification, improvement of the circulatory system, and improvement of the skin. In order to achieve this, bathers lie on granite stones or floor inserted with granite stones that are gradually heated up. You may also see wedding menus.
9. Hotel or Resort Spa
Hotel or resort spa are spas within a hotel or resort providing spa services administered by professionals. Spas infiltrated hotels and resorts because travelers want more than just a room and boarding; hence, spa treatments are also included in the area. Some spas in resorts and hotels have added exercise classes and gyms with personal trainers. The spas offer a variety of facilities such as wet rooms, sauna, swimming pools, and many others. You may also see the Chinese food menus.
10. Medical Spa
This spa is a combination of a medical clinic and a day spa administered by medical practitioners only. The common services and treatments rendered under this type of spa are as follows: dermal fillers, medical peels, botox, laser treatments, microdermabrasion, photofacials, skin tightening, skin rejuvenation, treatment of cellulite, and many others. The primary purpose of this type of spa is to provide comprehensive medical and wellness care through spa services and traditional, complementary and/or alternative therapies and treatments with different staffs working on aesthetic or cosmetic and prevention or wellness procedures. You may also see breakfast menus.
11. Mineral Springs Spa
A long time ago, people travel to mineral waters for health benefits. This becomes the inspiration of mineral spring spas which offer an on-site source of mineral, thermal, or seawater that are used in hydrotherapy treatments. Mineral springs did not go well especially in the 20th century but claimed its spot in the spotlight again after people realized the benefits from that simple yet relaxing soak. You may also see beer menu examples.
12. Mobile Spa
Mobile spa, as the word itself suggests, provides a mobile and moving spa services at home, hotels, or anywhere the customer may be.
13. Thalassotherapy Spa
This type of spa uses warm sea water because it is believed to have curative benefits. It helps in relaxation, detoxification, and de-stressing, it helps in restoring the body's chemical balance, it calms aches and pains, as well as it serves as a treatment for insomnia. You may also see drink menus.
14. Thermal or Mineral Spa
These types of spas are usually built in mountainous locations where there were naturally appearing mineral waters around the area for they are believed to improve health conditions as well as give several beneficial spa treatments, similar to other spas. You may also see dessert menu examples.
Sum Up
Now, you already had a grasp on the different types of spas available in the market such as Ayurveda spa, club spa, cruise ship spa, day spa, dental spa, destination spa, eco-spa, ganban'yoku, hotel or resort spa, medical spa, mineral spring, mobile, thermal or mineral, and urban spa. They may have varied ways on how they were applied or the substance incorporated in the water or any other treatment, but all of them can surely be a relaxing and soothing one. It is recommended that you must try different spas so you will know which one perfectly suits your preference and which can provide you with the best personal care treatment. You may also see catering menu examples.
If you are a spa owner, maybe you already know these things, and all we can do is to help you with your spa menu design which is provided just above this section. You may also see kids menu examples.