Owning a laundry business is a great means of having a steady livelihood. It's part of every person's chores to do the laundry. But because most people are so busy at work, their schedules don't allow them to do it themselves. So who do they ask to do their laundry? None other than laundry businesses, of course. However, people wouldn't know that your laundry business exists if you don't do anything to market it. What follows is that you won't get enough customers to keep your business running. So to attract more happy customers, you can start promoting your laundry services using our Laundry Flyer Examples! You can view and download them here.
10+ Laundry Flyer Examples
1. Laundry Flyer Template
2. Laundry Service Flyer Template

Download
4. Laundry Services Flyers Template

Download
5. New Laundry Services Flyer Template

Download
6. Coin Laundry Business Flyer

Download
7. Quick Laundry Service Flyer

Download
8. Laundry Care Expert Flyer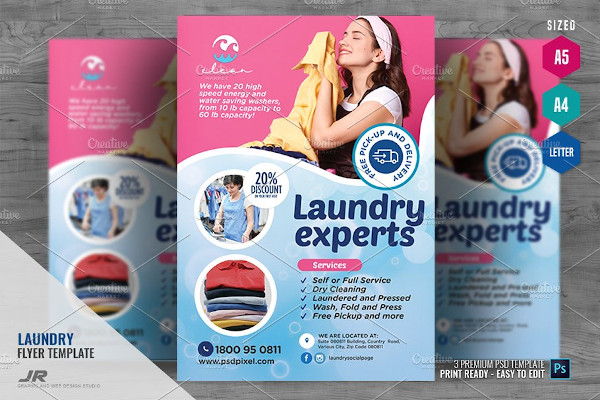 Download

Download
10. Retro Laundry Services Flyer

Download
11. Laundry Commercial Washing Flyer

Download
What Is a Laundry Flyer?
A laundry flyer is a print advertising material that aims to promote a laundry business. It displays information about what type of laundry services a laundry business offers, such as dry cleaning and ironing. The address and contact information of a laundry business are also there.
Flyers, also known as pamphlets, are excellent tools for product and service promotion. Businesses have been using them for decades. Even to this day, flyers are still effective promotional materials despite the rise of digital marketing.
There are numerous methods to increase awareness for a business. But these five strategies below are the most suitable for your laundry business. Take note of them so that you'll have ideas to skyrocket your laundry business's popularity.
1. Email Marketing
Many businesses have been using email marketing regularly to great success. That said, there's no denying that it can help your laundry business. You can send emails to both your target customers and current customers. Newsletters about updates and new offers in your business would be great content for the emails.
2. Google Ads
When a person searches for 24 hours laundry businesses nearby, where do you think he or she finds them? If you say Google, then you're absolutely right. So consider doing your laundry advertisement with Google Ads. It'll be quite challenging because other businesses are in Google as well. But with the right SEO and digital marketing techniques, you can end up on the first page of Google's search results. And also, don't forget to register your business location on Google Maps.
3. Referral Program
Another good way to bring more customers is by encouraging your regular customers to invite their friends and family. You can encourage them by establishing a referral program. Tell them that you'll be granting bonuses, discounts, or rewards to those who can successfully refer other people to your business.
4. Print Advertising
Print advertising is a traditional way of promoting products and services. And it's still a good strategy today. You can use billboards, brochures, posters, banners, leaflets, newspaper ads, magazine ads, and, last but not least, flyers.
How to Create a Laundry Flyer
Print advertising isn't going away anytime soon. Flyers can put your business on the map as much as other forms of media. So, here are four easy steps to create the best flyer for your laundry business.
Step 1: Embed Your Business Name and Logo
Your laundry business name and laundry logo should be present on the flyer. Those are the two things that people should remember about your business. They're its visual identity. The best spot to place the name and logo is at the top of the flyer. But you can place it anywhere if you see it fit.
Step 2: Set a Design that Suits Your Business Brand
Flyers are largely all about capturing the attention of people. But that won't be the case if they look ordinary and dull. So make sure to set a design on your laundry flyer. You can add images of bubbles, people doing laundry, washing machines, and the like. For the color scheme, the best ones would be blue and pink or any bright colors. Just see to it that your laundry flyer design matches your brand.
Step 3: Enumerate Your Services
Enumerate all your services on the flyer so that people will know what you're selling specifically—self-service, full service, dry cleaning service, ironing service, delivery service, and whatnot. Whichever of them are your offers, list them on the flyer.
Step 4: Add a Call to Action
Invite people to visit your laundry business through a Call to Action (CTA). Phrases such as "Let us do your laundry" and "Come visit us" are good examples of CTA. A CTA will make your laundry flyer more compelling. It's your voice as the business owner, welcoming people before they even step foot in your shop.
FAQs
Is the laundromat business declining?
Although laundromat businesses aren't as bankable as corporate businesses, they're a decent means of livelihood. A lot of people need laundromats in their neighborhood. That's because they don't have enough time to do their laundry by themselves. And let's face it. Some people just flat out feel lazy doing their laundry. So to answer the question, the laundromat business isn't declining.
Is a laundry business profitable?
Yes, the laundry business is profitable. According to a report in Entrepreneur, laundry owners can enjoy 35% profit margins if they run their shop well. They must do regular maintenance, repairs, and cleaning. And on top of all, they must provide excellent customer service.
How to start a laundromat business?
Here's a short to-do checklist to start a laundromat business:
Decide on a business name
Prepare a business plan
Register your laundry business
Secure an EIN
Obtain mandatory licenses and permits
Find a good location
Purchase high-quality laundry equipment
Soon, your laundry shop will cater to more customers. Every day, your shop will be full of people doing a self-service or availing of your full services. That's how impactful a flyer can be for a small business like your laundry shop. So start crafting your flyer now! Don't forget to download and make good use of our Laundry Flyer Examples!