According to Pledge Sports, basketball is the third most popular sport on the planet as of 2020. That's high praise considering the countless other sports that people love. A large part of why basketball is as popular as it is today can be traced back to the 1980s and 1990s—basketball's golden age. It was a time when icons like Larry Bird, Magic Johnson, Kareem Abdul-Jabar, and of course, Michael Jordan, were in their prime. Because of how great they were, they caught the attention of people worldwide, turning basketball into a global phenomenon. Even kids not born in the 80s and 90s want to be Like Mike. So if you're currently organizing a basketball event, it'll surely hype up hoops fan in your community, especially if you promote it using our Basketball Flyer Examples!
10+ Basketball Flyer Examples
1. Basketball Flyer Template
2. Free Basketball Flyer Template
3. Free Basketball Madness Flyer Template
4. Sample Basketball Flyer

Download
5. Basketball Flyer Example

Download
6. Basketball Flyer in PSD

Download
7. Basketball Player Flyer

Download
8. Basketball League Flyer

Download
9. Basketball Madness Flyer template

Download
10. Creative Basketball Flyer Template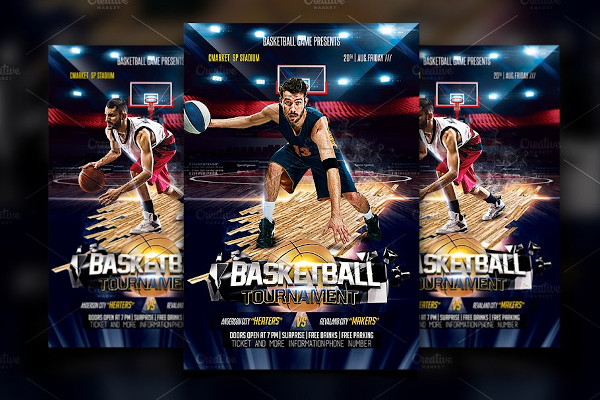 Download
11. College Basketball Flyer

Download
What Is a Basketball Flyer?
A basketball flyer is a specific type of sports flyer that features basketball-related products, services, or events, as its name implies. You can see basketball flyers in sportswear stores, sports arenas, or any place where basketball spirit and passion are active. They're like miniature, handheld versions of a sports poster or billboard.
The Purpose of a Basketball Flyer
A basketball flyer is an excellent marketing tool to promote any basketball event you're organizing, be it college basketball tournaments, old school street basketball friendly games, or training camps. Aside from being excellent, they're cheap to make, and you can easily distribute them to basketball fanatics. So whatever basketball activity you have in store, it'll certainly sell many tickets, garner many participants, and gather a broad audience by promoting it using a basketball flyer.
How to Create a Basketball Flyer
When you look at a flyer, you get this impression that it's quite challenging to create. Yes, it does take some creativity and artistry to make a flyer. But it doesn't have to be complicated. Here are some easy-to-follow steps to create your basketball tournament flyer, three on three basketball flyers, or a training basketball flyer in under a few minutes.
1. Establish a Basketball Theme
A basketball flyer design must have a basketball theme. Otherwise, you can't call it a basketball flyer. To establish a basketball theme, you can set a basketball court background image, basketball logos, or any basketball clipart. And also, photographs of a basketball player will do. Simply put, your flyer must have images of basketball stuff.
2. Use Masculine Fonts
Imagine a sports flyer that has font styles that you usually see in a wedding flyer. It doesn't look good, of course. Aside from not looking good, it's doesn't look right, and it looks cringy. So make sure to set masculine font styles for your basketball flyer. There are many that you can choose from, such as those in Microsoft Word. Select one that you think fits best for your flyer's overall aesthetic.
3. Emphasize the Date, Time, and Venue
Flyers aren't just for promotion. They also function like invitation cards to convince people to participate or attend an event, or in your case, your basketball event. So, just like an invitation, emphasize your basketball event's date, time, and venue. It's vital to let your target audience know when and where it'll take place.
4. Add Your Contact Details as the Organizer
Like a business card or calling card, your basketball flyer must display your contact details as the organizer. So if ever someone interested has further questions about your basketball event, they can quickly contact you. You can display your phone number and email address. If you have an official website, include it as well.
FAQs
Are a flyer and a brochure the same?
Flyers and brochures have the same functions and purposes. But brochures are longer, print on both sides, and are designed to be folded, either bi-fold or tri-fold. Brochures feature multiple topics about a company or organization, such as products, services, and events. Whereas flyers only feature a single subject usually, and they only have one page.
What are the other terms for a flyer?
Here are other terms that you can call for a flyer:
Pamphlets
Leaflets
Handbill
Handout
Circular
Although these terms are rarely being used today, they're still widely accepted. However, the term "flyer" is the most recognizable out of all of them.
How did a flyer get its name as a flyer?
Asking the origin of why a flyer is called a flyer will take you into a quick history lesson. So here goes:
In the 1800s, people call flyers as pamphlets or leaflets. They mostly use them to disseminate public announcements and advertise businesses. But in October 1870, when the Prussian army sieged Paris, the Parisians made leaflets containing a message of their defiance of the Prussians' siege. The leaflets they made were taken up aboard a balloon and glided out of Paris. Once the balloon arrived over the Prussian lines, the Parisians aboard dropped the leaflets for the Prussians to read their brave message. Due to that airborne method of distributing leaflets, the term "flyer" came into existence. However, people of today still use the term "leaflet" and "pamphlet." But somehow, "flyer" became the most prominent.
We all owe the existence of basketball to James Naismith. He invented this beautiful game in 1891 in Springfield, Massachusetts. Over a century later, the game of basketball has connected millions of people across the globe. And it'll continue to do so for many decades. This basketball event that you're organizing is one way to honor James Naismith's memory. If you're worried that no people will be interested in it, don't be. Our basketball templates can put your event on their radar. Remember these words by Michael Jordan: "If you run into a wall, don't turn around and give up. Figure out how to climb it." And one last thing, unleash your inner Mamba Mentality.