You can always support your favorite musical artists by purchasing their music albums and other merchandise. It is also through that that you will be able to enjoy their masterpieces. However, there is that other way where you could show your support as well as enjoy their music and that is by attending their live concerts. You may also see event ticket examples.
Live concerts do not happen for most musical artists since it is not some kind of an easy event that once can organize, prepare, and run in a week or two—it is actually more than that. All the more you should attend one once you are lucky enough that one of its shows is going to run in your country. While you can just buy their merchandise and music albums year-round in stores or malls, you cannot do so with live concerts. You may also be interested with this concert ticket examples.
However, before you get to enjoy, and sing along to the musical performance of your favorite music artists, you need to purchase first their live concert ticket that serves as your point of entry to the venue of the live concert. You may also check out concert poster designs and examples.
Live Concert Ticket Template
Things To Bring in a Live Concert
Are you already excited to attend your very first live concert event? Hold your horses first because there might some things you need to bring during the event. And with that, you might want to take note of these must-bring things for the live concert so that you can ensure that you will be having a great time. You may also see music concert ticket designs and examples.
Ample amount of cold hard cash
This is very important. Why? Suppose you are going to a concert which lasts for about four hours. It will be difficult for anyone to spend that much time without consuming any food or drink. Plus, there will also be some souvenirs for sale at the event that you might consider buying especially if you are a big fan of the artist or the band.
Wear comfortable clothes
Concerts normally last for more than two hours so, to stand for that long without wearing comfortable shoes can make you feel, well, uncomfortable. That is why it is always a good idea to wear sneakers if you want to enjoy the concert without having to hop around.
Completely optional but bring a set of binoculars
Another thing that you should bring to a concert is Binoculars. If you do not have the best seats in the house to watch your favorite act perform life then you can always use them to enhance your concert-viewing experience.
Something to write with and into
You should have a sharpie or a pen on you whenever you go to a concert. If you manage to meet the artist or one of the members of the band, you can use that to get their autograph. Your sharpie or pen would be of no use if you don't bring anything to get the autographs on. Instead of getting an autograph on your body or your favorite shirt, it is better if you get the signature of the artist or the band on their merchandise like a hat, poster or a T-Shirt. They can easily be bought from the vendors at the concert.
Pack all your stuff in a small backpack
There are vendors at almost every concert and you might be tempted to buy different merchandise from them. So, it is always a smart decision to bring a backpack because you can put the things you have bought in the bag instead of just carrying them around all the time.
Bring a camera even if you own a smartphone
Even if you own a smartphone, it is better to bring a digital camera to a concert. This will help you take pictures and save memories that you will cherish in the future. You can't solely rely on smartphones for this purpose because as good as they are, they are still no match for a digital camera when it comes to taking pictures.
Most of all, do not forget to bring your live concert ticket!
You may be bringing your cash, wearing the right clothes, something your favorite music artist to sign into, and even binoculars but if you have not brought your live concert ticket, you are good as
Aerosmith Live Concert Ticket Example
Blue Live Concert Ticket Example
Harry Styles Live Concert Ticket Example
Jazz Live Concert Ticket Example
Live Concert Show Time Ticket Example
Live Concert Ticket Example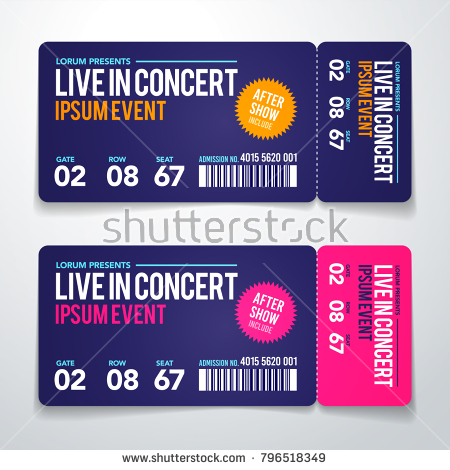 Things To Avoid in a Live Concert
While there are things that you should not forget to bring to a concert, there are also some that you should avoid.
1. Don't wear a sweatshirt in the summers
Since you are going to be enjoying the concert while standing in a large group of people, it will not be a wise move to wear a sweatshirt during the summers. It will get hot because of all the people around you and it would not be the wisest move in the world to put on a sweatshirt while the temperatures increase.
2. Avoid bringing meals
You should avoid brining food that won't open easily because you might spill its contents everywhere. Plus, don't bring meals because it will be difficult for you to consume it while standing in a crowd. What you should do is carry enjoyed small snack or a chocolate or two to eat while you enjoy the concert.
3. Don't wear excessive jewelry
One more thing that you should avoid wearing to concerts is excessive jewelry like necklaces or hoop earrings. They can get ripped out easily and can get caught in someone else's clothing. You would not want that to happen.
4. Say no to flip flops and heels
Your top priority while attending a concert should be to feel comfortable. So, it is best to avoid wearing flip flops and heels as they will make standing and dancing for you really really uncomfortable.
5. Avoid bringing an expensive bag
You should always avoid bringing an expensive bag to a concert because it can get damaged very easily. It is always better to bring a cheaper and a more practical alternative because concerts are meant to be enjoyed and you will not enjoy them much if you have to worry about your flashy bag.
6. Don't bring distraction items
No one likes to be distracted from watching their favorite stars rocking the stage. It is everyone's right to enjoy the concert so, don't bring any items like, noisemakers, laser pens, bullhorns and beach balls that might cause distraction for others.
7. Avoid bringing credit or debit cards
It is not preferred to bring your credit or debit cards to concerts because even though they might be accepted, there is a chance that you will end up spending more than you planned to. Plus, you could also lose them easily in the midst of all the rush and dancing.
8. Never wear your favorite clothes to a concert
Wearing your favorite clothes to a concert is the last thing that you would want to do because people will be throwing stuff all over the place and you may end up spoiling your dress. Nobody likes that, regardless of how much fun they are having at the concert.
So, here are the 8 things to bring and not to bring at a concert. If you are planning to attend a show anytime in the future then we are hoping these tips will come in handy. So, rock on and enjoy watching your favorite artists live in concert.
Live Rock Concert Ticket Example
Rock Live Concert Ticket Example
Vector Live Concert Ticket Example
VIP Live Concert Ticket Template
Workshop Live Concert Ticket Example
Tips on How to Prepare for a Concert
1. Research Seating Views
Even before you decide on concert tickets to purchase, you may first want to study up on the types of seating views available for the show of your choice. Typically, music festivals are general admission only.
But for most standard indoor/outdoor concerts, there will be reserved seating options. Our marketplace generally offers a wide variety of seats to choose from, including sections in close proximity to the stage……as well as those offering a more all-encompassing view of the performance stage and audience.
Among the things to take note of when researching seating views are ticket quantity available (so your whole group can sit together), seats with limited or obstructed views (noted in the details), seats located on the side or behind the stage, covered/open to the elements, and stadium-style seating (usually not available for Field sections at sports venues).
2. Complete the Purchase
Now that you know where you want to sit for the show, it's time to buy those concert tickets. The Vivid Seats marketplace backs all confirmed orders with a 100% Buyer Guarantee.
If you have any other questions about us, or the buying process itself, visit our FAQ page, or read up on company reviews.
3. Plan the Perfect Surprise
In some instances, you may be buying concert tickets as a gift, and if the element of surprise appeals to you, we've got you covered.
Using our handy guide – How to Surprise Someone with Concert Tickets – scan through the list of ways you can pull off the feat, such as the classic "fake out" featured below.
4. Decide What to Wear
There is a lot to consider when it comes to concert fashion. In the case of outdoor concerts, practicality tops the list as you'll like be in the hot sun for a large portion of the day, possibly wedged in between fellow fans if you're in a general admission area.
As you would expect, suggested clothing attire varies greatly across the concert landscape. Music festivals like Coachella, Lollapalooza, Stagecoach, and Austin City Limits of course come with their own set of guidelines.
We've also found that artists also have somewhat of a concert fashion rulebook as well, as note in our "What to Wear to Concerts" series that includes Beyoncé, Kanye West, and Jimmy Buffett.
5. Study the Setlist (if that's your thing)
The topic of concert setlists tends to elicit different preferences, as not every fan always wants to know the songs that an artist is expected to play.
But for those that do opt for a little advance setlist sleuthing, setlist.fm is a great resource for virtually any artist. Setlist variation differs for each artist as acts like Phish and Dave Matthews Band have become known for making each performance vastly unique, while others prefer to stick to a pre-set tour setlist with little to no variation.
On occasion, we've taken the setlist.fm data a step further by recreating setlists using concert videos from major tours by the likes of Adele, Beyoncé, Billy Joel, Blink 182, Bruce Springsteen, Bruno Mars, Coldplay, Garth Brooks, Green Day, Justin Bieber, Mariah Carey, Maroon 5, Red Hot Chili Peppers, The Cure, Trans-Siberian Orchestra, and Weezer.
6. Concert Photography Tips
Documenting the experience is a must, and though concerts don't always offer the ideal elements, it's still worth it to try and capture a picture or two.
Brush up on your concert photography skills in advance by checking out some of the top tips we've found from various YouTubers and photography sites. Downloading some new camera apps may also be the trick to taking better pictures at a concert.
7. Read and Write Concert Reviews
In the same vein as setlist research, some fans also prefer to read up on reviews prior to attending a show. If you fall in that camp, you'll typically have a wide range of reviews to choose from including publications like Rolling Stone and Consequence of Sound and from fellow fans.
We welcome fan reviews for all live events, so simply visit the respective Vivid Seats ticket page for the event you attended to submit a review of your own.
8. Enjoy the Show!
With all the work you put in getting to the concert, by all means, enjoy yourself! And if you get really lucky, you may even have a chance run-in with one of your favorite stars.
9. Commemorate the Experience
Be sure to stop by the merch stand for a souvenir T-shirt or poster, ideally prior to the concert as inventory has a tendency to dwindle and you may encounter long lines as well.
If you know you'll be situated in close proximity to the stage, keep an eye out at the end of the performance for a guitar pick or drum stick that may be tossed into the crowd. Additionally, artists that keep the show's setlist taped to the stage may offer it up as a souvenir if you're really lucky.
If neither of those scenarios pan out, there is something you'll always have as a keepsake: your ticket.
Yes, the classic ticket stub has gotten tougher to come by these days, but there are many that still offer that particular ticketing option so keep an eye out for such listings.
Those looking for a creative way to store old ticket stubs (and Playbills) can read up on some great display options, both DIY and store bought.