Think of a logo, any logo design. It's likely that the first thing that came to mind is a logo from a popular company that has successfully made a name for itself in the industry. It's also possible that this business logo holds a special place in your heart.
But logos are more than just decorative icons being plastered on digital and print media. There are various facts about logos that you may not be fully aware of as well. Take this for example. BMW, Target, Google Chrome, and Uber—what do the logo designs of these companies have in common? Simple. They all have round logo designs. Logos come in various shapes and sizes, and they're all made a certain way for a specific reason. This could be based on when or where the logo is applied or on how the company wishes to present itself to its prospective audience.
If you're looking for some awesome round logos for your company or organization, we have gathered a stunning collection of designs to help you get started.
Gold Photography Logo
Retro Rounded Logo
Financial World Logo
Vintage Train Logo
5 Reasons Why Logos Are Essential
If you take a look around you, you'll see that logos are practically everywhere. From the phone you're holding to the lamp on your desk, logos play a significant part in business development more than you may have thought. The motive behind a good logo design is more than just a way to appeal to your prospective audience, as an effective logo can even hold an emotional connection with its viewer.
Visual identity – First impressions matter when it comes to running a business, as this can always leave a lasting impression towards your brand. Having a strong visual identity for your brand is an essential tool in communication, since it tells your audience about the values you possess, without the use of words. Through visual representation, a company may efficiently develop consistency and make it easier for consumers to recognize the brand.
Good customer perception – The problem that most startups have to face is having to gain the trust of their target customers through their logo design. In most cases, consumers would judge the quality of a particular product or service based on the logo of the company responsible for it. And so if your company does not have a logo to show, the credibility of your business becomes questionable as well.
Advertising – Just about everything a business plans to release will need to have a logo plastered on it. This includes the business cards and company brochures they distribute, the billboard ads and TV commercials they produce, as well as the business documents they create. For consumers, this project's consistency in a company's performance, especially in delivering quality customer experience.
Distinguishes you from your competitors – Considering there are over a dozen competitors offering similar goods in the industry, standing out is a must. This is why it's highly advisable for companies to develop logo designs that stay away from the cliché. Blending in might seem like the best way to belong, but it's likely to cause trouble in establishing a proper brand identity. And if an existing brand bears a similar logo design, this may cause confusion as well.
Develops brand loyalty – Once trust has been built, customer loyalty is bound to follow. It's easy for consumers to recognize their favorite brand in a shelf full of goods through the logo found on the product's packaging. And because it's likely for customers to choose a brand that they are most familiar with, this can then garner significant sales for a business.
Real Estate Logo
Music Vector Logo
Royal Shield Logo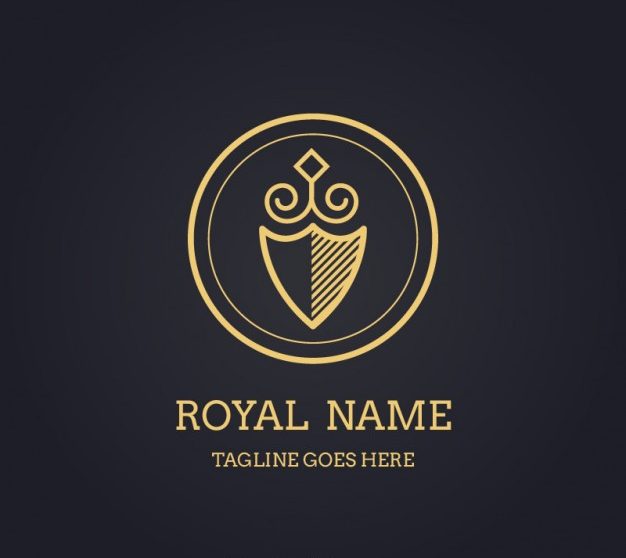 Coffee Shop Logo
Elegant Office Logo
Tips for an Effective Logo Designs
Designing a logo may look simple, but it's not as easy as you think. Here are a few guidelines to help you create an effective logo design in a swift:
Identify your market. A logo is typically designed to convey a given message about a brand to its target audience. This is why it's important for a logo designer to fully understand how a business operates, along with the products and services they offer, and the competitors they have to deal with.
Get yourself inspired. Even the most talented designers have their bad days. Fishing for ideas from other sources doesn't mean you don't have the skills to come up with your own, because you can always get inspiration on what's good and what's not from existing logo designs. But be careful when you do so, you might find yourself copying another person's design because of how much you like it. Never rush your designing process either, as this can sometimes be too obvious in your final outcome.
Start with a pen and paper. You might own one of the most advanced devices and digital illustration tools there is, but there's nothing like the old school way of sketching a design. Putting all your ideas on paper will allow you to experiment with shapes and colors without wasting too much time and effort. It doesn't matter if you come up with something incomplete either, as long as you have completely visualized what you want your logo design to be like.
Choose your logo design elements carefully. This goes for the colors you add and the typeface you choose. Remember to choose a logical combination of colors that compliment one another accordingly. It would be best to take the time to understand the meaning of colors as well. You also have to make sure that the typeface you go with appears visibly and legibly on any desired medium.
Acquire feedback from others. Remember, opinions will always matter. It has to come from someone who won't be biased about it, too. Try asking for a second (or even a third) opinion from fellow logo designers and design experts. An honest opinion will allow you to identify the parts you may have overlooked from your logo design.
Vintage Badge Logo
Photography Watermark Logo
Rounded Ink Logo
Gold Camera Logo
Round Wedding Logo
The Best Logo Design Software You Could Use
By now, we're all quite familiar with how important a good logo design is for every business. But behind all these famous logo designs that we've come to know is a grueling process of conceptualizing and designing. Most entrepreneurs would choose to hire a logo designer to do the job, while other small-scale businesses would rather create one themselves. Regardless of who creates your company logo, such logo wouldn't even exist without a good logo design software to craft it in.
To help you in your quest to find an excellent logo maker, we've rounded up five amazing logo design software for you to consider.
1. Adobe Illustrator
Considered as the best industry-standard vector graphic software of all time, Adobe Illustrator owns the throne for the most recommendable logo maker you could use. It holds a ton of good features that allows you to take control of even the smallest aspects of your logo design. From precise shape-building tools to gradient effects, this program allows you to create realistic designs directly from scratch. The best part is, it features user-friendly tools that support professionals and newbies alike, making it an effortless learning and production experience for any logo designer.
2. Logomaker
From the name itself, you already know what it's best known for. Logomaker serves as the most affordable logo design tool for offering the best payoff. Users can enjoy incredible designing, editing, and illustrating facilities and expect remarkable quality outcomes each time. Even without credible experience in graphic design, users can create awesome logo designs in just a matter of minutes. It contains a wide library of icons and effects to help you craft your logo designs at the nick of time. To make sure you won't think twice about downloading the application, Logomaker offers a free trial version for its customers.
3. Corel Draw
Following close behind the famous Adobe Illustrator, Corel Draw is known for its effective design tools that work perfectly for creating professional artworks. The design software even has the light drawing and editing tools, specially made suitable for both amateurs and beginners to work with. This way, just about anyone can create stunning fashion logos, wedding logos, or photography logos efficiently and effectively.
4. Summitsoft Logo Design Studio
While this software can be a little different from the typical editing applications that you're used to, it's still a favorite among professionals nonetheless. Summitsoft has over a thousand pre-designed templates fit for any industry, be it business or construction. It consists of a vast collection of icons, graphics, templates, along with other drawing and editing tools used to create personalized logos conveniently.
5. Sothink Logo Maker
And yet another downloadable software that comes with a free trial, Sothink is a great application for producing incredible logo designs from scratch. You can even opt to edit an existing logo or craft one from a free template. Sothink offers you a one-of-a-kind experience through their smart color tools, seven vector drawing tools, as well as a dozen other special effects that are perfect for producing high-quality vector designs without much hassle. You even get to import Flash and static graphics to give your logo design a personal twist to it.
Although a good logo design does not guarantee success in the market, it still plays a role in the gradual development of a business. Look at it this way, if your logo appeals to your audience, it creates a positive perception towards your business. People will easily recognize it anywhere they go, then immediately formulate assumptions toward the offered product or service. And by building a strong brand to support it, you can expect your business to prosper over time.