As a business that offers a wide selection of wine, having a menu will surely be an advantage for you. Have a wine menu that lists down all the available wine that you offer along with necessary details about each type of wine. And since it is a menu, you should also include the price for each bottle to establish transparency with the customers.
Ensuring that you have a wine menu that is complete and accurate is important since it is the first thing that your customer asks for so that they can choose what type of wine to order. Thus, it is essential that you use a good quality format for the menu; including creative and artistic design and illustrations are just bonuses that you can dwell on later. In this article, various wine menu templates and examples are provided to help inspire you when you create your own.
Wine Menu Templates and Examples
The menu you use for your wine business should not only be accurate but also aesthetically pleasing. In that sense, you should also make sure that you use designs and illustrations that go with the overall vibe of your business. If you want an aesthetically pleasing wine menu that still allows you to provide all the essential information about each bottle of wine, you can download this template. You can easily change and customize some of its elements to suit your preference.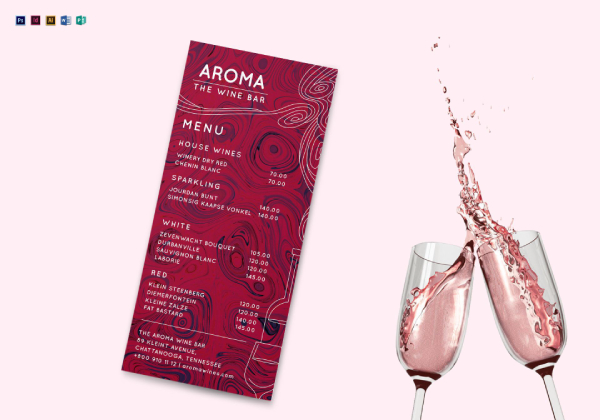 Since you want to market your business as a whole, you need to make sure that your wine menu also incorporates your brand identity. This means that you have to use designs, illustrations, font styles, colors, etc. that embodies your brand. You should also try to match the feel of the menu with the overall ambiance of your business for a more consistent presentation. To help you provide your customers with a clear overview of your finest wines, you can download this wine bar menu template.
A classy wine business should definitely have a classy wine menu as well. Looking at this wine menu example, you can easily see and understand what the business has to offer. It has used icons that will help the customers easily understand the way the wine is priced. It has also logically separated each style of dispensing wine to help customers easily choose what they would want to order. You can use this example as a guide to achieve a high-quality layout for your finest wine menu.
Contrary to the previous example, this wine menu simply lists all the available wine that they offer. Each type of wine is separated and wine bottles that belong to that group are then listed below. The corresponding price for each glass or bottle of wine is also listed on the side. Although this menu doesn't use any indicators or icons, it is still easily understandable since it is simple and direct. The simplicity of the menu will help the customers make faster decisions when choosing which wine to order.
While some prefer red wine, others love to drink white wine. Thus, if you want to cater to people's specific wine preferences. It is best to have a menu solely for one type of wine so that people can immediately go and find their favorite. This wine menu example is specifically for white wines; it allows customers to easily look for what white wine they prefer to drink the moment they step into your establishment. It has also provided a clear description with translations to let customers know what each wine tastes like.
6. Wine and Beer Menu
Two drinks at different ends of a spectrum can be put together in one menu. If your business offers both wine and beer, you can flawlessly incorporate both in the same menu with proper design structure. As you can see in this drink menu, various types of drinks are separated with the use of an indicating line; the line also adds a structured look to the menu. Although the menu has quite a lot of texts, the layout and structure help maintain a sleek and neat look.
If you have quite a few selections of wine, it is best to make a whole menu solely for it. Creating a menu that presents all your available wines that are logically grouped together will help make the customer experience better. As you can see in this example, the red, white, and rose wines are separated so that specific wines that fall under each type can be clearly listed. It also uses a simple design and layout which connotes a classy and sleek feel, which is perfect for a chill but elegant ambiance.
The wine menu templates we have provided in this article are all downloadable and are all easy to edit. You can get a good head start in your menu creation process if you use these creative templates, and use the examples as your source of inspiration.