If you don't have a house cleaning checklist for your home yet, this is the best time to get a custom one. Although you can create the checklist from scratch, pre-built options are often the best because they help you to save a lot of time. Check out the following examples for inspiration and download.
Best House Cleaning Checklist Examples & Templates
1. Printable House Cleaning Checklist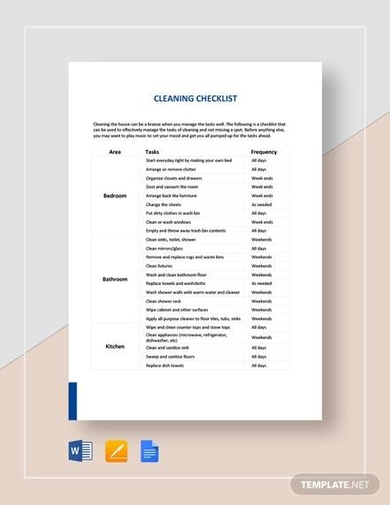 No one loves to live in a dirty house. Dusty homes are just uncomfortable to spend time in. So, it's important to make sure that every part is clean. As much as cleaning is mandatory, you may forget to clean certain parts of your house for days, maybe even weeks. This doesn't mean you are careless. Some houses are just so big that you can't clean every part on the go. But does it mean that it isn't necessary to clean every nook and cranny of the house? No, it doesn't come to that. In fact, you need to clean the entire house for the good of the people that live in it. The best way to make sure that you clean thoroughly is by using this sample checklist template for home.
2. Sample House Cleaning Checklist Template
You may not need a cleaning checklist if you live in a small house. But if you own a home with so many rooms, you may need to create a cleaning schedule to help you maintain the cleanliness of the house. Instead of creating the checklist from scratch, consider downloading this pre-built template to save time. This template is good for a number of reasons. First, it helps you highlight the tools that you will need to do the cleaning. This ensures that you have all the necessary resources to clean the premise thoroughly. Second, it allows you to outline the areas that you would like to clean as well as what to do in each part of the house.
3. Professional House Cleaning Checklist
4. Restaurant Back of House Cleaning Checklist
Creating a cleaning checklist template for a restaurant back of the house isn't difficult. But, it can take a lot of your time. Because it is important to save time for the cleaning session, you should consider using a pre-built house cleaning checklist template. Designed specifically for cleaning, this sample template can help you to schedule your cleaning with ease. With this template, you can divide your cleaning schedule into two: a daily routine and weekly maintenance. The daily routine outlines what you need to do every day to keep a restaurant back of the house clean. And the weekly maintenance highlights weekly cleaning activities.
5. Best House Cleaning Checklist Example
Do you know that this house maintenance checklist can help you clean every part of your home? When you start cleaning your premise randomly, you may forget to work on some parts. This doesn't mean that those sections aren't important. It doesn't even mean they deserve less attention. It's just that you do not have a comprehensive checklist that you can use to clean the entire house. With that said, consider using a checklist from today onwards. It will enable you to clean all the parts of your home in the shortest time possible. Using this checklist is easy, too. Simply tick every task once it's completed.
6. Professional House Cleaning Checklist
Check this one out if you are looking for a printable checklist template for cleaning a house. If you take a closer look at this template, you will notice that it is a 4-day plan template. Therefore, it is a good option for people that would like to do their cleaning on Mondays, Tuesdays, Wednesdays, and Thursdays. Although this action plan does not cover the rest of the days of the week, it still helps you get a lot done. Now, note that you can use this template for self-cleaning. Or, you can share it with a professional cleaning service provider whom you would like to hire to clean your house.
7. Housekeeping Cleaning Checklist Template
Keeping a house clean is difficult but necessary. In fact, it's must be a routine. Even with that said, chances are that you may forget to clean some parts of the house, do your laundry halfway, and have little time to do dishes. You've probably found yourself in such a situation more than once. More often than not, the inability to clean a house effectively is often due to the lack of an action plan. But the moment you begin to use a cleaning checklist, everything changes. With a checklist, you never miss to clean the house, you wash your clothes according to plan, and you do dishes on time. Here is a sample template that you can for a house-cleaning checklist.
8. Sample House Cleaning Checklist
One of the best things about a checklist file is that it helps you stay organized from the word go. It also helps you to get more work done on time. If you are struggling to clean your house, maybe have no idea where to start, or you don't know how often to clean, you can use a checklist template to do away with the guesswork. In fact, the goal of this template is to enable you to have a comprehensive checklist that you can use on a daily, weekly, and monthly basis to get your house in order. The template is free to download.
9. Weekly House Cleaning Checklist
Some people spend a lot of time on their computer just to create a simple house-cleaning checklist. Some even write their checklist on paper. While this is totally fine, it can be quite tiring, to be frank, not to mention time-consuming. To save time, consider using this simple checklist document designed just for you.
10. Two-Hour House Cleaning Checklist
If you can spare only two hours to clean your home, then you should consider a 2-hour house-cleaning checklist. Here is a good example that you can look at to learn what this kind of checklist looks like.
11. Free House Cleaning Checklist PDF
If you are looking for a free house-cleaning checklist template in PDF format, this sample is for you. This checklist will help you clean different parts of your house with ease. Click the link above to download the file.