We've all been through preschool, kindergarten, elementary school, high school, and most of us also went to college. During those years, our teachers trained us to focus on our academic ventures inside our respective classrooms. But knowing how boring that would be, they also found a way to stir things up. This is why every school has a set of educational activities and holidays every year, like science fair and spring break. These activities are so many that it's almost impossible to remember them all. Because of this, most school administrations took the initiative to create and design a weekly, monthly, and 12-month or yearly planner that we know as school calendars. Learn more about them by checking out our article and examples below.
15+ School Calendar Examples
1. School Calendar Template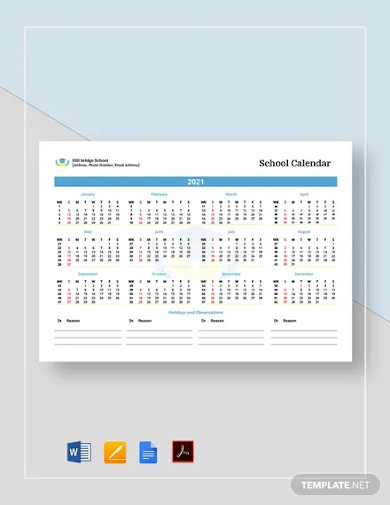 2. Monthly School Calendar Template
3. Yearly School Calendar Template
4. Student School Desk Calendar Template
5. Free Printable School Desk Calendar Template
6. Free Monthly School Desk Calendar Template
7. Free Sunday School Calendar Template
8. Free School Event Desk Calendar Template
9. School Parents Calendar
10. Sample School Calendar
11. International School Calendar
12. School Sessions Calendar
13. Primary School Calendar
14. School Academic Calendar
15. School Term and Holiday Calendar
16. Approved School Calendar
What Is a School Calendar?
A school calendar is an illustration of a school operational plan throughout the school year. It consists of scholastic and co-scholastic activity schedules set on a particular date and time. It is useful not just for students, parents, guardians, and most especially for the faculty members. For the latter, it acts as a document that reminds them of official school days and the days intended for training programs, conference schedules, and vacations. For the students, parents, and guardians, school calendars inform them of the upcoming school activities. Thus, it lets them plan and prepare the necessary and relevant things ahead of time.
Year-Round School Schedule
A year-round school schedule covers the same number of school days with the traditional school schedule. The only difference is that its activities are evenly distributed throughout the year, giving students more but shorter breaks than the traditional 10 to 12-week summer break. Just like the traditional school schedule, a year-round school schedule has its advantages and disadvantages.
Advantages:
1. The spread of the curriculum makes the faculty members more topic-focused.
2. The shorter yet frequent breaks help students retain their obtained knowledge and honed skills.
3. With a shorter summer break, students will less likely get bored during that time.
Disadvantages:
1. The shorter breaks mean shorter family time.
2. There will be problems in looking for child care services.
3. Students can't avail of fun and special summer schooling programs.
How To Create a School Calendar
Preschool, kindergarten, elementary, high school, and college calendars are distinct from one another in terms of activities. Whichever you're planning to create, you have to follow certain steps to ensure its thoroughness and effectiveness. With your convenience in mind, we have prepared our ready-made outline below!
1. List All Notable School Activities
In making your school calendar, your first task is to make a list of all the notable school activities. They should also include holidays. Some of the holidays in the United States consist of Thanksgiving day, Christmas break, fall break, winter break, spring break, summer break, religious holidays, Independence day, and Labor day. Examples of the said school activities include intramural, prom night, and graduation day.
2. Sort By Date
Once you have successfully made a list of all the school year's activities, you have to sort those items by date. The school year in the United States usually starts in September and ends in May. For example, Thanksgiving falls on the fourth Thursday of November. And the day that comes after that is Black Friday.
3. Choose Calendar-Making Applications
According to John Obstander's June 2020 article for Lifehack, calendar applications are great tools that anyone can use to organize his or her life and make a plan out of his or her time carefully. That fact should give us the idea to stray away from the traditional method of creating a calendar and introduce us to a more convenient and effective way through digital applications. Here are some of the best calendar-making applications that you can choose from to help you fulfill your task:
– Any.do Calendar
– Google Calendar
– Jorte Calendar
– Business Calendar
– Calendar
– aCalendar
– DigiCal Calendar
– SolCalendar
– Today Calendar
4. Make a Creative Layout
Digital or not, you always have the choice to spice up your output with a touch of your creativity. Besides distinguishing your calendar from the past ones, you also utilize the power of graphics design to relay important information to the school's stakeholders, students, and parents and guardians. Some of the hottest trends in graphics design for 2020 include the following:
– Vintage colors
– Line art
– Isometric illustrations
– Simple illustrations
– Drawing and photo collages
– 3D and realism
– Text and image masking
– Monochrome
– Typography art
– Shiny metallic colors
5. Be Ready for Adjustments
Many factors can cause the delay or postponement of school events. One of the many is natural events, such as blizzards, typhoons, earthquakes, and more. If such cases occur, you have to be ready to make adjustments on your calendar. If you're using digital applications, you can easily manipulate the details. But if you opted to go manual, you can leave some space for notes at the bottom part of your document.
FAQs:
Which state has the longest school days, and which state has the shortest?
New York has the longest school days with 182 days in total, while Colorado has the shortest with 171 days.
What type of calendar are we using today?
The type of calendar that most of the countries are using today is the Gregorian calendar. It is also known as the solar calendar, which has a 365-day in a year divided into 12 months.
How many types of calendars are there?
According to Webexhibits, there are 40 types of calendars worldwide with Gregorian, Chinese, and Islamic as the most prominent ones. These types have three categories – Lunisolar, Solar, and Lunar.
In her doctoral dissertation, Justice Through Education member Pia-Maria Niemi of the University of Helsinki quoted, "For the pupils, the most important thing about school-wide events is their social significance and atmosphere." Going back to when we were still studying, we can't deny how exciting events are. And from time to time, we would look into the school's bulletin board to check for event announcements. Now, through the use of school calendars, things have become more convenient and exciting.