A creative way to invite guests to your ceremony and reception is to send a wedding ticket to your family and friends. Designing the ticket is pretty easy with the help of a few templates and examples for you to get inspired by. It's a cost-effective solution for anyone looking for a way to create their wedding tickets with the least amount of effort required.
Best Wedding Ticket Examples & Templates
1. Blank Wedding Ticket Template
2. Wedding Invitation Concert Ticket
Attending a musical is a wonderful experience that can leave your audience in awe. If you're hosting a wedding musical for your school play or theater group, you can invite attendees to your event through a concert ticket in the form of a wedding invitation. It's a clever way to promote your musical concert and make an impression that viewers will remember, while also relaying details of your events for audience members to be informed.
3. Wedding Invitation Movie Ticket
Movie plots and story lines have somehow led us to believe that our happily ever after goes beyond the four corners of a screen. If rom-coms and romance films have inspired you to meet and become the best partner that you can be, perhaps a wedding invitation disguised as a movie ticket will bring your fantasy to life. The template above takes that concept into perspective through its movie-inspired design and high-quality graphics.
4. Creative Wedding Ticket Template
5. Wedding Rehearsal Dinner Ticket
6. Train Wedding Ticket Example
Wedding rehearsals are private events that only those authorized to be there can attend. Anyone who is invited to the rehearsal is entitled to a seat, refreshments, and other perks prepared by the couple. Since wedding rehearsals are held in venues that can only accommodate a limited capacity, you can use a wedding ticket to track the number of guests present at the event. This will help you maintain an intimate atmosphere surrounded by some of your closest friends and family members as well.
7. Elegant Wedding Ticket Template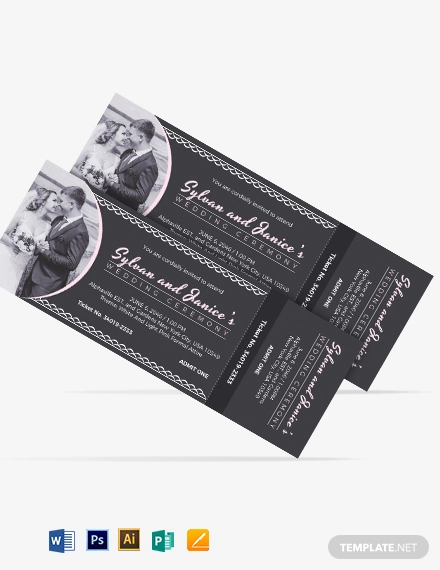 8. Wedding Invitation Ticket
While invitation cards have always been a standard tool for various celebrations, many couples consider ticket invitations as a budget-friendlier option. Wedding tickets are a lot smaller in size compared to the usual invitations we get in the mail. This makes it easy for couples to convey the information that guests might need and for readers to find what they are looking for in the ticket. This template is a prime representation of a wedding ticket that screams elegance and sophistication for a memorable celebration.
9. Retro Wedding Ticket Template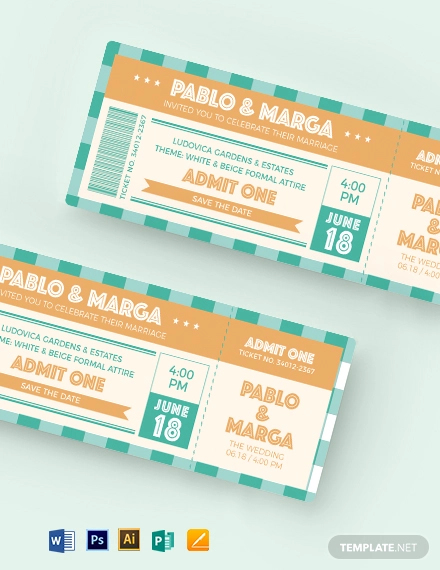 10. Wedding Boarding Pass Ticket Invitation
It's not unusual for a bride and groom to choose a wedding boarding pass ticket for the theme of their invitation, especially when at least one of them is part of the aviation industry. But even then, the concept is open for anyone to use. It's a fun way to add a twist to your wedding that guests are sure to enjoy. If the theme fascinates you, feel free to download the given template for your own event ticket.
11. Simple Wedding Ticket Template
12. Rustic Wedding Ticket Template
13. Vintage Wedding Ticket Template
14. Wedding BBQ Ticket Template
15. Fall Wedding Concert Ticket Template
16. Wedding Invitation Airline Ticket Template
17. Fall Wedding VIP Ticket Template
18. Movie Ticket Fall Wedding Invitation Template
19. RSVP Boarding Pass Wedding Ticket
There are strict rules against guests who knowingly bring a plus one without the consent of the soon-to-be-wedded couple. The management of a venue usually computes the number of seats and meals that need to be prepared beforehand, so any extra persons that had not been accounted for prior to the wedding date may result to some costly consequences for the bride and groom. To prevent this from happening, an RSVP invitation for your wedding boarding pass ticket must be made. The ticket must be sent weeks or even months before the wedding to prevent any last-minute problems with your guest list examples.
20. Wedding Ceremony Invitation Ticket
One way to prevent wedding crashers from ruining your ceremony is to hand out wedding invitation tickets prior to the big day. Invite-only events are good for couples who don't want some stranger eating the food they've prepared for guests and taking pictures with some of their relatives and friends. This generally ensures the safety and security of everyone in attendance. A simple design will work, as long as the ticket conveys the correct details of your wedding ceremony, particularly the date, time, and venue.
21. Romantic Wedding Invitation Movie Ticket
If you're into the cheesy side of romance, this movie ticket invitation will be perfect for your wedding! You can skip the fancy words and go straight to the point by filling the template with the required information. It's a basic design that will complement a day of love and laughter for you and your partner to treasure.
22. Royal Wedding Ticket
Long before the royal wedding was broadcasted on live television for people around the world to witness, the marriage of the duke of York and the princess of Teck, who eventually became the queen of the United Kingdom, was made official at the Chapel Royal, St. James's Palace in London. Shown above is an example of the admission ticket that guests had to present to be granted entry to the venue. Although the ticket may be simple in appearance, it served a powerful purpose that only a few hundreds of people had the opportunity to experience.
23. Sports Wedding Ticket
A sports wedding actually exists, whether it's a theme that a couple decided to go with or a gimmick that organizers use to drive people to their event. You can refer to the example above to draw inspiration for your own wedding announcement and ticket design. Even if you aren't hosting a wedding, you can still use the same design for your own needs and preferences.