Vintage is one of those designs or themes that never gets old. In other words, it's a timeless classic. If you want it as the ambiance of your restaurant business, then that's a brilliant idea. Many people find vintage designs appealing. For middle aged adults and seniors, they find it nostalgic. Even younger generations love vintage things to honor the things that came before them. With those in mind, your restaurant could potentially have diners from different age groups. So it has a significant chance to be profitable. But before that, you're going to need a fitting restaurant menu. Here, we'll show you our restaurant menu templates with vintage style designs.
Vintage Food and Drinks Menu Example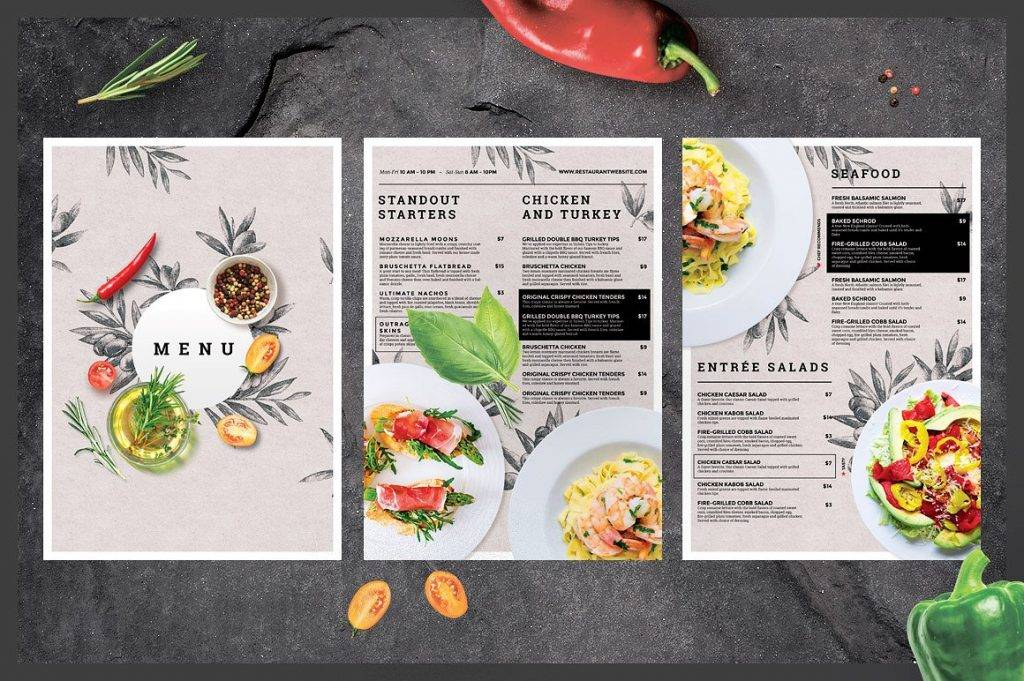 A vintage restaurant menu, as its name implies, is a menu consisting of vintage and classic dishes and a menu card with a vintage design. Everything about it is old school or old fashioned. Of course, you'll need that type of menu if your restaurant business will have a vintage theme.
When some aspiring restaurant owners decide on a theme, not many of them think of setting a vintage ambiance in their business proposal. They go for modern menu themes that current generations adore. Although there's nothing wrong about it, they probably aren't aware that Millenials and Gen Z people also love vintage stuff. It's not just for Boomers and Gen X people. Thus, they could be missing the opportunity to attract customers from different age demographics.
A vintage theme for your restaurant is a good strategy, and you should integrate it into your marketing plan. It has a potential to be a huge hit, especially if you can come up with a decent vintage menu.
It might seem that making a menu is just gathering different dishes in putting them all together in one set, but there's more to it. There are factors you need to study and consider before choosing this dish and that dish. So, here are four things you must look into to make the best possible vintage restaurant menu.
Watch Other Local Restaurants' Menu
Existing restaurants in your town or city are your competition. Most of them have been a part of the community and have won the hearts of many locals. When your restaurant opens, it'll be the new kid on the block. In that case, you must make an excellent first impression through your menu. How to do that, you ask? You do that by making your menu unique.
Yes, a vintage menu is sort of unique in its own right. But, some dishes that it might offer could be a similar dish that other restaurants offer. People won't be interested if that's the case. So, make sure to check their menus. That'll give you ideas on how to differentiate your vintage menu and make it stand out. While you're at it, you can conduct a SWOT analysis of your competitors.
Limit the Size of Your Vintage Menu
A menu with a wide selection is tempting, but it's not practical, especially for startup restaurants. Be it a vintage bakery menu, a formal dinner menu, dessert menu, or a coffee shop menu, always limit the selections. A big menu forces you to allocate more food costs than you can manage. Plus, you might not have enough people in your kitchen to prepare a wide array of dishes. Take note that in making a menu, bigger isn't always better.
Put Your Own Twist On the Dishes
Vintage dishes are classic dishes, many of which have traditional preparation methods. However, that shouldn't hinder you from putting your own twist on them. As we've said earlier, make your menu unique. This is one way to achieve that. If you can, all dishes from your breakfast menu, lunch menu, and dinner menu, make them less of a cliché.
Set a Vintage Design
Of course, because your restaurant will be sporting a vintage theme, your menu cards must have a vintage design. There are many vintage styles you can choose from. For one, there's country style menu design and chalk board menu design. Or, to make things easier for yourself, you can use a vintage menu design template, an old fashioned menu template, and a retro diner menu template. Just choose a vintage design that fits with your theme. And make sure it can maintain the readability of your menu cards.
Advertise Your Vintage Menu Online
According to Upserve, 90% of people tend to research a restaurant online before visiting it. For us, that's nothing new. It's the norm today; people look up things online before buying themselves into it. All of us can attest to that since most of us experienced purchasing things online. And the same goes for restaurants. With those said, you should advertise your vintage menu online. Promoting it on social media will do, and it's for free. But you can use a website if you can afford to have one.
According to menu engineer Gregg Rapp, seven items per category is the ideal amount. More than that puts customers in a "paradox of choice," which is the anxiety that people feel when they have to choose one option, among many others. We agree with that. The bigger the menu, the harder it is for customers to finalize their order. Moreover, a limited menu is more manageable, especially for the kitchen staff.
Here are common mistakes in designing a menu that you should avoid:
Too many dishes per category
Too wordy descriptions of the food items
Bad choices of font styles, affecting the menu's readability
Bad color choices
Overdone designs
It depends on the designer. However, the price is somewhere between $200 to $2,000. And it could also depend on the complexity of your preferred design. So why not use free menu templates instead. They're way cheaper, and they have decent designs ready for use.
Starting a vintage-themed restaurant could best thing you'll ever do in your life. Just by imagining it, our mouths are already watering of the vintage dishes you'll serve soon. For sure, you'll delight the palates of your future customers. So begin preparing your menu now using our vintage creative menu design templates.