What comes to mind when you think of a bakery? Surely, images of bread, cookies, cake, and other pastries will begin flooding your imagination. Looking through a Porto's bakery menu or a Corner bakery menu, for example, will often reveal far more than what our minds can conjure up. In this article, you'll read and learn more about what a bakery menu is all about. Besides that, you'll also get to see your fair share of bakery menu examples from any bakery menu template we provide through our list below.
Bakery Menu Templates and Examples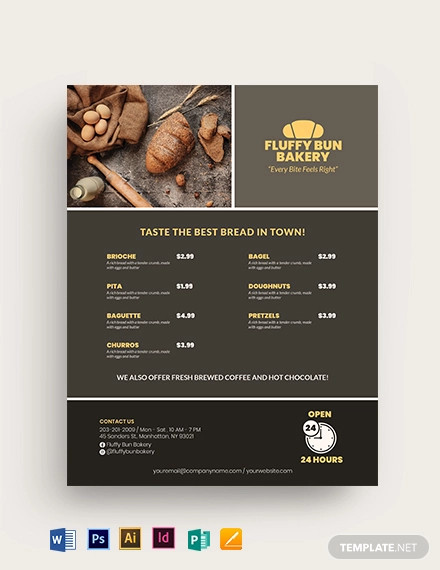 12. Bistro and Bakery Menu
A bakery menu is an accessory found within bakeries that informs customers of what food items are available. It may be set over a specific time, such a week or a month, before changing. However, many are also set for an indefinite time period. Like its counterparts in restaurants, bakery menus will also reveal the specific prices of the individual food items. Its purpose then, in addition to informing customers, is to help potential customers decide on whether they want to get any of the items listed or not.
For those who are in the process of developing their own bakery, a menu is definitely in the cards sooner or later. If you need a bit of help, then worry not. The following steps should help make your overall creation process much easier and faster.
Step 1: Decide on a Format
How you will create your menu is dependent on several factors. Its overall format may be the first that you need to tackle. You must devise an outline for it that will not only display all of your future food items (and their prices) properly, but also in a way that makes it all look appealing.
Step 2: Place Focus on Your Branding
Your menu is one of the most excellent examples of how your bakery's brand can be positioned well. From the get-go, you need to display your company logo. The choices for your color scheme must also reflect how you want people to feel about your brand as well.
Step 3: Select Creative Names
Part of what makes certain items appealing are their names. A simple pie is just a pie, but calling it Grandmother's Best, for example, adds a greater non-literal flavor to it. This can also go hand-in-hand with any of your future branding or marketing efforts, so it's definitely worth a shot.
Step 4: Make Use of Your Space Appropriately
Some menus are completely filled with words from top to bottom. While that's not a bad thing in itself, it can be overwhelming to some people. Therefore, it is recommended that you fill out space in ways that can not only inform your customer of what you have but also relax them as they choose. Maybe keep some spaces blank, for example, or use an image or beautiful colors to fill it up in the place of text.
FAQs
According to Bakemag.com, cookies are at the very top of the bakery food chain in terms of popularity. Cakes come in second, followed by cupcakes and muffins in third and fourth place respectively.
What are the different kinds of pastries?
If you're planning to make pastries, it is wise to keep the following types in mind: shortcrust, puff, flaky, rough puff, choux, filo, suet crust, and how water crust.
What is the difference between pastry and bakery?
The latter is a food group that can be sold in the former, a type of food establishment, or even a restaurant. Specifically, bakeries specialize in bread and other baked goods like cakes and cookies.
As you can see, there are tons of things to keep in mind when trying to implement your bakery menu ideas. The more you know about this useful item, the better your bakery menu design will be, and you'll be able to express your bakery menu items in more efficient ways. Having reached the end of this article, we implore you to make good use of what you've learned here and apply it well one day.